Not Much Is Known About The Abandoned San Antonio Facility Decaying In Texas
Most people would never dare to venture inside an abandoned asylum, simply because the overwhelming negative energy within tells a tale of horrific tragedy, torture, and indescribable suffering. With that said, I'd like to mention that I've found conflicting information about the prior function of this building, with some reports saying it used to be a mental health facility. If those reports paint an accurate picture, this empty building in San Antonio represents the lives of the numerous people that came here for treatment, only to endure deplorable conditions and highly questionable forms of therapy.
I'd also like to add that the San Antonio State Hospital, just a few miles from this abandoned building, is still at its original site and very much functioning as a mental health facility.
These photos and videos below, taken by Nitram242, only show what remains of the place, and we can only imagine what those walls would say if they could talk. This abandoned asylum in Texas is truly creepy.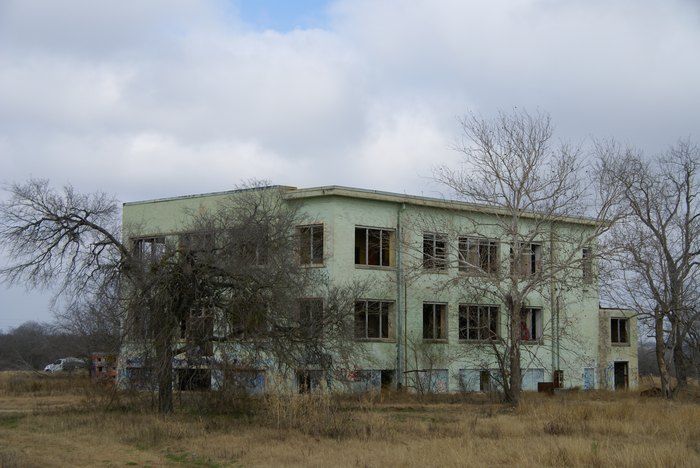 *All photos were taken by Flickr user Nitram242, and you can find more of his work by following him on his Instagram here.
Have you ever encountered a ghost in Texas? What do you know about this supposed abandoned asylum in Texas? Share your stories in the comments below.
This isn't the only bizarre place in the Lone Star State. To learn more about the abandoned buildings in Texas, read these stories.
Address: San Antonio, TX, USA
abandoned asylum in Texas
November 02, 2019
Are there any other abandoned places in Texas?
There are so many abandoned buildings in Texas. The Bender Hotel in Laredo is one of the most creepy. This business was built in 1913, and it was once the centerpiece for the entire town. Everyone wanted to spend the night in these luxurious rooms. Decades later, this once-prosperous hotel was left to ruin. In 2011, paranormal investigators explored the area and found some bone-chilling sights.
What are the most haunted places in Texas?
The Driskill Hotel, located in Austin, is one of the most haunted places in Texas. Rumor has it, the hotel's former owner still lingers the hallways and smokes cigarettes in the rooms. The ghost of a young girl is often heard playing in the lobby, and she's definitely spooked a few of the guests. There's another haunted hotel located in Seguin Texas. Today, it's known simply as The Haunted Magnolia Hotel, and visitors come from all across the state in order to experience a bit of paranormal activity.
Are there any ghost towns in Texas?
There are many ghost towns in Texas. Terlingua, located near Big Bend, is one of the most famous. This is a popular place to take photos and do some ghost hunting. People also love visiting Glenrio. This tiny abandoned city sits near the Texas/New Mexico border. It once sat along the booming Route 66, but today has been left for nature to reclaim.
Address: San Antonio, TX, USA