Hunt For Ghosts Overnight At Hill House, A Real Haunted House In Mineral Wells, Texas
Jump-scares are cool and all, but have you ever been to a real haunted house? We're not talking about man-made haunted houses you walk through; we're talking about real-life, honest-to-goodness haunted houses to stay at in Texas. That's exactly what you'll find in Mineral Wells, Texas, the small town harboring the notoriously haunted Baker Hotel. Hill House has been around for almost 150 years, and its extensive history includes illegal activity, sorrow, and even death. Do you dare to spend the night?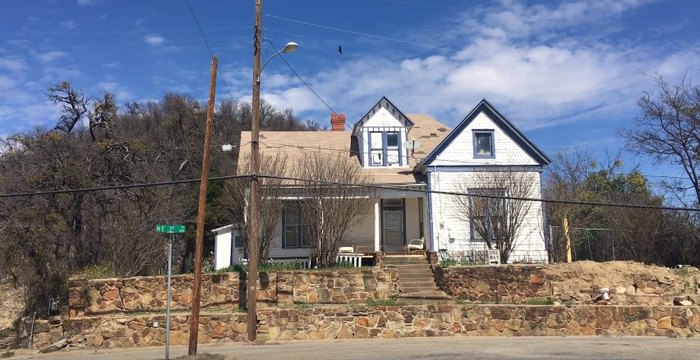 Take a virtual tour with these YouTube videos:
Have you ever spent the night at Hill House? If so, did you experience any paranormal activity? Let us know all the eerie details!
The Hill House isn't the only haunted house in Mineral Wells, Texas. Have you ever visited the Baker Hotel? Originally opened in 1929, the hotel made it through many decades of success before shutting its doors for good. During that time, people have claimed to see apparitions of both a bloody nude woman on the seventh floor, as well as a man supposedly killed after being caught in an elevator door. Lucky for you, you might get a chance to meet these ghosts in person, because the legendary haunted hotel in Texas is set to open for business again soon!
Looking for more spine-tingling scares this season? Check out our previous article for more spookacular haunted houses to check out this season: The 10 Scariest Haunted Houses In Texas We Dare You To Visit This Halloween.
OnlyInYourState may earn compensation through affiliate links in this article.
Address: 501 NE 1st St, Mineral Wells, TX 76067, USA
haunted houses to stay at in Texas
August 31, 2022
What are the most haunted hotels in Texas?
If you're looking for haunted houses to stay at in Texas, why not check into one of the notoriously haunted hotels in Texas? There are so many "good" haunted hotels in Texas for ghost hunters, offering visitors the unique opportunity to catch a glimpse of a ghost or have a paranormal encounter. Some of the best places to have a ghost sighting include the Baker Hotel (also in Mineral Wells), the Jefferson Hotel, The Excelsior House Hotel, Hotel Galvez in Galveston, and a trio of San Antonio hotels: the Sheraton Gunter Hotel in San Antonio, the Menger Hotel, and Emily Morgan Hotel. In fact, with regard to the Emily Morgan, before becoming a hotel, the property was an advanced medical arts facility, which included a hospital, surgical floors, and a crematorium. Guests report phones ringing with no one on the other end, lights coming on and off arbitrarily, and a woman in white appearing and disappearing in almost the same glance, leading many to believe this is the most haunted hotel in Texas. What do you think?