These 9 Haunted Cemeteries In Texas Are Not For The Faint Of Heart
It's already time for another road trip again, y'all! We know Halloween isn't here yet, but there's never a bad time for a little ghostly fun, right? Texas is a notoriously haunted state, so it's no surprise that many of our cemeteries have terrifying urban legends associated with them. We're sure there are tons more across the state, but these nine are some of the most sinister, eerie, and horrifying, and we dare you to go on this trip and check them out. You're brave enough, right? As usual, we've included the official Google Maps page with all the details regarding directions. Happy haunting – after all, it's not every day you experience the most haunted cemeteries in Texas!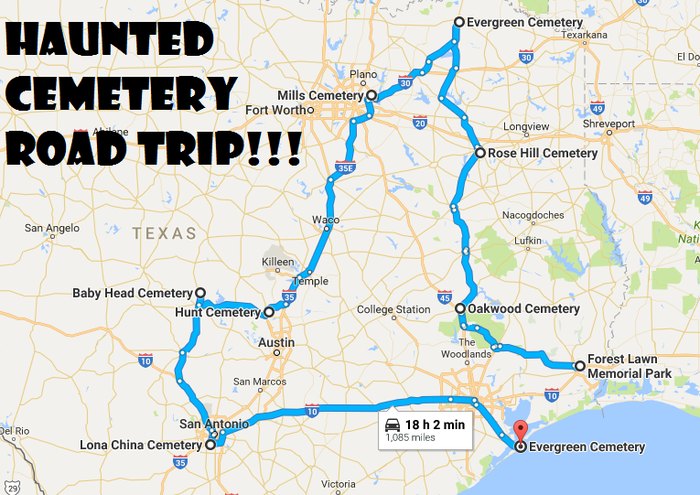 Have you been to any of these cemeteries? Did you have any paranormal encounters there? If you like scary stuff as much as we do, check out this ghost town road trip in Texas that's sure to chill you to your very core.
OnlyInYourState may earn compensation through affiliate links in this article.
Haunted Cemeteries in Texas
August 22, 2022
Are there many abandoned cemeteries in Texas?  
There are lots of abandoned everything in Texas. It seems like no matter where you go, you're sure to pass a number of desolate, vacant farmhouses and decaying homesteads. Naturally, some of those abandoned places in Texas are old cemeteries, like the old Lone Star Cemetery, in Cherokee County. You can access it to this day, though it's overgrown and the graves are very old. You'll see a graveled entryway just off County Road 4502. You'll have to approach on foot, as car traffic is not able to reach it. There, you'll find graves from the early to late 1800s that have gone untouched for centuries. Of course, there are more – but this one is one of our favorites.  
Are there real haunted graveyards in Texas?  
Supposedly, yes, there most certainly are haunted graveyards in Texas. There are a few handfuls of different places you might spot a ghost, like the old Lubbock Cemetery. It's considered one of the most haunted cemeteries in Texas, and it houses more than 60,000 bodies. The Texas Paranormal Research Society strongly believes that the spirits here are angry and aggressive, and the place ought to be avoided. The Aurora Cemetery, in Aurora, isn't just thought to be haunted – it's also the place where an alleged non-human alien killed when its ship crashed is buried. Eek.  
What is the oldest cemetery in Texas?  
The oldest official cemetery in Texas is a little place known as the Oakwood Cemetery. It can be found in Austin and dates back to the 1850s. However, there's a cemetery that's even older than that – an aboriginal cemetery – where burials took place as long ago as 2700 B.C. We suppose it all depends on what you want to count as a "cemetery", but either way – both of these places are creepy as all get-out, and we'd rather not be caught here at night.