This Spooky Small Town In Florida Could Be Right Out Of A Horror Movie
Kerr City is a ghost town in Florida on Lake Kerr in what is now the Ocala National Forest. Back when it was founded in 1884, it was only the second town in Marion County. These photos may not look all that scary, but imagine it at night, with the wind rattling the antique windows and the 130-year-old floorboards creaking under your feet.
The town grew and reached a population of 100 residents. Eventually, Kerr City would have its own post office, general store, school/church, sawmill, and an impressive three-story hotel. The town was the perfect place to stop for folks traveling from the St. John's River to Ocala. Though it was a cotton plantation originally, the town truly flourished growing oranges — until the freezes of 1894 and 1895 left the town deserted.
The beautiful hotel, the Lake Kerr House, burned down in 1907, but there are still several buildings in the Kerr City Historic District. The ghost town's present caretaker is the town's only resident. He is descended from some of the original townspeople and at one time rented out some of the historic structures. Today, however, the area is closed to the public.
Whether you find it creepy or just a fascinating piece of history, check out some photos of a real Florida ghost town: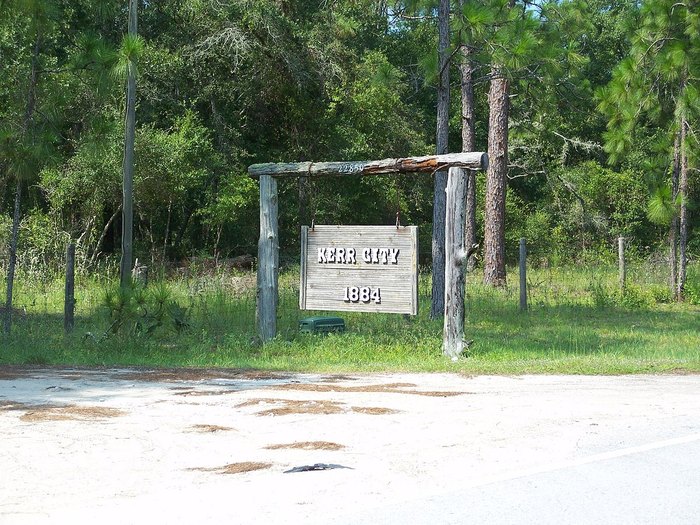 What are your thoughts on Kerr City, a fascinating ghost town in Florida? Do you know of any other ghost towns in Florida? Most of the ones we've come across aren't scary, but some are really interesting. Check out these 8 Fascinating Ghost Towns That Provide A Glimpse Into Florida's Past.
Address: Kerr City, FL 32134, USA
OnlyInYourState may earn compensation through affiliate links in this article.
ghost town in Florida
December 02, 2021
Are there any other ghost towns in Florida?
Some ghost towns in Florida include:
Stiltsville
Picture City
Eldora
Yamato colony
Atsena Otie Key
Flamingo
Brewster
Exploring the Sunshine State will yield all kinds of interesting finds: quirky roadside attractions, little-known restaurants, hidden gems, and yes, even ghost towns. Now that you've learned about Kerr Lake, it's time to highlight some additional ghost towns in Florida that will undoubtedly fascinate you. Once thriving, these destinations have almost completely disappeared, save for ruins and crumpled structures. Some additional ghost towns in Florida include Stiltsville, Picture City, Eldora, Yamato Colony, Atsena Otie Key, Flamingo, Brewster, and the Koreshan State Historic Site. Have you ever heard of these abandoned ghost towns in Florida?
What are the most haunted destinations in Florida?
For those fascinated by the paranormal, exploring Florida's most haunted attractions certainly won't disappoint. Whether you're exploring a lighthouse, historic restaurant, or abandoned building, you're bound to find your fair share of spooks. In fact, we were so taken by Florida's most haunted destinations that we put together a road trip that will let you explore them all. One of the first stops along the way is the St. Augustine Lighthouse. Located in the nation's oldest city of St. Augustine, this lighthouse was constructed in 1847. Due to various tragic accidents, many have died near the lighthouse, and there are reports of disembodied voices nearby. Next up on the list is the town of Cassadaga. This spot has attracted ghost hunters for decades, and it's renowned for its paranormal activity. While you're in town, be sure to check out the haunted Cassadaga Hotel or the Devil's Chair in the Lake Helen-Cassadaga Cemetery. Other points of interest on our haunted road trip through Florida include Launch Complex 34, Ashley's Of Rockledge, the Biltmore Hotel in Miami, and the Tampa Theatre.
Address: Kerr City, FL 32134, USA
OnlyInYourState may earn compensation through affiliate links in this article.