There's A Hike In Florida That Leads You Straight To An Abandoned Civil War Fort
Sometimes all you need is a good dose of history to remind you why many parts of Florida are so great. When you're able to visit spots in your home state that hold so much value and so many stories, it's hard to pass up an opportunity to explore. This particular short hike will take you through an abandoned Civil War Fort, but when you see the way nature has reclaimed it, you'll be in awe. Grab those boots, because today we're exploring the West Martello Tower in Florida.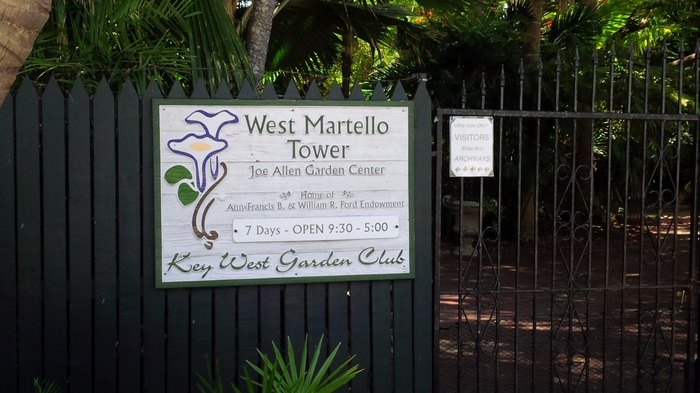 The address for West Martello tower in Key West is 1100 Atlantic Blvd, Key West, FL, 33040-4883.  To find out more information about the tower of the Key West Garden Club, visit the website.
Have you ever visited the West Martello Tower? Share your experience with us in the comments below!
Speaking of, after your stop at the gardens, Key West also has a sunset wine cruise which will absolutely be the most perfect ending to your whole day.
Address: 1100 Atlantic Blvd, Key West, FL 33040, USA
West Martello Tower in Florida
March 06, 2021
Can I hike to historical sites in Florida?
The first European explorers landed on the Florida coast in 1513 and records of native inhabitants can be traced back 14,000 years giving our state an exciting range of historical sites for hikers to enjoy.  At Addison Blockhouse Historic State Park, hikers will find the remnants of an old sugar cane plantation and mill that was destroyed in 1836 when a Seminole party raided the area. In southeastern Hendry County, you can visit the Big Cypress Seminole Reservation home to the Ah-Tah-Thi-Ki Museum of Seminole Culture. This remarkable destination offers history lovers a fascinating glimpse into native tribe culture and the 60-acre cypress dome allows visitors to explore the natural beauty of Florida's tropical swampland. For a great beach hike, head over to Amelia Island and explore the Atlantic Coast's largest dune system.
What is the oldest town in Florida?
Inhabitants from Europe, Africa, and Native Americans have roots in St. Augustine with histories spanning over four centuries. In 1565, Don Pedro Menendez de Aviles founded St. Augustine claiming this piece of the New World for King Philip II of Spain. It served as the launchpad region for Menendez's mission to establish Spanish settlements on the Atlantic coast. Many historians claim that the first Thanksgiving took place here when Spanish colonists and Timucua tribe members feasted together 50 years before Plymouth's Pilgrims. St. Augustine has a dizzying abundance of historic sites to explore but a visit to Fort Mose Historic State Park will take you on a fascinating journey. The park was once home to the first legally sanctioned community of free blacks dating back to 1738. Military history lovers will enjoy touring the park's museum to learn about the Battle of Bloody Mose in 1740.
Can I hike to abandoned places in Florida?
If you love the thrill of exploring remote areas in search of abandoned places, there are plenty of hikes across Florida to keep you busy. The Crystal River Archaeological State Park was once a Native American ceremonial site and is now a National Historic Landmark. The park spans 61 acres where visitors will discover remnants of pre-Columbian life with ancient temple mounds, platform mounds, and burial mounds. Egmont Key State Park is a fascinating hiking destination with a unique natural and cultural history. Today the area is primarily a wildlife refuge; however, the island has ties to the Third Seminole War, the civil war, and the Spanish-American War.
Address: 1100 Atlantic Blvd, Key West, FL 33040, USA