Here's How To Stay Safe Around Wildlife In Yellowstone National Park
Yellowstone National Park is renowned as one of the best national parks to visit in America. It's got an abundance of wildlife, including wolves, moose, elk, bison, bears, and more. These creatures are truly magical to observe in their wild natural settings. However, encounters with them are not always pleasant. This is especially true if the wild animals feel threatened or nervous. Too often, visitors can approach wildlife out of curiosity. We all want great photographs from our trips, but too much intrusion can cause unpredictable reactions from the animals. Here are a few tips for staying safe around the wildlife at Yellowstone National Park.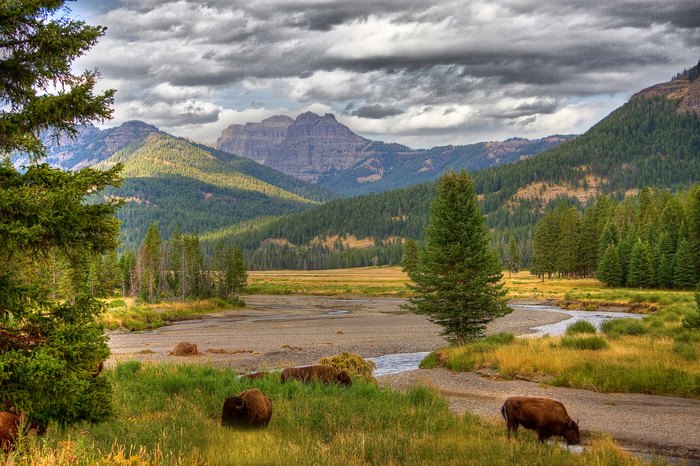 For additional information about park safety concerning wildlife when visiting some of the best parks in the U.S., be sure to read this helpful guide from the National Park Service.
What's your favorite national park to visit in America? Here are some of the country's least-visited national parks that are well-worth checking out!
OnlyInYourState may earn compensation through affiliate links in this article.
Address: Yellowstone National Park, United States
National Parks to Visit in Wyoming
March 01, 2022
What are some fun things to do outside in Wyoming?
In a place as beautiful as Wyoming, it goes without saying there is plenty to do outside here! A lot of available outside activities in Wyoming vary depending on the weather. In the winter, you'll find that many enjoy skiing, ice fishing, and snowboarding. Snow tubing is another fun winter activity that just about anyone can enjoy, and there are some great places to enjoy snow tubing in Wyoming! Warmer weather brings even more options for outside enjoyment. Hiking, hunting, and camping are all popular activities in Wyoming.
What are some more of the best parks in Wyoming?
Yellowstone and Grand Teton National Park are two of the best-known national parks in Wyoming, but we actually have six national parks in Wyoming, plus dozen state parks within our borders. All of our state parks are incredible and worth visiting. If you love animals, plants, or just want to enjoy some peace and quiet, parks in Wyoming are the ideal vacation spot for you.
What are some great hiking trails in Wyoming?
There are some fantastic hiking trails in Wyoming: in fact, we are home to some of the best hikes in the world. Some of the hikes within Yellowstone National Park are particularly breathtaking and shouldn't be missed.