Redwood National Park: Get Lost Amongst The World's Tallest Trees In California
While man-made attractions like the Statue of Liberty or the Eiffel Tower attract a lot of buzz, there is a place in California where Mother Nature outshines everything. Redwood National Park and the adjacent State Parks are home to the world's tallest trees, providing sanctuary to nearly half of the world's old-growth redwoods. Some of the trees here tower more than 370 feet tall — five stories taller than the Statue of Liberty. Visiting the redwood forests is a bit like being in Alice in Wonderland; you'll marvel at the tallest trees on the planet, and feel very, very small. Visiting Redwood National and State Parks is an immersive experience that will put you in the here and now, in the absolute magnificence of nature. It's transformative, and truly necessary in these tumultuous times. So take a step back, take a deep breath, and revel in the grandest of Mother Nature's natural wonders at Redwood National Park, one of the most beautiful places in the U.S.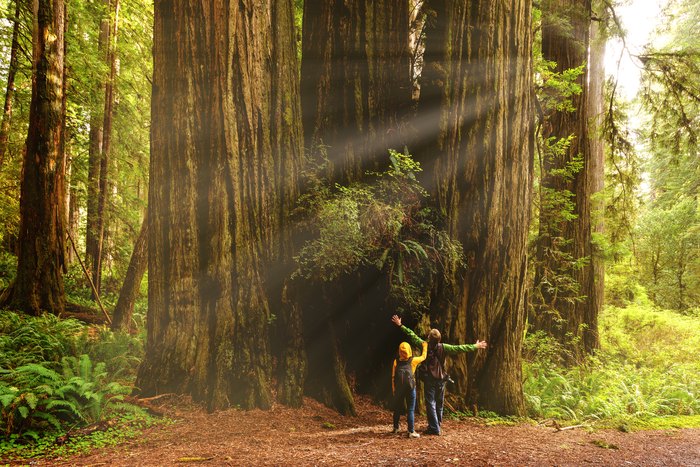 The world is a wondrous place. Sometimes we need to take a step back to really grasp how beautiful life truly is — take a deep breath, and really marvel at the miracles all around us. That's what a Bucket List is really all about; providing inspiration to stoke and satisfy your wanderlust and sense of wonder. In California, Redwood National and State Parks is a place of divine design that speaks to the glory of Mother Nature.
For a brief look into what makes this national park so very special, watch the video below and prepare to be awe-inspired.
Learn more information and plan your visit to Redwood National and State Parks on the NPS website.
Visitor's Center:
Accessibility: Redwood National and State Parks is a diverse series of parks, landscapes, and terrain — kept as untamed as possible. However, the National Park Service and California State Parks strive to make these parks universally accessible to all and offer ADA-accessible campsites and parking, numerous paved trails, and a variety of accessible programming.
Pet Friendly: Due to the wildlife that calls Redwood National and State Parks home, pets are not allowed on any park trails or at ranger-led programs. However, if you want to walk through old-growth redwoods with your leashed pet, check out Cal Barrel Road at Prairie Creek Redwoods State Park, or Walker Road, located at Jedediah Smith Redwoods State Park.
Parking: Parking is located throughout Redwood National and State Parks; including near several popular trails and visitor centers. You'll want to review the park map before you go and pick a lot near your planned activities.
Seasonal Access: Though the park is open year-round, summer draws the largest crowds, so consider a visit in spring or fall for a less crowded experience and some truly spectacular wildlife watching. Winter is the rainy season, so plan accordingly if this is when you plan to visit. Roads, trails, and public access are open year-round; however, some campgrounds and information centers are closed in the off-season (October-May).
Cost: Admission to Redwood National and State Parks is free, with the exception of day-use areas within the Prairie Creek Redwoods, Del Norte Coast Redwoods, and Jedediah Smith Redwoods State Parks. State park day-use passes and Interagency Federal Passes are accepted within these three state parks.
Free park admission days: Throughout the year, the National Park Service will offer free entrance days. These days are wonderful opportunities to explore the national parks on your bucket list. Keep in mind, though, that these days can also be more crowded. Some of the free entrance days include:
January 16th — Martin Luther King, Jr.'s Birthday
April 22nd — the first day of National Park Week
August 4th — Anniversary of the Great American Outdoors Act
September 23rd — National Public Lands Day
November 11th — Veterans Day
Learn more when you visit the official National Park Service website.
Restrooms: Restrooms can be found at the Hiouchi Visitor Center, Jedediah Smith Campground Visitor Center, Crescent City Information Center, Prairie Creek Visitor Center, and the Thomas H. Kuchel Visitor Center.
Feeling inspired to fill your Bucket List? Check out our previous feature of The Outer Banks in North Carolina and Molokini Crater in Hawaii, then subscribe to our weekly Bucket List newsletter to discover new destinations across the country that definitely deserve a visit.
OnlyInYourState may earn compensation through affiliate links in this article.
More to Explore
redwood national park
What is the difference between a redwood and a sequoia?
Redwoods and sequoias differ in both shape and size. The notable differences between the two trees include:
Habitat
Foliage
Shape and size
Cones and seed
Color of bark
The giant sequoia can be found along the western slopes of the Sierra Nevada, growing at elevations between 4,000 to 8,000 feet. The redwood grows closer to the Pacific Ocean near the coast. Both trees are remarkable; the giant sequoia is the largest tree in trunk size, and the redwood is the tallest tree.
What is the tallest tree in the U.S.?
Measured by height, the tallest tree in the U.S. is called the Hyperion. This coastal redwood is located in the heart of Redwood National Park and is approximately 380 feet tall. It's not currently possible to visit the Hyperion and trespassers could be fined up to $5,000.
Measured by volume, the General Sherman Tree is the largest tree in the world. It measures 275 feet tall and is over 36 feet in diameter. The General Sherman Tree is a giant sequoia.
Related Articles
Featured Addresses

1600 US-199, Crescent City, CA 95531, USA