Molokini Crater: Discover A Vibrant Undersea World Hidden In A Sunken Volcano
Hawaii is the ultimate bucket list destination; though the Aloha State is the fourth smallest in the U.S., its 6,423 square miles are packed with some of the most extraordinary natural wonders in the world. Molokini Crater is one such wonder. A superlatives superstar, Molokini Crater is the state's only island marine sanctuary; one of just three volcanic calderas in the world; and the very best place to go snorkeling in Hawaii. The experience of exploring Hawaii from the pristine waters of Molokini Crater is truly something you will remember for the rest of your life.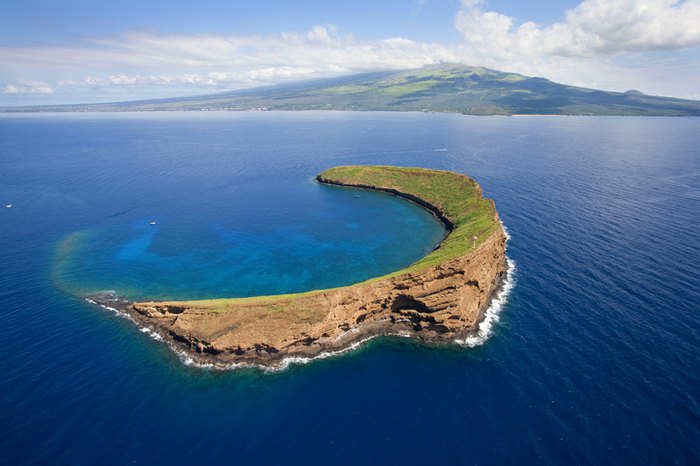 Molokini Crater in Hawaii is a portal into a place that's absolutely awe-inspiring; a realm of immeasurable splendor and beauty. This natural wonder in Hawaii is a place that will satisfy and fuel your wanderlust for our wide and wonderful world.
Learn more about Molokini Crater at the Pride of Maui website.
General Information:
Accessibility: There are a variety of ways to experience Molokini Crater, and while snorkeling is the top attraction, boat tours and air tours are available that offer greater accessibility. To learn more, visit each attraction's website or Facebook page.
Pet-Friendly: Generally, pets are not permitted aboard the tourist boats, but be sure to check individual businesses for their pet policy. Certain privately chartered excursions may allow for pets.
Parking: Since access to Molokini Crater is only available by boat, you'll depart from varying locations in Maui. Most Molokini Crater snorkeling outfitters depart from Maalaea, and Makena is also a popular departure spot. Makena is the closest community to the Molokini Crater, so you'll have the shortest boat ride, and be one of the first to arrive, which is a plus if you experience motion sickness. Check individual departure points before you go, however, as some lots have an attached parking fee.
Seasonal Access: You can enjoy snorkeling and other recreation at Molokini Crater all year round. Depending on what time of year you visit, you may also see whales while exploring!
Cost: Cost varies by activity, but there are definitely excursions at Molokini Crater to fit each budget. Group discounts and other promotions are often available at these attractions, so be sure to ask about those when reviewing your options.
Feeling inspired to fill your Bucket List? Check out our previous feature of The Outer Banks in North Carolina and Bryce Canyon National Park in Utah, then subscribe to our weekly Bucket List newsletter to discover new destinations across the country that definitely deserve a visit.
Address: Molokini, Hawaii, USA