Get Away From It All At These Rugged And Remote Wilderness Areas In The U.S.
After the whirlwind of the holidays, many of us crave space. Because while the holiday season is filled with fun and family, the need for peace and quiet come January is real. Luckily, there are lots of national forests, parks, and preserves across the country where one can do just that. "The clearest way into the Universe is through a forest wilderness," said John Muir, and we wholeheartedly agree. Heed the call and escape from it all at these rugged and remote wilderness areas in the U.S.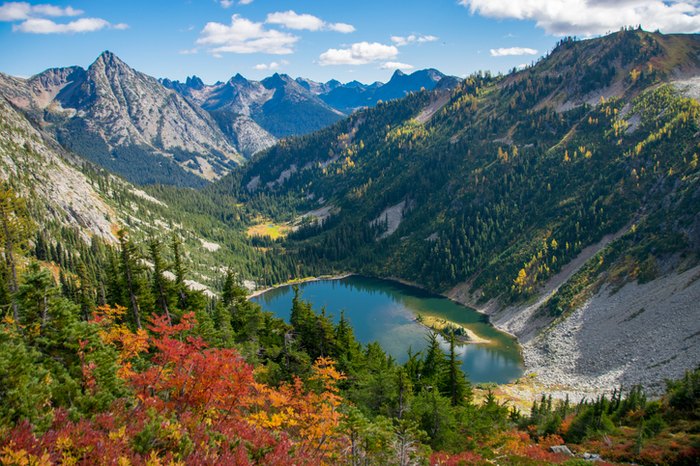 What's remarkable about spending time in nature is that, even if you're alone, you'll never feel lonely. When surrounded by the forest and wildlife, mountains and rivers, you'll be in the very best kind of company — the kind that fills, not depletes, your bucket.
Instagram Inspiration
Looking for more awe-inspiring places to experience in this beautiful country of ours? It's hard to compare to the beauty of Maroon Bells. This place of sublime splendor is the culmination of more than 300 million years of geologic activity, including sedimentation, weathering, and erosion by wind, water, and ice. It's one of Mother Nature's finest masterpieces, and truly deserving of a place on your bucket list. For more travel ideas and inspiration, follow OnlyInYourState on Instagram and Facebook.
View this post on Instagram
Address: Canyonlands National Park, Utah 84532, USA
Address: Baxter State Park Road, Baxter State Park Rd, Maine, USA
Address: Channel Islands National Park, Ventura, CA 93001, USA
Address: Congaree National Park, South Carolina 29061, USA
Address: Gates of the Arctic National Park and Preserve, 101 Dunkel St, Fairbanks, AK 99701, USA
Address: National Forest Development Road 448, NF-448, Nevada 89311, USA
Address: Guadalupe Mountains National Park, Salt Flat, TX 79847, USA
Address: Isle Royale National Park, Michigan, USA
Address: Jedediah Smith Redwoods State Park, Crescent City, CA 95531, USA
Address: Katmai National Park and Preserve, King Salmon, AK 99613, USA
Address: North Cascades National Park, Washington, USA
Address: Pisgah National Forest, North Carolina 28714, USA
Address: Bighorn National Forest, Wyoming 82834, USA
Address: Voyageurs National Park, Kabetogama Township, MN 56669, USA
OnlyInYourState may earn compensation through affiliate links in this article.