Sequoia National Park: Wander In Wonder Through An Ancient Forest In California
There are certain places that exist not only to remind us of how powerful nature is, but also of how small we really are. Spending time in East-Central California's Sequoia National Park will do both of those things, along with offering a hefty dose of beautiful lifelong memories. This is a place to visit when you need to renew your spirits, surround yourself with groves of some of the world's oldest trees, and reawaken your sense of wonder.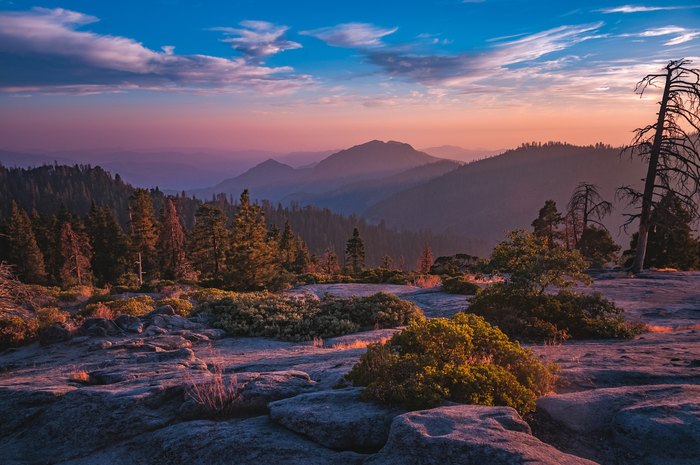 Sequoia National Park is located in California's southern Sierra Nevada Mountains. It sits adjacent to Kings Canyon National Park, and it's quite common for visitors to see both of them on one trip. It isn't every day you can hike through groves of some of the oldest and most massive trees on Earth, which is why Sequoia National Park deserves a spot on your bucket list.
General Information:
Accessibility: The park staff is making a continual effort to make the accessibility of Sequoia and Kings Canyon's trails and facilities available to all. Their complete Accessibility Guide can be found here. 
Pet Friendly: Pets are permitted in parking lots, campgrounds, picnic areas, and on paved roads. Leashes are required. However, the park staff recommends leaving your pets at home if possible for safety reasons. 
Parking: There are numerous parking areas around the park, but they fill up quickly in the summer. Parking lots near popular attractions often fill by noon, and sometimes earlier. Your best bet is to pay your entrance fee online and try to arrive on a weekday morning.
Seasonal Access: The park is open 24 hours a day, 365 days a year. Occasionally, winter storms, wildfires, and other circumstances may cause the parks to close temporarily.
Cost: A vehicle pass costs $35 and is valid for up to 7 days. A single person traveling on foot or by bicycle will pay a $20 entrance fee. A motorcycle pass is $30 for 1-7 days, or you can purchase an annual pass for $70 which admits all passengers in a private vehicle. 
Feeling inspired to fill your Bucket List? Check out our previous features of Hoh Rain Forest in Washington, Maroon Bells in Colorado, and the Apostle Islands in Wisconsin, then subscribe to our weekly Bucket List newsletter to discover new destinations across the country that definitely deserve a visit.
Address: Sequoia National Forest, California 93262, USA
OnlyInYourState may earn compensation through affiliate links in this article.