Crater Lake National Park: The Most Picturesque Lake In The Country
There are some places that are simply astounding; places that instill a sense of wonder and awe in all who visit. Crater Lake in Oregon is one of those wondrous places. At 1,949 feet deep, it's the deepest lake in the United States; a pristine pool of deep azure. The lake's history is as deep as its waters, tracing back over 7,700 years to when a powerful eruption collapsed an ancient volcano, forming what we know today as Crater Lake, Oregon's first national park. Today, Crater Lake National Park attracts upwards of 750,000 visitors each year, inviting all to revel in its resplendence.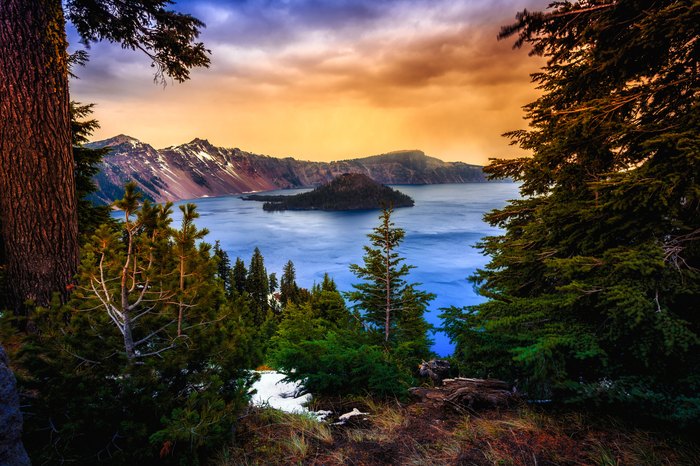 The Germans have a word, waldeinsamkeit, that's used to describe the feeling of "being at one" with the universe. It's a big word, with a big meaning.
It's good to be reminded, every once in a while, of how wide and wonderful the world really is. Life can feel so big and unmanageable at times, that standing at the precipice of a place as wondrous as Crater Lake has a calming, grounding effect. It connects us to the world and gives us perspective.
General Information:
Accessibility: Accessibility varies within the park, but there are several areas of which you'll want to take note. Godfrey Glen Trail is the park's fully accessible trail; it's a one-mile loop that's relatively flat. East Rim Drive offers several accessible adventures, including an accessible campground and scenic trails.
Pet Friendly: Pets are welcome at Crater Lake National Park, but only in certain areas. There are a few dog-friendly trails, including Godfrey Glen. Read Crater Lake's full pet policy, including dog-friendly attractions and trails, on the NPS website.
Parking: The National Park Service operates two small visitor centers, both on the south side of the lake. Go to the Steel Visitor Center in the Park Headquarters area to view a 22-minute park film as an introduction to the geological and human history of Crater Lake. In the summer months (May-October), this visitor center is open from 9 a.m. to 5 p.m.; in the winter, it's open from 10 a.m. to 4 p.m. Note that parking here is limited — especially for oversized vehicles.
Seasonal Access: Crater Lake is open year-round, but some of the park's roads, trails, and facilities are closed seasonally. The park sees roughly 70% of its visitors between Memorial Day and Labor Day, so expect crowds if you're planning a trip during the summer. Winter is a beautiful time to visit, but be ready with your snowshoes: the annual average snowfall in the park is 43 feet! September is the ideal month to visit: crowds are down, and the weather is picture-perfect. Visit Crater Lake's current conditions page on the NPS website to find out what's currently open in the park.
Cost: Admission to Crater Park varies by season. For private vehicles, you'll pay $30 in the summer (May 22-Oct. 31) and $20 in the winter (Nov. 1 – May 21), and this pass is good for seven days.
Free Park Days: Every so often, the National Park Service offers fee-free days. These are great days to visit Crater Lake National Park, or any other national park on your bucket list. These dates are typically on the following holidays: the Birthday of Martin Luther King, Jr. (January 16th), the first day of National Park Week (typically towards the end of April), the Anniversary of the Great American Outdoors Act (August 4th), National Public Lands Day (September 23rd), and Veterans Day (November 11th).
Restrooms: Visitors will find flush toilets at the following places within the park: Rim Village, Mazama Village, the Steel Visitor Center (9:00 a.m.-5:00 p.m.), and Lost Creek Campground. There are vault toilets located at most picnic areas and a handful of roadside pullouts.
Learn more about Crater Lake by visiting its page on the National Parks Service website. And as you're planning your next adventure in the Pacific Northwest, definitely put the Columbia River Gorge on your Bucket List.
Curious to see Crater Lake National Park from a new perspective? Check out the following footage and prepare to be inspired!
Feeling inspired to fill your Bucket List? Check out our previous features of Molokini Crater in Hawaii, Redwoods National Park in California, and Pictured Rocks National Lakeshore in Michigan, then subscribe to our weekly Bucket List newsletter to discover new destinations across the country that definitely deserve a visit.
OnlyInYourState may earn compensation through affiliate links in this article. As an Amazon Associate, we earn from qualifying purchases.
More to Explore
crater lake national park
What are the most beautiful national parks to visit in the U.S.?
America is positively brimming with national parks. It's said that the National Park System is America's Best Idea, and we couldn't agree more. In our opinion, each national park offers its own brand of beauty, and each merits a place on your bucket list. That being said, some national parks are especially popular. The most beautiful national parks to visit in the U.S. include -- but aren't limited to! -- the following:
Yellowstone National Park
Yosemite National Park
Zion National Park
Glacier National Park
Arches National Park
Bryce Canyon National Park
Sequoia National Park
Grand Canyon National Park
Great Smoky Mountains National Park
Olympic National Park
Joshua Tree National Park
Canyonlands National Park
Acadia National Park
Death Valley National Park
Denali National Park
Rocky Mountain National Park
Shenandoah National Park
What are the best state parks in Oregon?
While national parks are stunning, there's something equally enchanting about state parks. Some of the best state parks to visit in Oregon include:
Silver Falls State Park
Ecola State Park
Smith Rock State Park
Shore Acres State Park
White River Falls State Park
John Day Fossil Beds National Monument
Samuel H. Boardman State Scenic Corridor
Wallowa Lake State Park
Fort Stevens State Park
Columbia River Gorge National Scenic Area
Sunset Bay State Park
No matter the time of year, visiting a state park in Oregon is always a good idea! For more information, check out our list of the very best state parks in Oregon that you'll want to add to your outdoor bucket list immediately.
Related Articles
Featured Addresses

Crater Lake National Park, Oregon, USA