Florida's Dry Tortugas National Park Is Among The Least-Visited In The U.S.
If you live in an urban or suburban area, it can sometimes feel like there are few places in the United States that truly feel remote. And when it comes to visiting national parks in Florida, that's infinitely more true. After all, places have to have some sort of draw to even be named a national park, so they're generally pretty popular with tourists. You may be surprised to learn that there are still a handful of these parks that remain relatively undiscovered. One national park to visit in Florida is certainly a prime example of this. Dry Tortugas National Park has a remote location that is mostly accessible only by boat or plane. However, those who manage to arrive will be treated to some of the bluest, clearest water in the country. Here's more on why you might want to consider a visit to the least visited national park in Florida. 
If you're planning a visit to this incredible national park, there's no better time to visit than during National Park Week. Learn all about this celebration of America's great outdoors — including fee-free days throughout the year!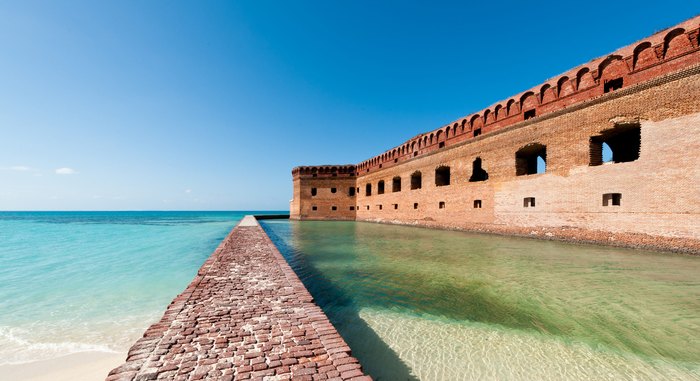 Here is a beautiful and informative video about the park that will make you want to visit all the more.
Curious to learn more about Dry Tortugas National Park? You can check out the official visitor's guide on the National Parks Service website.
OnlyInYourState may earn compensation through affiliate links in this article.
Address: Dry Tortugas, FL, USA
Things To Do Outside In Florida
January 11, 2022
What are some of the best parks in Florida?
Did you know we have 11 national parks in Florida and 175 state parks? That's not even touching on our many fantastic municipal parks! We feel like all the national parks in Florida are worth a visit, but the Everglades in particular belongs on any traveler's bucket list.
What are some good things to do outside in Florida?
With our famously warm weather (we are the Sunshine State, after all!), we are one of the few states able to enjoy outdoor activities on just about any day of the year. Feeling a little adventurous? There are so many fun things to do outside in Florida! In a state as beautiful as Florida, we don't know how anyone manages to stay inside.
What are some good hiking trails in Florida?
Florida is heaven for hikers! We've got everything from long treks for experienced hikers down to novice beginning trails for those just starting out with the hobby. Thanks to our beautiful weather, you're able to easily hike year-round without having to buy a lot of fancy snow equipment. If you are a novice hiker looking to dip your toes into the water with some easy trails, check out this list of great hiking trails in Florida.