America's National Parks Are Drying Up Faster Than We Thought
The effects of climate change can be felt all across the country, and our national parks are not immune. Studies have shown that temperatures across America's 417 protected areas and national parks have increased significantly over the last decades; at an alarming rate that is reportedly twice the amount that the rest of the country is seeing as a whole. Wildfires rage across many parts of the country, with our national parks in harm's way. If you are planning to visit a national park in the U.S., you will want to be armed with the following information.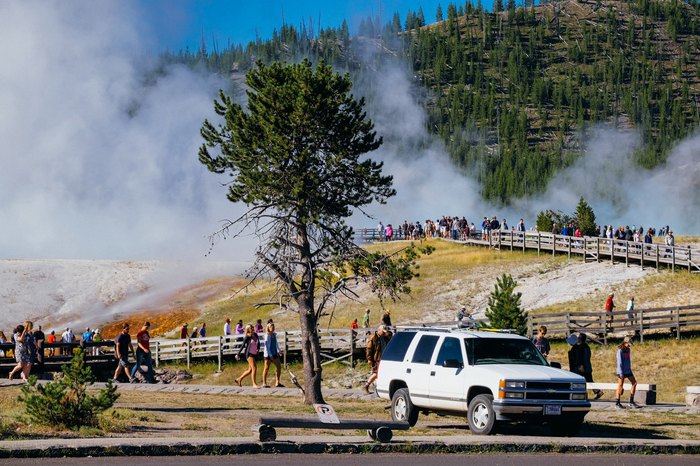 What are your favorite national parks to visit? Are you planning to visit a national park in the U.S. anytime soon? In addition to arming yourself with the knowledge from IOPScience, be sure to practice "Leave No Trace" principals and leave these pristine parks as you found them; they are true national treasures.
Ready to read some more head-turning travel news? Then hold onto your seats because Snakes Are Regularly Being Found On Planes Headed To Hawaii!
Address: United States, United States
national parks to visit
August 10, 2022
What's the most popular national park to visit in the U.S.?
Roughly 297.1 million total visits were recorded in 2021 by the National Park Service, and there are certainly some national parks that receive more attention than others. Blue Ridge Parkway, Great Smoky Mountains National Park, Golden Gate National Recreation Area, Gateway National Recreation Area, and Lake Mead National Recreation Area claimed the top five spots as per the NPS, and we highly recommend you plan to visit all of these amazing national parks to visit in the U.S.!
What are some lesser-visited national parks to visit in the U.S.?
Our National Park System encompasses 423 national park sites in the United States. They span across more than 84 million acres, with parks in each of the 50 states and extending into the outlying territories. Within this expansive system, there are 63 sites that include "National Park" as part of their proper name, including well-known places like Acadia, the Great Smoky Mountains, and the Grand Canyon. And although these 63 places generally take the spotlight on America's National Parks stage, there are countess other parks rife with opportunities for epic exploration. Here are 13 of our favorite lesser-known national parks to visit in the U.S.; among those listed, we adore Channel Islands National Park in California, Black Canyon of the Gunnison National Park in Colorado, Voyageurs National Park in Minnesota, and Congaree National Park in South Carolina!
Address: United States, United States