Here Are The Best Waterfalls You Need To Visit In Every State
There's something inherently magical about waterfalls. Whether you're reveling in the grandeur of the largest waterfall in the U.S., or simply taking in a babbling little cascade while on a hike, waterfalls are extraordinary natural wonders that really must be experienced in person. Happily, there are numerous bucket-list-worthy waterfalls across the country, so no matter which state you call home, you're guaranteed to be close to one of these wondrous falls. But, don't just take our word for it: here are the best waterfalls you need to visit in every state — and we recommend visiting them all!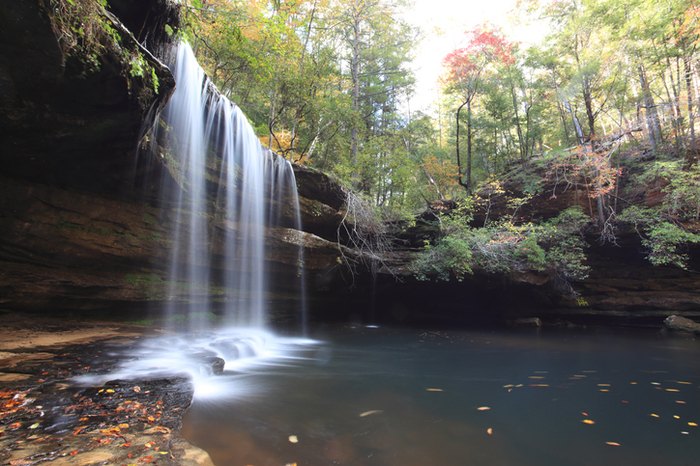 Who's up for a little waterfall chasing? (Have you caught the wanderlust bug now, too?) Across the country, there are some truly wondrous waterfalls that make for some magical, memorable experiences.
And if you're looking for more superlatives in the U.S., be sure to check out the 50 smallest towns in each state!
OnlyInYourState may earn compensation through affiliate links in this article.
Address: Caney Creek Falls Trail, Alabama 35553, USA
Address: Nugget Falls, Juneau, AK 99801, USA
Address: Havasu Falls, Arizona 86435, USA
Address: Cedar Falls Township, AR 72110, USA
Address: Yosemite Falls, California, USA
Address: Bridal Veil Falls, Colorado 81426, USA
Address: Great Falls, Canaan, CT 06031, USA
Address: Brandywine Creek State Park, 41 Adams Dam Rd, Wilmington, DE 19807, USA
Address: Falling Creek Falls, Florida 32055, USA
Address: Anna Ruby Falls, Georgia 30571, USA
Address: Wailua Falls, Hawaii 96746, USA
Address: Shoshone Falls, Idaho 83341, USA
Address: Starved Rock State Park, 2678 E 875th Rd, Oglesby, IL 61348, USA
Address: Cataract Falls, Jennings Township, IN, USA
Address: Dunning's Spring Park, Ice Cave Rd, Decorah, IA 52101, USA
Address: Cumberland Falls, Kentucky, USA
Address: Rock Falls Dr, Louisiana, USA
Address: West Forks, ME 04985, USA
Address: Muddy Creek Falls, Maryland 21550, USA
Address: Bash Bish Falls, Mt Washington, MA 01258, USA
Address: Tahquamenon Falls, McMillan Township, MI 49768, USA
Address: High Falls, Tettegouche State Park, 5702 MN-61, Silver Bay, MN 55614, USA
Address: Clark Creek Natural Area, 366 Ft Adams Pond Rd, Woodville, MS 39669, USA
Address: Mina Sauk Falls, Arcadia Township, MO 63650, USA
Address: Bird Woman Falls, Montana 59936, USA
Address: Smith Falls, Valentine, NE 69221, USA
Address: Kings Canyon Waterfalls, Kings Canyon Rd, Carson City, NV 89703, USA
Address: Arethusa Falls, Livermore, NH 03812, USA
Address: Buttermilk Falls, Mountain Rd, Layton, NJ 07851, USA
Address: Sitting Bull Falls, New Mexico 88220, USA
Address: Rainbow Falls, Keene, NY 12943, USA
Address: Linville Falls, NC 28752, USA
Address: Mineral Springs, ND, USA
Address: Ash Cave, 26400 OH-56, South Bloomingville, OH 43152, USA
Address: Turner Falls, Davis, OK 73030, USA
Address: Multnomah Falls, Oregon, USA
Address: Raymondskill Falls, Dingman Township, PA 18337, USA
Address: Pawtucket Falls, Pawtucket, RI 02860, USA
Address: Raven Cliff Falls, South Carolina 29635, USA
Address: Sioux Falls, SD, USA
Address: Cane Creek Falls, Tennessee 37367, USA
Address: Gorman Falls, Texas 76853, USA
Address: Lower Calf Creek Falls, Utah 84716, USA
Address: Moss Glen Falls, Stowe, VT 05672, USA
Address: Doyles River Falls, Virginia 22932, USA
Address: Palouse Falls, Washington 99143, USA
Address: Blackwater Falls, West Virginia 26260, USA
Address: Big Manitou Falls, Superior, WI 54880, USA
Address: Upper Falls of the Yellowstone River, Wyoming 82190, USA
Waterfalls Near Me
March 05, 2022
What are the best hiking trails with waterfalls in the USA?  
There are quite literally tens of thousands of hikes and hiking trails across the United States. Many of those have unique or extraordinary features, like photogenic mountains, canyons, lakes, geological formations, and even waterfalls. Waterfall hikes are truly something special, and there are hundreds of amazing ones all over the country. Some of our favorites – the ones we think are the best, your mileage may vary – include the amazing Trail of Ten Falls at Silver Falls State Park in Oregon. This 7.8-mile loop trail takes hikers on a journey past multiple amazing waterfalls, including the amazing, 178-foot-tall South Falls. Havasu Falls in Arizona is to die for; it's a tough one, though, as you need to secure a permit years in advance and to get to it requires a 10-mile one-way hike. Think you can do it? The reward is Havasu Falls, one of the most amazing waterfalls in the world! Bridal Veil Falls in Colorado is another must-see, with an incredible 365-foot plunge after a four-mile round-trip hike.  
What are some of the most amazing waterfalls in the USA?  
Like we mentioned above, some of the most amazing hikes lead to some of the most amazing waterfalls, and the United States has no shortage of any of those things. Some of the most amazing falls are the ones mentioned above – Trail of Ten Falls, Havasu Falls, Bridal Veil Falls – but there are seriously so many more that it's impossible to list just some, but we can try. There are also incredible gems like Yosemite Falls in California, which is 2,425 feet tall and the fifth-tallest waterfall in the world! Lower Yellowstone Falls is stunning and located in Wyoming; with a drop of 308 feet down, it's the largest fall by volume in the Rocky Mountains. Then, way off on an island is Waimoku Falls, in Hawaii; it features a 400-foot drop down a stunning lava wall. Want some awesome waterfalls you can literally walk behind? Check this article out!