Discover One Of Vermont's Most Majestic Waterfalls – No Hiking Necessary
If you find yourself in Vermont and are looking for waterfalls near me, know that the Green Mountain State has its fair share. However, many of them take quite a bit of effort to reach. If you're longing for the stunning views of water tumbling over rocks in a gorgeous cascade without a strenuous trek through the woods, visit Moss Glen Falls in Granville, VT. This roadside attraction has all the beauty of our more hidden falls, but with no hiking necessary unless you want to get closer to the falls. In this case, there is a short and easy trek. For those who crave further waterfall viewing, here are some more of the best waterfall hikes in Vermont.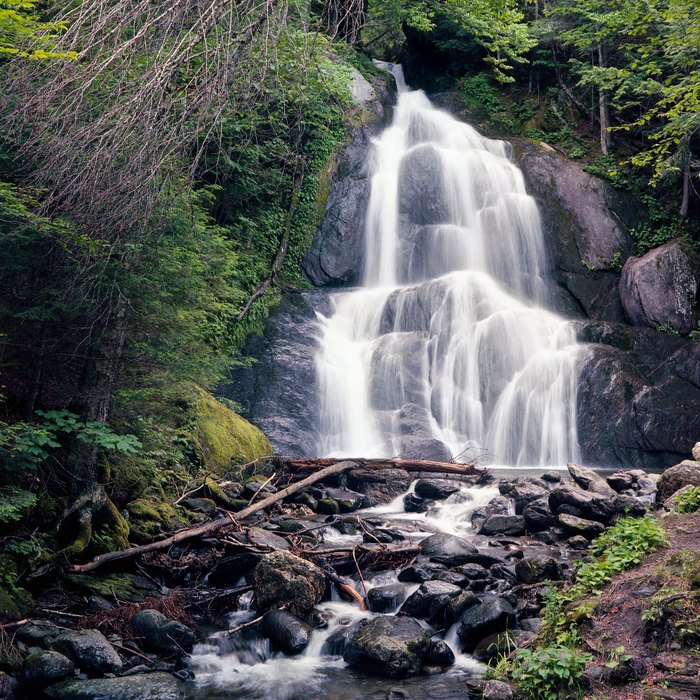 Have you ever witnessed the stunning scenery at Moss Glen Falls in Granville, VT? Waterfall chasers will also want to check out this bucket list of hiking trails with waterfalls in Vermont. Join our Vermont Nature Lovers Group on Facebook to find more great outdoor places to visit and photograph.
OnlyInYourState may earn compensation through affiliate links in this article.
Address: Moss Glen Falls, Granville, VT 05747, USA
Waterfalls Near Me
April 29, 2022
What are the most easily accessible hikes in Vermont?
There are quite a few trails in Vermont that can be easily accessed for those with reduced mobility or for those who prefer just taking it easy while immersed in nature. In Ferdinand, you can try out Wenlock Wildlife Area's Moose Bog Trail. The one-mile walk includes a boardwalk and will provide ample opportunities for viewing a variety of unique wildlife. Killington's Thundering Falls Boardwalk has a lovely 900-foot accessible boardwalk that sits right on the Appalachian Trail. And if you are looking for waterfalls near me, this one leads out to a 140-foot one complete with a platform for viewing.
Where can I hike to a cave in Vermont?
While any hike is a fun way to get outdoors, finding ones that lead out to or pass by a cave is a special bonus treat. In Burlington, you'll find Arthur Park. Within the 70 acres here, you'll find Intervale Sea Caves (sometimes known as "Devil's Den"). While you can only get near the caves via a .6 out-and-back trail during the warmer months, in the winter, you can skate right into the majesty of the colorful rocks and natural stone formations. Then there is Everett Cave in Bennington on the Southern Vermont College campus. Within a short hike, you'll be able to reach the cavern and its 30-foot chamber for exploration.
Are there any swinging bridges in Vermont?
For those who want a little more swinging and swaying in their outdoor adventuring, Shrewsbury offers visitors a great swinging bridge to traverse. The Clarendon Gorge Bridge is a cable suspension footbridge built in 1975. It is 70 feet in length and hangs 30 feet over Mill River. Learn more about visiting this magical place.