Vermont might well be one of the smallest states in the country, but what it lacks in size, it more than makes up for in scenic splendor. Lauded for its vibrant fall foliage and green mountains, Vermont is also a treasure trove of waterfalls.
For instance, did you know that there is one county in Vermont that boasts 16 wondrous waterfalls? Or that Moss Glen Falls has been hailed as one of the best waterfalls in the Northeast? Or that, despite often being written off as a state for winter recreation, there are abundant waterfall swimming holes in Vermont?
The Green Mountain State is full of surprises – beautiful, wonderful surprises – and today we're going on a waterfall-chasing tour de force to uncover the best waterfalls in Vermont.
Best Waterfalls in Vermont
From waterfall hikes and superlative cascades to clear-blue waterfall swimming holes and frozen falls, waterfall chasing is a 24/7/365 pastime in Vermont, with these falls offering the perfect enticement to brave the elements of the Northeast.
Here at OnlyInYourState, our insatiable appetite for wanderlust keeps us going, and waterfall chasing is our most favorite way to satisfy our adventure-seeking souls. And in Vermont, unlimited adventures – and waterfalls – await. Here are the best waterfalls in Vermont that belong on every adventurer's bucket list.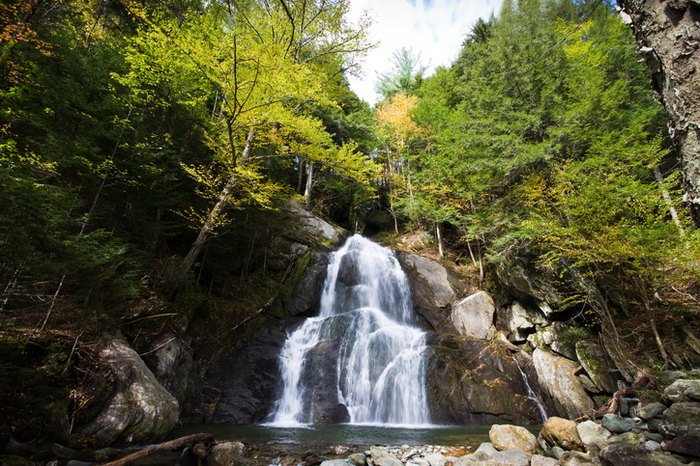 Top Waterfall Hikes in Vermont
Nothing compares to a hike with a waterfall — especially in the Green Mountain State, where the lush landscape and dreamy scenery make for a wholly enchanting waterfall-chasing experience.
Every adventurer knows that some of the best places require some work to get to. It is deep within the woods where you find the pace of life slows down as you are surrounded by the beautiful scenery here in Vermont. There is also a sense of accomplishment when you finally arrive at the base of a gorgeous waterfall. However, the journey of getting there can be just as fun as the destination. For avid waterfall enthusiasts, the following waterfalls are considered to be the top waterfall hikes in Vermont; lace up your hiking boots and see if you agree!
Easy Waterfall Hikes in Vermont
There's nothing like the thrill of the chase, and this most certainly applies to waterfall chasing.
However, novice or beginner hikers can still participate in the fun, as some of the best waterfall hikes in the Green Mountain State are also the most accessible. Certainly, hard work will come with a big payoff in most of life but that doesn't have to apply here. You can take a short trip if you are a beginner, short on time, or looking for a great waterfall, either way, these waterfalls are a must-see for anyone who loves to explore the great outdoors.
Take a look at the following easy waterfall hikes in Vermont; they offer immensely scenic payoffs for minimal effort!
No-Hike Waterfalls in Vermont
While we're all for lacing up our boots and embarking on an epic waterfall adventure, sometimes, even the most avid waterfall chasers need a break from, well, the chase.
And of course, we happen to think these natural wonders deserve to be admired by everyone, not just pro hikers and outdoor enthusiasts. Even if you are an avid adventurer sometimes it's nice to just go for a drive, get out of your car, and stand in awe of some of our state's best waterfalls.
Luckily, there are some truly magnificent no-hike waterfalls in Vermont, just waiting to be admired! Here are some of our favorites…
Vermont Waterfalls You Can Swim In
After a day spent chasing waterfalls all around the Green Mountain State, it's time for some R&R.
And you don't have to look elsewhere to find a tranquil slice of paradise; there are numerous Vermont waterfalls with cool, cerulean blue pools in which you can actually swim!
Yes, you read that right: even in the Green Mountain State, which is best known for its crisp autumns and snowy winters, when the summer heat kicks in (and it always does), there's nothing better than a dip in one of these Vermont waterfalls you can swim in. So get ready to float in some clean mountain water and let it wash your cares away.
Best Road Trips to Vermont Waterfalls
For those who live for the thrill of the chase, there's nothing more exciting than an action-packed road trip adventure to some of the region's finest falls.
Here at Only In Your State, we love nothing more than creating epic road itineraries and think you'll find the following adventures to be among the best road trips to Vermont waterfalls. Pack your bags grab your friends and family and hop in the car for a good old classic road trip!
Hidden Gem Waterfalls in Vermont
There's hidden beauty everywhere in the Green Mountain State, a place with verdant forests and cerulean pools that seems straight out of Middle Earth.
This is especially true of the myriad hidden gem waterfalls in Vermont, which you'll discover along the state's waters and woodland.
Come along with us as we chase down some hidden gem waterfalls in Vermont!
Seasonal Vermont Waterfalls
While pretty much all of Vermont's waterfalls are beautiful year-round, there are some seasonal standouts.
The frozen falls of winter are something to behold; and when the snow begins to melt, the spring cascades come back stronger than ever.
Summer means falls framed by verdant greenery, which, come autumn, transform into the vibrant fall foliage for which Vermont is well known.
Here are a few seasonal Vermont waterfalls that are true standouts:
Summary
There is an embarrassment of riches in terms of natural wonders in Vermont – especially considering it's one of the smallest states in the country.
But what it lacks in size it more than makes up for in splendor, as evidenced by each and every one of the best waterfalls in Vermont outlined above.
So whether you're looking to explore the eponymous Green Mountains of Vermont or the state's pristine alpine lakes and lush forests, an epic waterfall-chasing adventure awaits… right around the corner!
OnlyInYourState may earn compensation through affiliate links in this article. As an Amazon Associate, we earn from qualifying purchases.
More to Explore
What are the best waterfalls in Vermont?
Here are some of our lists of the best waterfalls in Vermont:
Related Articles
Explore Vermont