The Yosemite Firefall In Northern California Will Be Visible Again This Year
It's that time of year again! Yosemite National Park's famous natural phenomenon, the firefall, will once again be making an appearance. Visitors can catch the firefall from mid-to-late February each year at sunset when the orange glow of the water creates the illusion of hot, molten lava flowing from the mountain. A strange phenomenon that has turned into a beloved tradition, this firefall in Northern California is something you have to see to believe. Interested in learning more about what causes the Yosemite Firefall and how long it will last this year? Read on!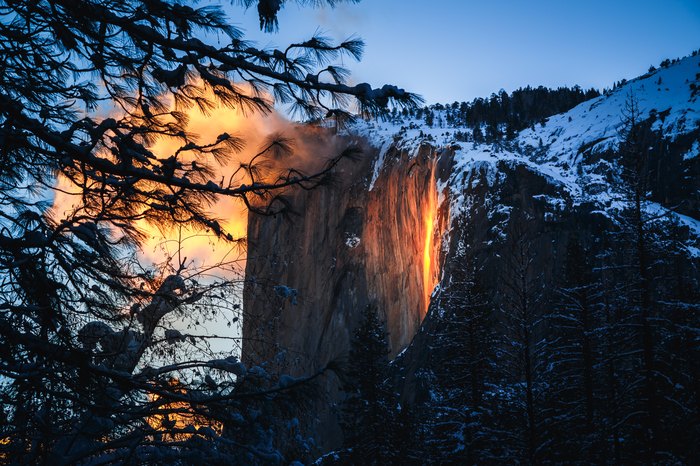 For a short time in February, Yosemite Park's Horsetail Falls will glow as if it's actually on fire; this truly is something you need to see in person. Visit the NPS website to learn more about this year's amazing event. Check out the short video below for a sped-up version of the phenomenon from start to finish!
Have you had the pleasure of seeing the Yosemite Firefall before? Tell us about your experience in the comments! Make the most of your time at Northern California's extraordinary national park and take a look at these 7 Little-Known Things To Do On Your Next Visit To Yosemite.
OnlyInYourState may earn compensation through affiliate links in this article.
Address: Yosemite National Park, California, USA
Yosemite Firefall
February 01, 2021
What are some little-known facts about Yosemite National Park?
In addition to, you know, being the site of a firefall in Northern California, Yosemite National Park is a treasure trove of natural beauty and memorable things to see and do! Located in the Sierra Nevada mountain range of California, this site is renowned for its sequoia trees, Tunnel View, El Capitan, and the Half Dome Hike -- but there are definitely some hidden gems and little-known facts about this beautiful state park. Perhaps most noteworthy is The Ahwahnee Hotel, an iconic example of parkitecture (a design aesthetic meant to blend in with natural surroundings), and its interior was actually the inspiration for Stanley Kubrick's movie adaptation of The Shining. Another cool tidbit? Horse enthusiasts will be pleased to learn that you can actually tackle the trails on horseback; trail rides are typically offered in two-hour, half-day, and full-day increments, and we recommend this option for the scenic Mirror Lake trail.
What are some other scenic parks in Northern California?
Northern California is an absolutely stunning place to live and to visit, with the most beautiful and scenic outdoor parks. Some of our favorites include Castle Crags, Lava Beds National Monument, Lassen Volcanic National Park, Lake Tahoe, and Gold Country. And of course, the California Redwood National and State Parks, one of the state's most wondrous treasures.
How long does the Yosemite Firefall last, and how can I see it?
The Yosemite Firefall is one of the most marvelous natural phenomena in the country. It happens when sunlight and water come together in just the right way at Yosemite National Park in California, creating an illusion of literal fire pouring off the black basalt cliff. For the 2023 season, the first one is coming up this February. (A possible second one occurs in fall.) Last year, no reservations were required. But you'll need a reservation this time out for certain dates to enter Yosemite National Park, which you can learn more about on the NPS website.