The Most Beautiful Waterfall In Kansas Is A Total Hidden Gem
The Sunflower State is best-known for its thriving agriculture, rolling hills, and jaw-dropping sunsets — but did you know that it has some pretty spectacular waterfalls, as well? In fact, the most beautiful waterfall in Kansas is located just outside of Dexter, and it's one everyone should visit.
Named a "Must See" by AARP, Yahoo, and Most Amazing in the World, the Cowley Lake Waterfall is a 25 foot tall hidden treasure that deserves to be seen at least once. Visiting this beautiful waterfall in Kansas feels a bit like stepping into Oz. It's lush and lovely, vibrant and colorful, and you'll wonder if you're really in Kansas anymore. (Trust us; the pictures don't do this place justice!)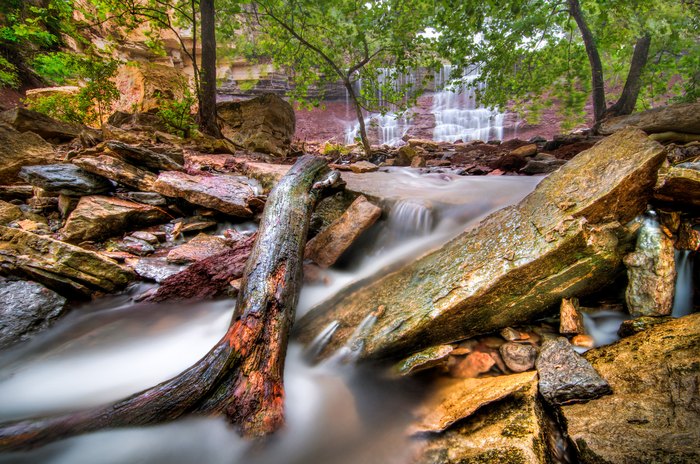 Do agree that Cowley Lake Waterfall is the most beautiful waterfall in Kansas? Have you been there? If you haven't, you can learn more about visiting this natural beauty by visiting this website.
Have you had the opportunity to visit this remarkable landmark? Or is this the first time you're hearing about it? Either way, let us know in the comments!
And if visiting this beautiful waterfall gave you a big case of wanderlust, you'll love taking our epic Kansas Waterfall Road Trip. This amazing road trip in Kansas will take you to Cowley Lake Waterfall, plus six other must-visit falls around the state.
OnlyInYourState may earn compensation through affiliate links in this article.
Address: Cowley County State Lake, Spring Creek, KS 67005, USA
Most Beautiful Waterfall In Kansas
January 29, 2021
What are the most beautiful lakes in Kansas?
If you enjoy exploring Kansas waterfalls, you'll love these stunning lakes found throughout the state. El Dorado Lake was named one of the best state parks in the country and for good reason. The expansive views of blue water are perfect for boating, swimming, or simply for enjoying a picnic on the lakeshore. Fall River Lake, located near Severy, is nestled in the Flint Hills. The combination of the lakeside scenery and the pristine waters makes it quite the scenic spot. The Cedar Bluff Reservoir, found near Ellis, Kansas, has rugged surroundings adding to its beautiful views.
Does Kansas have any natural wonders?
Head out and explore the most beautiful natural wonders in Kansas. Located in Gove County, the Monument Rocks, also known as Chalk Pyramids, are certainly eyecatching. These unique rock formations are fascinating to see from a distance and even more up close. There are tons of fossils left behind from the prehistoric ocean that created these structures through erosion. Speaking of neat rock formations, there is another natural wonder in Kansas called Rock City. These huge, spherical boulders in Ottawa County almost look carved by hand, but they were created through a complex process of concretion and erosion.
What are the most picturesque hiking trails in Kansas?
A great way to enjoy the most scenic views in Kansas is from the trail. The Konza Prairie Nature Trail is the definition of scenic, winding through prairie hills. You can even get a true "life on the prairie" feel at a historic homestead along the 3 miles of trail. The Horse Thief Trail in Kanopolis State Park features 2 miles of beautiful views, including that of a lake. What more could you ask for? If you enjoy forest hikes, try the Kaw River Trail. Located in Lawrence, there are over 8 miles of trails to explore, including ones that wind through the trees.