The 15 Most Incredible Natural Attractions In Kansas That Everyone Should Visit
There's no denying that Kansas is such a beautiful place. Here in the Sunflower State, nature is all around us, and with our wide open skies and lush grasslands, there's always something beautiful to look at. However, sometimes you don't know exactly where to go when you're in search of an incredible natural attraction. Who's ready to get out and explore some of nature's treasures? If you answered "yes," you're in luck because Kansas is filled with lots of natural attractions that are definitely worth a visit. Listed below are 15 Kansas natural attractions to get you started.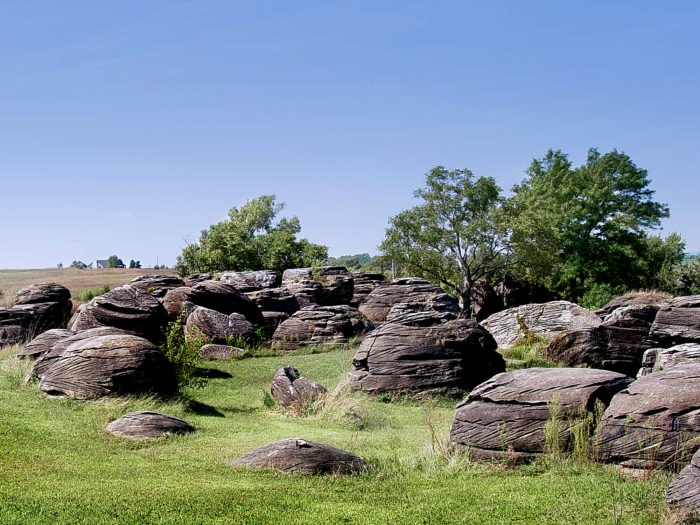 Have you ever seen any of these natural attractions in Kansas up close and in person? If so, please share your thoughts with us in the comments below. Also, if there are any other Kansas natural attractions that you believe should be added to this list, feel free to share those as well.
OnlyInYourState may earn compensation through affiliate links in this article.
kansas natural attractions
June 30, 2022
What are three Kansas natural landmarks that are a definite must-see?
There are quite a few natural landmarks located throughout the state of Kansas. Listed below are three of our favorites that we believe everyone should experience up close and in person.
1. Rock City
Rock City is a 5-acre park that's located in Minneapolis, Kansas. It's home to more than 200 Dakota Sandstone concretions, some of which have a diameter as large as 27 feet. Visitors of Rock City enjoy climbing on these concretions, especially kids.
Monument Rocks are unique chalk formations in Oakley, Kansas. In fact, some are taller than 70 feet. Monument Rocks, which is open to visitors from sunrise to sunset, was the first site to ever be chosen by the U.S. Department of the Interior as a National Natural Landmark. Amazing!
Big Basin Prairie Preserve is located near Ashland, Kansas and is one of the state's most beautiful outdoor spots. Covering nearly 2,000 acres, it features rolling hills, wildflowers, native wildlife, and so much more.
What's one of the smallest natural wonders in Kansas that leaves one of the biggest impressions?
Many natural wonders help make up the great state of Kansas, including Mushroom Rock State Park, which covers only five acres. Even though this state park is small in size, it offers a lot of natural scenic beauty. Mushroom Rock State Park is located in Brookville, Kansas along the Prairie Trail Scenic Byway. It features several rare rock formations, some of which resemble mushrooms. It's most definitely worth seeing at least once.