Going-To-The-Sun Road: Drive Along One Of America's Most Scenic Highways In Glacier National Park
One of the very best ways to embrace your wanderlust is to venture out on a good, old-fashioned road trip. The U.S. is full of scenic byways and backcountry roads that will show you some of America's most swoon-worthy natural wonders, and of these routes, there's one in Montana with a name that truly captures its splendor: Going-to-the-Sun Road. This trans-mountain highway is 50 miles of pure Montana majesty, carved out of the earth and mountains of Glacier National Park. And while Glacier is certainly one of the most wondrous national parks in the country, Going-to-the-Sun Road takes the experience to another level entirely and truly is one of the best scenic drives in the USA.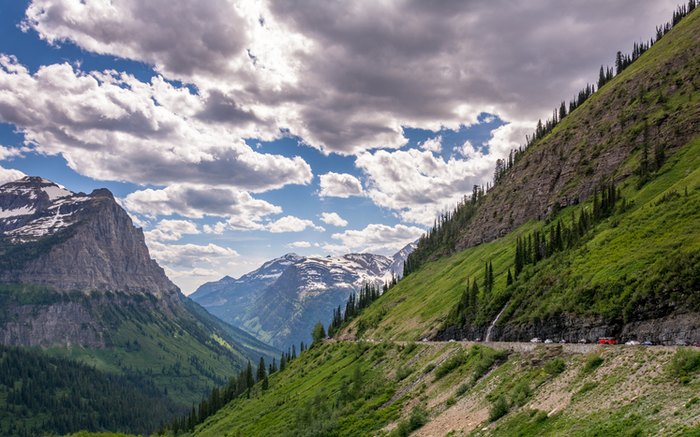 Mother Nature is calling your name, and this scenic route is a soul-satisfying journey to some of the most beautiful places in the world. Visit the National Parks Service website to plan your trip along Going-to-the-Sun Road and Glacier National Park.
General Information:
Accessibility: This beautiful route through Glacier National Park is open to most vehicles, assuming they abide by the vehicle restriction guidelines (see below), so it's possible to enjoy the views from the comfort of your own car. As many of the park facilities were constructed before the Architectural Barriers Act, Accessibility Standards, not all areas are wheelchair-accessible; however, newer and remodeled areas have integrated barrier-free designs. For detailed information about which parts of the park are accessible to all, refer to the NPS Accessibility Guide.
Pet Friendly: Going-to-the-Sun Road and Glacier National Park are both pet-friendly. Pets are allowed in developed areas such as cars while driving park roads, front-country campgrounds, picnic areas, parking areas, and in boats on lakes where motorized watercraft are permitted. Please note, however, that pets are not permitted on trails, along lakeshores outside of developed locations, in the backcountry, or in any building. Read more about Glacier National Park's pet policy on the National Parks Service (NPS) website.
Vehicle Restrictions: Vehicles and vehicle combinations longer than 21 feet (including bumpers) or wider than 8 feet (including mirrors) are prohibited between Avalanche Campground and the Rising Sun Picnic Area parking. Vehicle and vehicle combinations over 10 feet in height may have difficulty driving west from Logan Pass to the Loop, due to rock overhangs. Stock trucks and trailers are able to access Packers Roost on the west, and Siyeh Bend on the east.
Parking: There are plenty of places to park in Glacier National Park, and you can view parking lot availability via the Recreation Access Display on the NPS website.
Seasonal Access: Portions of Going-to-the-Sun Road remain open all year and provide access to many locations and activities. The opening of the alpine portion varies, based on snowfall and plowing progress. Typically the road is fully open by late June or early July, and remains open until the third Monday of October – but that can change due to weather conditions at any point. Please note that the speed limit varies along this road, and it's important to adhere to all signs and speed limits, as animals, pedestrians, and cyclists do cross the road.
Cost: There is no toll or fee to drive Going-to-the-Sun Road. At Glacier National Park, there is a $35/vehicle entrance fee. Visitors can enter the park at any time; if the entrance station is not staffed, a self-registration area is available for purchasing a permit.
Feeling inspired to fill your Bucket List? Check out our previous features of Hoh Rain Forest in Washington, Maroon Bells in Colorado, and the beautiful Florida Keys, then subscribe to our weekly Bucket List newsletter to discover new destinations across the country that definitely deserve a visit.
OnlyInYourState may earn compensation through affiliate links in this article.
Related Articles
Featured Addresses

Going-to-the-Sun Road, Going-to-the-Sun Rd, Montana, USA