We Dare You To Take This Road Trip To Indiana's Most Abandoned Places
Indiana is full of ghost towns and deserted areas that can be fun to explore. We mapped out a ghost town road trip for you before but wanted to kick it up a notch and bring you a road trip of the eeriest abandoned places in Indiana. From empty towns to creepy buildings, this abandoned places road trip through the Hoosier State is sure to spook and delight you … that is if you're brave enough to set out on this adventure!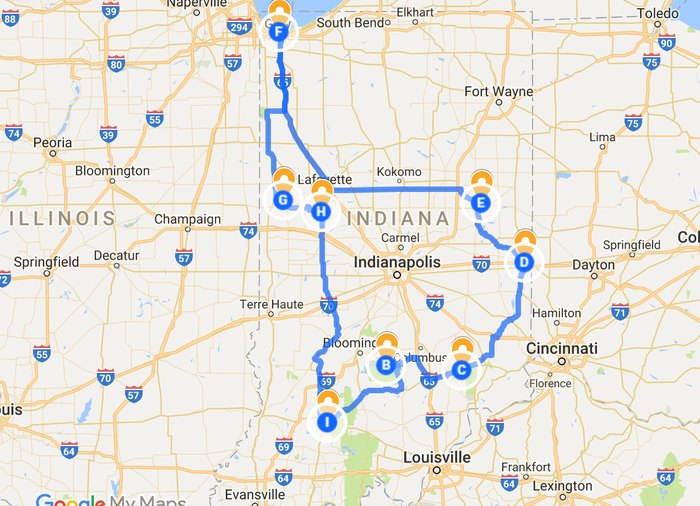 Curious to see more of the abandoned Reid Hospital? Check out this drone video courtesy of YouTube user Indiana Doug:
Are you brave enough to take this abandoned places road trip in Indiana? Muster up your courage and be prepared for a frightfully delightful adventure! For an equally creepy adventure, try out this haunted cemetery road trip through Indiana.
Address: Hindostan Falls, IN 47581, USA
Address: Elkinsville, IN 47448, USA
Address: East High School Alley, E High School Alley, Butlerville, IN 47223, USA
Address: Reid Health, 1100 Reid Pkwy, Richmond, IN 47374, USA
Address: Granville, IN 47338, USA
Address: Gary, IN, USA
Address: Mudlavia Springs, Liberty Township, IN 47918, USA
Address: Corwin, IN 47981, USA
Abandoned places in Indiana
September 11, 2022
What's the most haunted abandoned place in Indiana?
Gary, Indiana, is a place that inspires ghost stories and creepy lore, and the town's abandoned City Methodist Church is a physical manifestation of the town's tenuous reputation. The church was built in 1926 during the height of the steel boom in Indiana, and when the industry crashed in the '70s, residents moved away, and both the church (and the town itself) began to decay. Today, this abandoned church in Indiana is a popular stop for curious explorers and has been used as a filming location for horror films like "A Nightmare on Elm Street." 
Of course, one could easily fill an entire day or weekend road trip visiting the myriad abandoned and haunted places in Gary, from the Palace Theatre to the notorious House of Demons. With regard to the latter, there is a house in Gary, Indiana that is rumored to have been a portal to Hell. The story goes that more than 200 demons attacked and possessed a mother (Latoya Ammons) and her children. Police officers, Child Protection Services, and medical professionals all confirmed that Latoya and her family were possessed and had to be exorcised. Needless to say, this is one of the most haunted places in Indiana. Read more about the chilling story of the Demon House … if you're not easily spooked, that is.
Address: Hindostan Falls, IN 47581, USA
Address: Elkinsville, IN 47448, USA
Address: East High School Alley, E High School Alley, Butlerville, IN 47223, USA
Address: Reid Health, 1100 Reid Pkwy, Richmond, IN 47374, USA
Address: Granville, IN 47338, USA
Address: Gary, IN, USA
Address: Mudlavia Springs, Liberty Township, IN 47918, USA
Address: Corwin, IN 47981, USA