These 8 Haunted Cemeteries in Indiana Are Not For the Faint of Heart
There are plenty of haunted places in Indiana for Hoosiers daring enough to check them out. But for the truly brave, you'll want to visit some particularly creepy places; that's right, haunted cemeteries in Indiana! In case you aren't aware of Indiana's haunted cemeteries, we've recapped some of the top contenders.
If you'd like to visit these haunted cemeteries, follow this route in Indiana:
1. Ewald Cemetery, Plymouth (5th Rd, Plymouth, IN 46563)

This is one of the most chilling of the haunted cemeteries in Indiana. Also known as the "Little Egypt Cemetery," the paranormal activity here is spooky. One legend claims that if you toss a nickel on the tombstone of one of the cemetery's babies, you'll hear the baby cry. You'll know which grave when you spot other nickels around the perimeter.
2. Mount Hope Cemetery, Logansport (1800 Grant St, Logansport, IN 46947)

As one of the most haunted cemeteries and places in northern Indiana, Mount Hope has quite a reputation. Rumors of hearing horses galloping upon entering the cemetery are quite common. Others claim if you whistle throughout the cemetery, spirits will whistle back to you. Pretty creepy…
3. Justus Cemetery, Oxford (805 S Howard St, Oxford, IN 47971)

In the charming town of Oxford is a haunted cemetery. Its tale began when railroad travel was at its peak. White figures and ghosts often appeared to railroad crew members, causing many to request transfers. While many believe the ghost often referred to here was an elaborate prank, others are believers, insisting the cemetery (and nearby water tower) are littered with ghostly spirits.
4. Hays Cemetery (AKA Main Street Cemetery), Wilkinson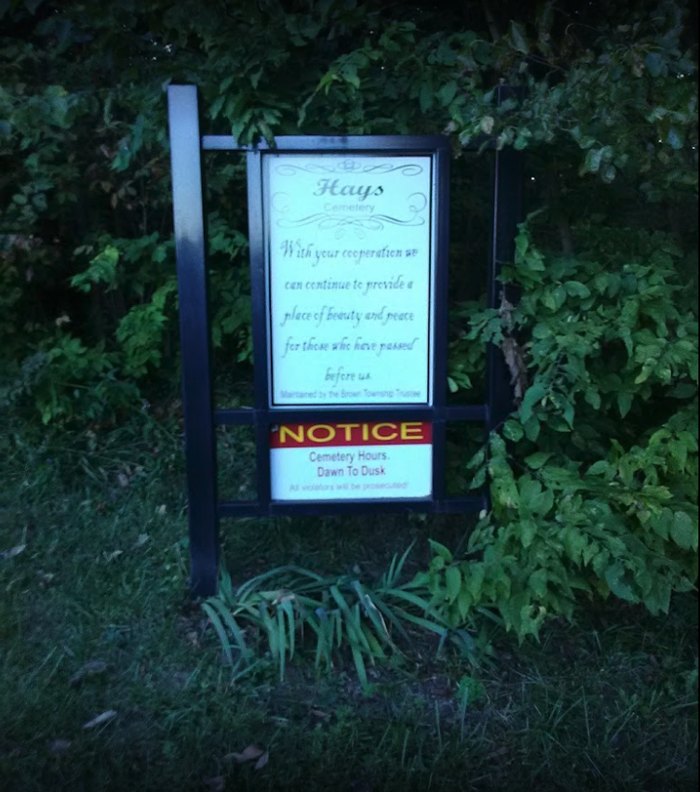 This cemetery has a pretty scary history. Most rumors claim that bodies were frequently dug up here to be used in satanic rituals, leading to some pretty paranormal events. The most famous rumor here revolves around a plant that grows in the shape of a pitchfork over a baby's grave. Legend claims this child was a demon or devil, and that to this day the plant still grows and retains its pitchfork-like appearance. Unfortunately, this one is on private property. Do not explore without explicit permission from the property owner.
5. Batson Cemetery, Henry County (S County Rd 500 E, New Castle, IN 47362)

Many claim this little cemetery in Henry County has some strange goings-on. The strangest of these is linked to the disappearing stones. These stones are stepping stones (and allegedly not headstones), and visitors claim there are 13 when you enter, but only 12 when you leave.
6. Crown Hill Cemetery, Indianapolis (700 38th St, Indianapolis, IN 46208)

This cemetery has a lot of fame for its alleged haunting and paranormal sightings. It's the site of many famous leaders' burials, as well as the legendary John Dillinger. There are many rumors circulating about why this spot has so much paranormal activity. Research unearthed that Community Hill (section 37 of this cemetery) is a mass grave site where nearly 700 neglected orphans were buried in the early 1900s. Other stories regarding dogs noticing spirits and soldiers haunting this cemetery abound. Some claim this is one of the most haunted cemeteries in the country. Regardless, if you like visiting haunted graveyards in Indiana, this is a must-visit.
7. Stepp Cemetery, Martinsville (Martinsville, IN 46151)

There are many versions to this haunted cemetery's legend, but all are pretty chilling. Each version of this legend claims a woman looks over a grave site (the legends vary on whose grave site this is), haunting the cemetery all night long. Many claim she can be found sitting on a tree stump, cloaked in darkness, protecting the grave of her loved one. This may just be the most haunted cemetery in Indiana.
8. 100 Steps Cemetery, Brazil (7114-7140 N County Rd 675 W, Brazil, IN 47834)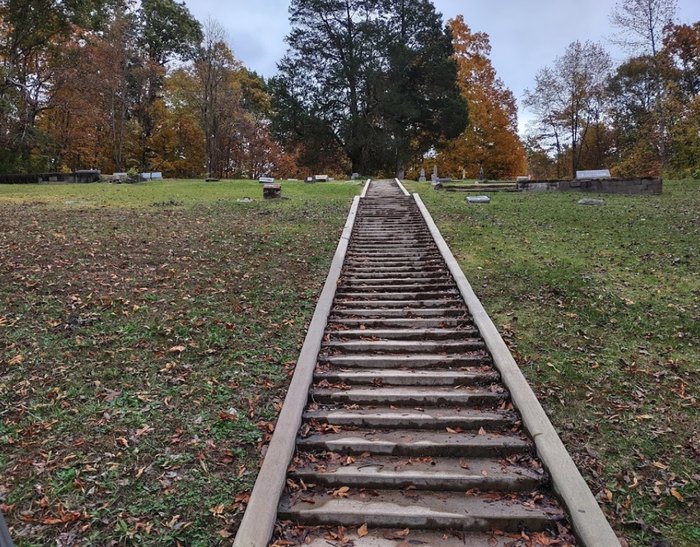 This is definitely one of the creepiest, most haunted cemeteries in Indiana and the country and certainly not for the faint of heart. Visitors will find 100 steps here to walk up; but walk at your own risk! Legend tells us that once you reach the 100th stair, the ghost of a former undertaker will appear and show you exactly how you will one day die…
Have you ever visited any of these spooky, haunted cemeteries in Indiana? If you're brave enough, you might want to check out more allegedly haunted sites in Indiana.
OnlyInYourState may earn compensation through affiliate links in this article.
More to Explore
Haunted Cemeteries in Indiana
Are there any haunted cities in Indiana?
There are plenty of haunted cities in Indiana for the daring to explore.
While the big, historic cities have many haunted sites, you may not have thought of Carmel, Indiana as one of those cities. But, you may be surprised to learn that it has a range of paranormal activity! Head over to Woody's Library Restaurant where the ghost janitor from the early 1900s is rumored to wander around the grounds.
Or, there is Fox Hollow Farm where a former serial killer lived and recent owners have claimed to see ghosts and hear strange noises and voices on the property. Pretty creepy, right?
Are there any haunted streets or bridges in Indiana?
For those who are scared easily, you may want to avoid some haunted streets and bridges in Indiana. And there are quite a few!
For instance, there are rumors that the ghost of a decapitated man is floating around Tunnelton Tunnel. His head was severed from his body during construction of the tunnel and reports allege the ghost appears to be looking for his head.
Avon Bridge is another well-known haunted place in Indiana that you may want to steer clear of. There, you may hear several ghosts moaning or crying on the bridge. Avoid Reeder Road if you don't want to cross the ghost of Elizabeth Wilson. Legend holds that her ghost hitchhikes, but then disappears from vehicles that pick her up after they pass by Ross Cemetery where she was buried back in 1955. Those are some pretty creepy places, so visit only if you like the thrill of shivers down your spine!
Related Articles