The Abandoned Ruins In This Indiana City Will Blow You Away
Gary, Indiana has seen both the highs and the lows of life throughout the city's history. The city was built in 1906 around the United States Steel Corporation's Gary Works. The Steel Strike of 1919 brewed civil unrest in the city, which flared up into a full-fledged riot between the striking steel workers and strikebreakers that forced Governor James P. Goodrich to declare martial law. So why was Gary, Indiana abandoned? Well, the answer is… lots of reasons.
Despite the early conflicts, the steel industry provided ample job opportunities and Gary's population boomed…then busted. The fortunes and failures of the city are reflective of the steel industry; the rapid expansion of the early years was bolstered by the steel needs during WWII, but the declining demand and growth of international competition dragged Gary into a downward spiral.
In 2013, the Gary Department of Redevelopment reported that a whopping one-third of homes within city limits were empty or abandoned. Unlike other abandoned towns in the USA, Gary is still alive with a population of over 80,000 – a "modern ghost town" unlike any other.
Editor's note: Some of the places listed below have since been demolished; this article is merely a snapshot of a few abandoned buildings in Gary's history.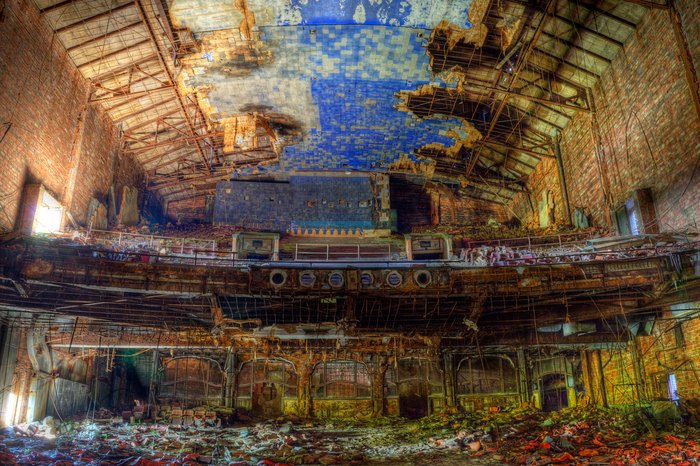 The tumultuous history was devastating for many Gary, Indiana residents and the deserted buildings left behind are an inescapable reminder of the city's former glory. These slowly decaying structures provide a melancholy snapshot of history, but we also see something hauntingly beautiful in their breakdown.
Want to see what Gary looked like in its heyday during the 1950s? Check out this fascinating archival footage:
Have you explored any of these abandoned places in Indiana? Do you know of other eerie, Gary Indiana abandoned spots we should check out? Tell us about them in the comments – we love hearing from you!
If you find you just can't get enough of the spooky and often mysterious abandoned places in Indiana, you might want to check out some of the other notable abandoned ruins in Indiana while you're at it. You wouldn't believe how many amazing places are out there just waiting to be discovered.
OnlyInYourState may earn compensation through affiliate links in this article.
More to Explore
Gary Indiana
What are some interesting, abandoned ruins in Indiana?
There are an amazing number of abandoned places in Indiana, including abandoned ruins in IN that not a lot of folks really know about. Some of our favorite abandoned ruins in Indiana are places like:
City Methodist Church, Gary
Bush Stadium, Indianapolis
The Muscatatuck State Development Center
There are many more amazing abandoned places in Indiana, too, that are worthy of strange admiration.
2. What are some fascinating places in abandoned Gary Indiana?
Gary Indiana is home to more than 13,000 abandoned buildings and decaying structures, including homes, schools, churches, theatres, apartment complexes, and more. Some of the most famous abandoned buildings in Gary IN are:
The Horace Mann School https://www.onlyinyourstate.com/indiana/abandoned-eerie-in/
The Palace Theatre https://www.onlyinyourstate.com/indiana/most-haunted-place-on-earth-in/
The Gary Post Office
But enough of the negative – check out some of the reasons why Gary Indiana isn't really the worst.
3. Why was Gary Indiana once called the "murder capital" of the United States?
Gary Indiana has certainly received a rough reputation over the years, but unfortunately, it's not for no reason. Once upon a time, in the 1990s, Gary was the "murder capital" of the United States thanks to an outrageously high murder rate compared to the population.
There were 110 murders in Gary in 1993; with a population of 119,125, that means this rate was a staggering 91 murders per 100,000 residents.
You might want to check out Why Is Gary Indiana So Dangerous for more information about the town and its downslide.
Related Articles
Explore Indiana