This Sanatorium In North Dakota Has A Dark And Evil History That Will Never Be Forgotten
North Dakota hasn't always had a clean past. There are parts of it that, while the intentions may have been good from the outside, were quite dark behind closed doors, and there are to this day many haunted places in North Dakota waiting to be explored. This was one of them. What's the San Haven Sanatorium history as we know it now? Let's find out… if you dare: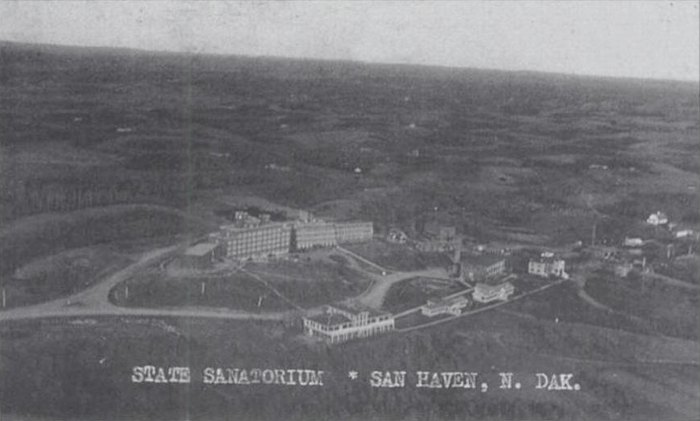 In 1992, the sanatorium officially closed its doors. It is crazy to think it was only a few decades ago that this place was still in operation.
North Dakota has some other creepy locations that can easily freak you out, especially with their weird pasts! What would you call the most haunted places in North Dakota? Tell us your thoughts in the comments!
OnlyInYourState may earn compensation through affiliate links in this article. As an Amazon Associate, we earn from qualifying purchases.
More to Explore
San Haven Sanatorium History
Which sanatorium in North Dakota is said to be haunted?  
The San Haven Sanatorium located outside Dunseith, North Dakota, is still standing – though actively decaying – and is said to be one of the most haunted places in North Dakota. Its very purpose was a dark one: it housed tuberculosis patients in the beginning, from 1909 until its eventual re-purposing for mental health patients instead. There were numerous untold horrors that unfolded within these walls, as patients were not treated kindly or well in any way. Many folks died here, and it's said that there are still many bodies buried on the grounds that have not yet – and may not ever – be recovered.  
What happened to the old San Haven Sanatorium patient records?  
The patient records of San Haven Sanatorium were packed and vacated upon the closure and subsequent abandonment of the sanatorium in 1989. Due to patient privacy laws, one cannot find patient records publicly available online anywhere, though searching old records and newspapers from the era in question at libraries or government facilities may still be possible. One shouldn't expect to find a lot of information about specific people who found themselves within the walls of one of North Dakota's most haunted places, but with enough research, one can still acquire a general feel for how things were back then (hint: terrifying and not great).  
What's the story behind the old San Haven Sanatorium in North Dakota?  
A long, long time ago, in a time period far away (it was 1904), the National Tuberculosis and Respiratory Disease Association was founded and, in 1911, the building known now as the San Haven Sanatorium was built. The first patients arrived in November of 1912. It remained a hospital for folks with tuberculosis until 1957 when patients deemed "feeble-minded" (we know, gross) began to be transferred over to San Haven instead of the facility they had been previously held in. In 1971, the sanatorium was officially renamed to reflect its new purpose, and the San Haven State Hospital was born. There were issues from the beginning, and in December 1987, it closed its doors after decades of abuse allegations (and worse). In 1989, the building was shuttered for the final time. Today, it remains one of the most fascinating abandoned places in North Dakota.  
Related Articles
Explore North Dakota
Featured Addresses

San Haven Road, San Haven Rd, North Rolette, ND 58329, USA