The Ultimate Southern Montana Waterfalls Road Trip
Who's up for a fun road trip? Montana has the most beautiful natural wonders, including over 120 named waterfalls, and so we've mapped out a way for you to see some of our great state's best falls, in our Southern Montana waterfalls road trip. Since the state is so large, it's best to explore them one region at a time. This trip focuses on the southern part of the state and includes only waterfalls that are easily accessible by car or a reasonably short hike. This way you and your companions can see them all in one day, though we recommend taking this trip over a weekend.
The journey is mapped out in Google Maps for your convenience here. Use it as a guideline for your most gorgeous road trip yet. Without further adieu, let's check out this ultimate Southern Montana waterfalls road trip: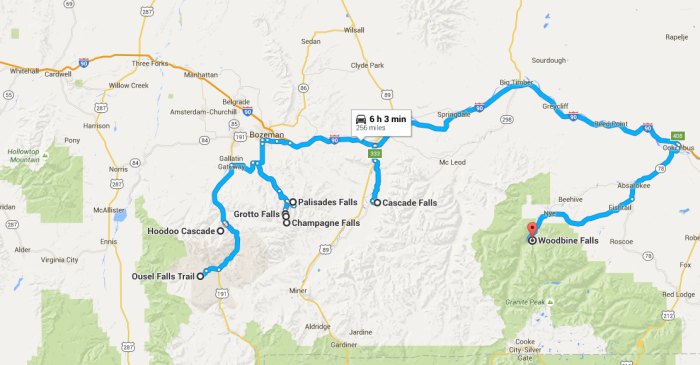 Next we'll show you how to see some of Northern Montana's most beautiful waterfalls! So, who will you bring on this adventure, and what will be on your road trip playlist? Thanks to www.alltrails.com for many of these fantastic photos!
Address: Ousel Falls, Big Sky, MT 59730, USA
Address: Hoodoo Cascade, Montana 59730, USA
Address: Palisades Falls, Montana 59047, USA
Address: Grotto Falls, Montana 59047, USA
Address: Arch Falls, Montana 59047, USA
Address: Champagne Falls, Montana 59718, USA
Address: Cascade Falls, Montana 59859, USA
Address: Woodbine Falls, Montana 59061, USA
Montana waterfalls road trip
February 22, 2021
What are the best waterfall hikes in Montana?
If you enjoyed our Montana waterfalls road trip, you'll love these waterfall hikes! Montana is home to the Glacier National Park which spans over 1,500 square miles of breathtakingly gorgeous wilderness and is packed with more than 700 miles of stunning hiking trails. There are so many waterfall hikes to take, it's easy to find a trail, no matter what your experience level is. For a moderately challenging trip, head out on the 6.7-mile Avalanche Lake trail located near Lake Mc Donald and marvel at the beauty of its numerous cascading waterfalls. For a shorter trek, St. Mary and Virginia Falls Trail is just 2.9 miles located near Siyeh Bend and is a great hike the whole family will enjoy. Outside of Glacier National Park, hike Kootenai Falls located in Lincoln County. For the brave traveler, follow the trail to the swinging bridge for views of the rushing Kootenai River.
Does Montana have any natural wonders?
Big Sky Country is rich in a diverse natural history offering unforgettable wonders accessible across our state. Explore the otherworldly sights and limestone caverns at Lewis and Clark Caverns State Park just east of Whitehall in Jefferson County. With ten miles of hiking trails and multiple campgrounds, this park is an excellent destination for exciting outdoor activities. Nestled in Glacier National Park visitors marvel at the incredible beauty of Grinnell Glacier, the most popularly photographed glaciers of the park. The amazing terrain and views of the Badlands in Makoshika State Park will transport you to another world. Located in Dawson County this 11,000-acre nature preserve is the largest state park in Montana where adventures can discover dinosaur fossils and ancient rock formations.
What are the best road trips through Montana?
In addition to our the epic Montana waterfalls road trip listed above, the multitude of road trip options through Montana's endless beauty is inspiring and easily satisfies a traveler's wanderlust. When you're looking to unwind, take a rejuvenating tour of Montana's many natural hot springs. With so many diverse hot springs locations available, you'll have no trouble planning a route that will take you to some of the most idyllic scenery where you can soak your troubles away. For an all-natural hot springs experience, journey out to the Boiling River located in Yellowstone National Park where visitors can find ultimate relaxation in one of the spring's many stone pools. If you're interested in a more curated approach, Montana offers many spa destinations like the Spa Hot Springs Motel and Clinic in White Sulphur Springs where the healing waters have attracted people for hundreds of years.
Address: Ousel Falls, Big Sky, MT 59730, USA
Address: Hoodoo Cascade, Montana 59730, USA
Address: Palisades Falls, Montana 59047, USA
Address: Grotto Falls, Montana 59047, USA
Address: Arch Falls, Montana 59047, USA
Address: Champagne Falls, Montana 59718, USA
Address: Cascade Falls, Montana 59859, USA
Address: Woodbine Falls, Montana 59061, USA