Take This Hidden Gems Road Trip When You Want To See Some Little-Known Places In Montana
Undoubtedly, it doesn't get any better than life in the Last Best Place. Montana has some amazing, nationally-known treasures like Glacier National Park and Bighorn Canyon. But, those of us who live here also know that the hidden gems in Montana are what really make the state shine.
Though it's easy to see beautiful scenery just about anywhere in the state, this road trip highlights some things to do in Montana that oftentimes get overlooked. Surprisingly, even by lifelong Montanans! As you make your trip plans feel free to reverse the order or even add additional destinations to custom-tailor the journey. Then, enjoy!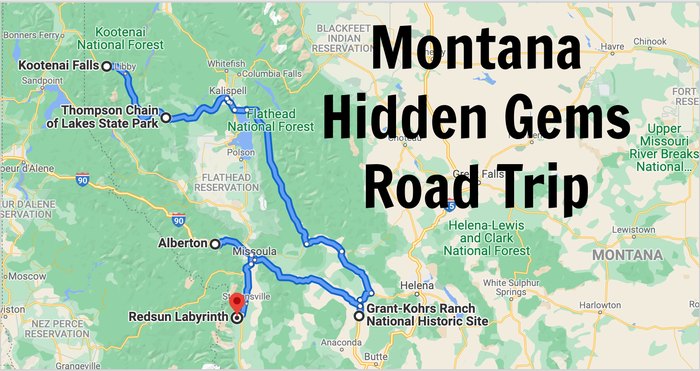 These hidden gems in Montana are undeniably worth the time it takes to see them. But, of course, we know our readers have their own favorites. We're specifically interested in what you might add to this trip. Let us know in the comments so we can check them out, too!
OnlyInYourState may earn compensation through affiliate links in this article. As an Amazon Associate, we earn from qualifying purchases.
More to Explore
Things To Do In Montana
What are the most unique things to do in Montana?
There's no shortage of unique things to do in Montana. In fact, there's so much to enjoy that narrowing down the list for a fun weekend can be as challenging as an expert-level hike. Consider spending the weekend at a unique hotel for an unforgettable experience, such as the Shire of Montana in Trout Creek or The Broadway Hotel, Philipsburg is always a great idea. You can also try some unique Montana experiences, including visiting the Old Prison Museum in Deer Lodge and taking in the beauty of Makoshika State Park.
What unique tours in Montana can I take?
There are plenty of fun, unique tours to take in Montana. Here are a few you can try yourself:
Can I take a canopy walk in Montana?
You can absolutely take a canopy walk in Montana and The Aerial Adventure Park at Whitefish Mountain Resort in Whitefish is the best place to do it. In the winter this is a prime skiing spot, but in the summer there are plenty of fun things to do. The experience lasts between 2.5 and 3 hours and is considered the longest elevated canopy walk in Montana. If you're still feeling adventurous after completing this activity, check out these other perfect places.
Related Articles