The Scenic Road Trip That Will Make You Fall In Love With The Beauty Of Montana All Over Again
It isn't difficult to appreciate living in Montana. All we ever have to do is step outside to know how amazing it is to live in the Last Best Place. Still, there's nothing quite like a nice little road trip to remind us of how good we have it. The Treasure State has many magnificent scenic drives, but the primitive Skalkaho Highway truly ranks among the best. While this is a drive you'll only want to take in the late spring or summer, it's definitely one worth enjoying at least once in your lifetime. Embark upon this incredible Montana road trip to learn to appreciate this state in a whole new way!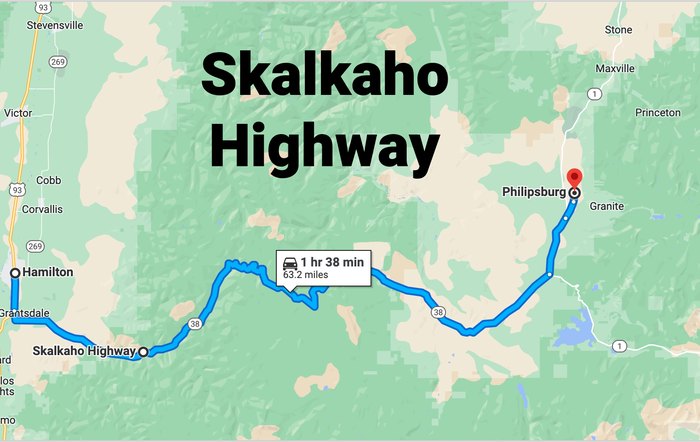 Want to do this drive from your couch and just get the highlights? Check out this awesome drive to Skalkaho Falls!
Where do you go in Montana when you want to get away from it all? What kind of stops would you want to add to this Montana road trip? Let us know!
OnlyInYourState may earn compensation through affiliate links in this article.
Address: Skalkaho Pass, Montana 59858, USA
Montana Road Trip
February 02, 2023
Where should I go on a scenic road trip in Montana? 
This state is an intensely beautiful one and it's ideal for an amazing road trip. We have countless favorite destinations for the perfect scenic road trip in Montana, like:  
Billings. It's a beautiful town surrounded by a ridiculous number of outdoor attractions and sure to make any outdoors enthusiast fall in love.

 

Great Falls. Spend some days (or longer) exploring the amazing waterfalls of the Missouri River, including (but not limited to) the 50-mile-long River's Edge Trail, which features a handful of amazing cascades.

 
Western Montana – explore the entire western portion of this amazing state in the best way: on the road. It's classic Montana that you're sure to adore.

 
Learn about even more of our favorite scenic road trips in Montana. 
What are some of the most scenic places in Montana? 
Montana is probably one of the states most famous for just how incredibly scenic it all is. It seems like no matter where you turn, you're sure to find somewhere amazing. Some of our favorite scenic places in Montana are places including:  
Glacier National Park – we're pretty sure this might actually be one of the most beautiful places in the United States, and it's all ours!

 
Fairy Lake – it's probably named that because it's like something ripped right out of the pages of a fairy tale.

 

The Flathead River – borders the western boundary of Glacier National Park, so if you find yourself there, be sure to remember to check out the river as well. 

 
Learn more about some of the most amazing scenic places in Montana. 
Where can I go to admire some of the most amazing Montana scenery? 
Can't get enough of the wonders of Montana? Us either. If you've already checked out the above attractions, there are many more – hundreds more, even! Some other awesome Montana scenery you ought to check out are places like:  
Drive the incredible Going-To-The-Sun road, one of the best scenic drives in the USA. 

 

Hike to Iceberg Lake – another bucket list item within Glacier National Park. 

 

Visit the National Bison Range if you enjoy wildlife watching to check out the lives of some truly majestic bison herds. 

 
Learn more about some of the most amazingly scenic destinations in Montana.