The Ultimate Central Montana Waterfalls Road Trip Is Right Here – And You'll Want To Do It
Due to the state's monstrous size and the fact that there are over 120 named Montana waterfalls, seeing them all would take more time than most folks can fit into a single road trip. We previously included several waterfalls in Montana in our Ultimate Southern Montana Road Trip, and now we'll highlight the central part of the state. This drive, which you can easily complete in a day, could best be described as the Great Falls waterfall road trip in Montana, which covers falls that the Lewis and Clark Expedition may have seen. You'll no longer have to spend time searching for "waterfalls near me" because we've got you covered! 
Fill your tank, create a playlist, and tell your friends or family it's time to chase some falls in Montana.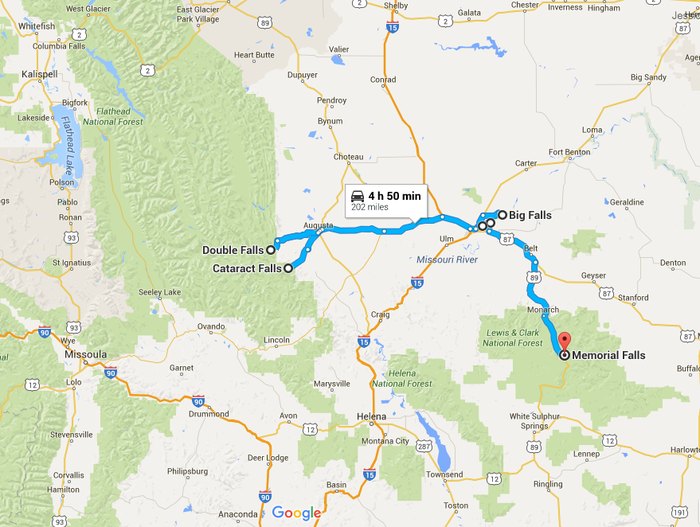 So, what do you think of our road trip to some of the best Montana waterfalls? Does this help to answer, "What waterfalls in Montana are near me?" Are there any stops you'd add to this waterfall road trip in Montana? Let us and your fellow travelers know in the comments!
If you're looking for more, add these five hiking trails with falls in Montana to your bucket list this year!
OnlyInYourState may earn compensation through affiliate links in this article.
More to Explore
Waterfalls near me
What are some of the best waterfall hikes in Montana?
There is something special about a hike with a waterfall finish. Here in Big Sky Country, there are a handful of pretty spectacular hiking trails with waterfalls that you'll want to add to your Montana bucket list. Plus, many of the best waterfall hikes in Montana aren't hard or strenuous – they are perfect for a full family adventure. For example, Palisade Falls near Bozeman is only one mile and the trail is paved for the majority of your journey. The waterfall at the end is quite beautiful and well worth each step.
Ousel Falls Park Trail in Big Sky is definitely one of the best scenic hikes in Montana. The 1.6-mile trail is beautiful, shady, and easy. Plus, the unique waterfall finish will impress every member of your family. Bring a picnic lunch and sit at the tables near the waterfall for a delightful afternoon adventure.
What are some of the best hiking trails in Montana?
It is almost impossible to narrow down the best hiking trails in Montana and there are dozens that we could suggest. However, we sat down and created a list of five of the best hikes in Montana. If you only had time to complete five hikes in the entire state, these would be the trails we recommend. From Billings to Bozeman to Glacier National Park, these hiking trails around the state are certainly going to leave you impressed.
Related Articles