See The Tallest Waterfall In Kentucky At Daniel Boone National Forest
Most of us would likely agree that waterfalls in Kentucky, whether big or small, are absolutely breathtaking. There's just something so comforting about the sound of a gushing waterfall and the feel of the mist on your skin. We're lucky to live in a state that boasts beautiful waterfalls. If you've not yet visited the tallest waterfall in Kentucky, however, you'll definitely want to add it to your bucket list.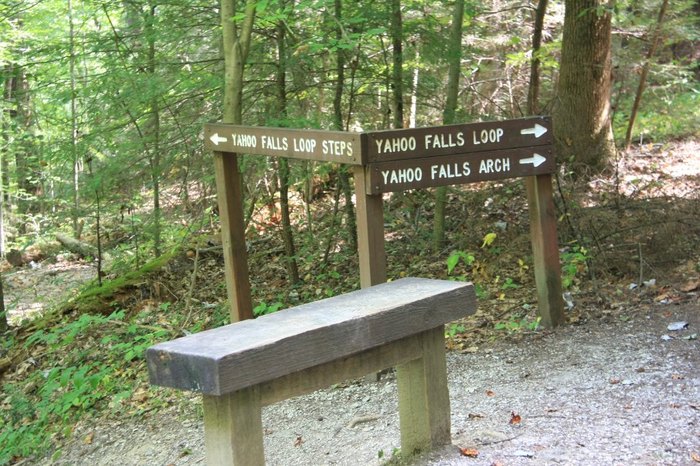 What do you think of the tallest waterfall in Kentucky? Have you been to see it yet? What's your favorite thing about it? Let us know in the comments! If you love hiking and waterfalls, you'll definitely want to check out Van Hook Falls. And be sure to check out this amazing road trip the next time you find yourself looking for the best waterfalls in Kentucky.
OnlyInYourState may earn compensation through affiliate links in this article.
Address: Daniel Boone National Forest, Kentucky 40447, USA
Waterfalls near me in Kentucky
July 10, 2021
What are some other must-visit waterfalls near me in Kentucky?
Yahoo Falls wows with its stature, but the Bluegrass State is home to many a must-visit waterfall! This epic road trip visits six of the tallest and most spectacular waterfalls in Kentucky, Yahoo Falls included. Some notable falls on the road trip include Lick Creek Falls, a 64 foot tall fall that's actually located near Princess Falls (talk about a two-for-one!); Anglin Falls, a cascade near Berea that measures 75 feet tall and is located in a beautiful area full of natural gorges and rock formations; and Broke Leg Falls, a beautiful cascade in Menifee County that's best observed after a heavy rainfall. The beauty of this road trip is that it cuts straight through the middle of the state, so no matter where in Kentucky you're located, you're sure to be near a beautiful fall!
What are some natural wonders in Kentucky?
There are so many natural wonders in Kentucky; they're literally all across the state! Some of the Bluegrass State's finest natural wonders include Red River Gorge, Natural Bridge, Kentucky Lake, Land Between the Lakes, Mammoth Cave National Park, 76 Falls, and, of course, Cumberland Falls. If you want to revel in Kentucky's resplendent natural beauty, our Nature Lovers Definitive Guide To Kentucky's Natural Beauty features the very best of the Bluegrass State: waterfalls, parks, rivers, beaches, caves, and more!
What are the best waterfall hikes in Kentucky?
Kentucky has no shortage of beautiful scenery, and a waterfall hike is a great way to experience it! And when you combine a wondrous waterfall with a scenic hike, the result is pure Bluegrass magic. These 10 hikes are perfect for those looking for quintessential Kentucky trails, and include popular treks like the Trails of Greenbo Lake, Trails of Green River, and Sheltowee Trace National Recreation Trail. For hiker-approved expeditions, these beautiful hikes are fan favorites, and explore areas such as Red River Gorge, Sky Bridge, and Cumberland Falls State Resort Park. If you're looking for an off-the-beaten-path adventure, these six little-known waterfalls make for some incredible day trek adventures!