The Ultimate Bucket List For Anyone In Kentucky Who Loves Waterfall Hikes
Hiking is a wonderful way to spend a day in Kentucky, and there's no better reward when walking a trail than happening upon a beautiful waterfall. Our state is filled with both easy-to-reach and hidden gems that show off the scenic, natural beauty of Kentucky. We have a thing for waterfalls and love sharing them with you, and Kentucky photographer Greg Grayson definitely knows how to capture them. We've come up with the ultimate bucket list of waterfall hikes that you must experience and since he's been lucky enough to see them all, Greg has graciously shared his stunning work so we can take you on a tour. Here are 11 must-see waterfall hikes in Kentucky!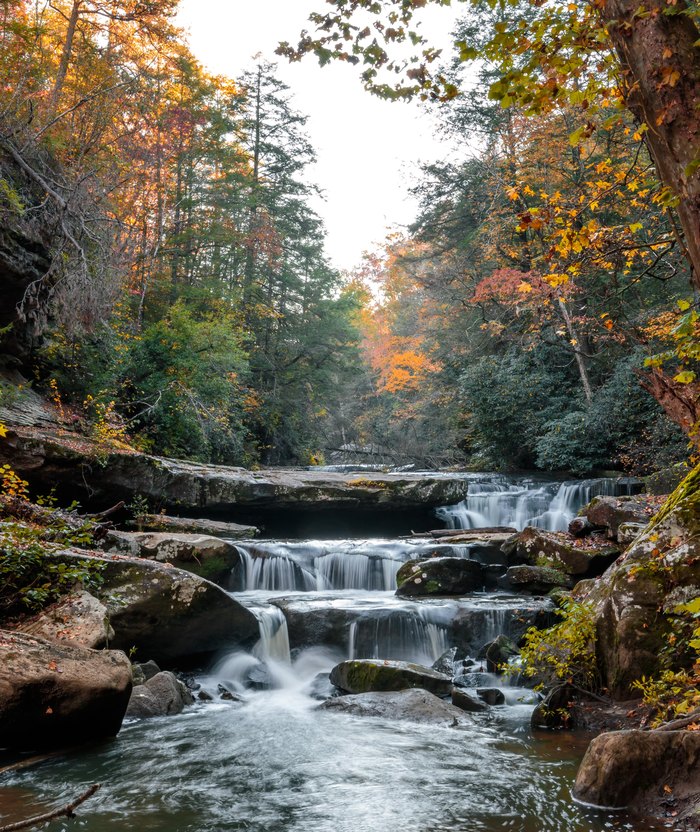 Kentucky has many beautiful features and these bucket list-worthy waterfalls are definitely some of the best. How many of these have you been lucky enough to see? Do you agree that we've identified the best waterfall hikes in Kentucky? If you can think of any more, let us know in the comments!
And a huge thank you to Greg Grayson for sharing his stunning work with us. Be sure to follow along with him on Instagram here and on his Facebook page here. You'll see many more incredible photos of Kentucky, as well as other beautiful destinations.
And if you need even more waterfall fun, check out our wine and waterfall tour in a previous article here.
OnlyInYourState may earn compensation through affiliate links in this article.
More to Explore
best waterfall hikes in Kentucky
Does Kentucky have any hidden waterfalls?
Now that you've learned about some of the best waterfall hikes in Kentucky, you're likely curious about some of the lesser-known cascades throughout the state. Well, you're in luck, because there are plenty! Some of the best hidden waterfalls in Kentucky include McCammon Falls, Tioga Falls, Amos Falls, Flack Lick Falls, and Anglin Falls. Learn more about these hidden waterfalls in Kentucky. Many of these require a bit of a hike, so be sure to prepare accordingly.
What's the tallest waterfall in Kentucky?
Measuring 113 feet, Yahoo Falls is the tallest waterfall in Kentucky. It's located in Whitley City and definitely qualifies as a bucket list destination. One of the best parts about hiking to Yahoo Falls is the opportunity to experience more than the waterfall itself. You'll also have the chance to enjoy fascinating rock formations and breathtaking views. Learn more about this picturesque Kentucky hike.
What are the most scenic hikes in Kentucky?
If you appreciate natural beauty, then Kentucky will surely impress you. For scenic hikes in Kentucky, look no further than any of the following destinations: Raven's Run in Lexington, Rock Bridge Arch Trail in Pine Ridge, Towering Sycamore Trail in Shakertown, Red River Gorge Courthouse Rock Trail, 3 Bridges Trail in Carter Caves, and Hood's Branch Trail in Slade. Learn more about these picturesque Kentucky trails. Even better, these trails all measure under five miles, so they make for the perfect day trip experience. Just be sure to wear comfortable shoes and don't forget your camera!
Related Articles
Explore Kentucky
Featured Addresses

Bark Camp Creek, Kentucky, USA

Eagle Falls, Kentucky 42634, USA

Flat Lick Falls Recreational Area, McKee, KY 40447, USA

Tioga Falls Trail, Louisville Nashville Turnpike, West Point, KY 40177, USA

Vanhook Falls Trailhead, 13307 W Laurel Rd, London, KY 40741, USA

Yahoo Falls, Kentucky 42653, USA

Dog Slaughter Falls, Kentucky 40769, USA

Creation Falls, Campton, KY 41301, USA

Cumberland Falls, Kentucky, USA