The Hike In Kentucky That Takes You To Not One, But TWO Insanely Beautiful Waterfalls
There are many stunning waterfalls in Kentucky – some in plain sight and others are hidden away, deep in the forest or within a cave. There are also countless hiking trails that attract novice and expert hikers from all across the world. When a beautiful hike leads you to not only one, but two waterfalls, then you've basically hit the Bluegrass State natural wonder jackpot! This particular trail near Corbin will give you views of Kentucky's most popular waterfall, and get you right up close to one of its most beautiful falls, as well. Are you ready for chasing waterfalls near me? Let's go!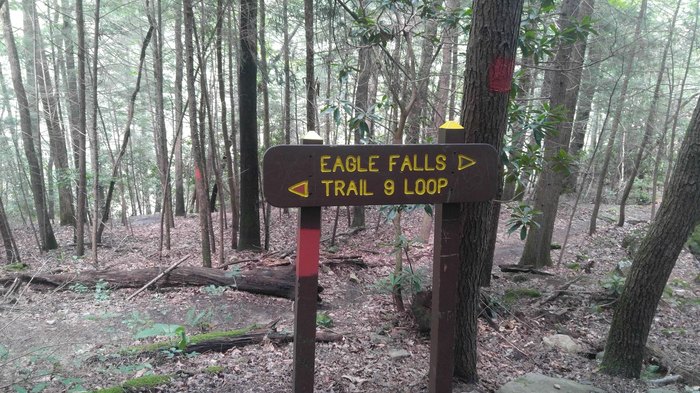 Cumberland Falls and Eagle Falls should definitely be on your must-see list in our beautiful state. Have you hiked this trail before? Share your experience with us in the comments!
And for a few lesser-known waterfalls throughout Kentucky, we share six of our favorite falls in this article!
OnlyInYourState may earn compensation through affiliate links in this article.
Address: Eagle Falls Trailhead Parking, Old Cumberland Falls Rd, Parkers Lake, KY 42634, USA
Waterfalls Near Me
March 05, 2022
What's the tallest waterfall in Kentucky?
Cumberland Falls gets all the attention in the Bluegrass State, but Yahoo Falls is equally resplendent. At 113 feet, this waterfall is the tallest in Kentucky, and it's nestled in the wondrous Daniel Boone National Forest. The Yahoo Falls Trail is located in the beautiful Big South Fork National River and Recreation Area near Whitley City in McCreary County, an area avid hikers know and love. Kentucky is a humble place of untold beauty and wonder, and Yahoo Falls is one of the state's true stars.
What are some facts about Cumberland Falls in Kentucky?
Kentucky's Cumberland Falls is known far and wide for numerous reasons. Called the Niagara Falls of the South, this cascade is a true treasure that belongs on any waterfall chaser's bucket list. This 68-foot tall, 125-foot wide wonder is absolutely magnificent, and there are numerous scenic vistas within the eponymous Kentucky State Park that allow visitors to revel in its splendor. But it's more than simply an amazing waterfall, Cumberland Falls is the site of one of the only moonbows on the planet -- and this is an event that's worth seeking out. The Niagara of the South is absolutely marvelous any time of the year, at any hour of the day. You just need to lace up your boots and visit!
What are some hidden waterfalls in Kentucky?
Some of the most beautiful falls in the Bluegrass are the under-the-radar cascades. We're talking about natural wonders like McCammon Falls in Jackson County, Tioga Falls near West Point, and Flat Lick Falls in Jackson County. These cascades are just some of the many beautiful and lesser-known falls in the Bluegrass, and are all well-worth seeking out on your next waterfall chasing adventure!