12 Creepy Houses In Maine That Could Be Haunted
Around Halloween, haunted houses in Maine are all the rage. And Maine has enough macabre state history to warrant some creepy conversation no matter the month. Here are some of the most eerie-looking homes existing in the state. We may not have any stories to prove they're haunted, but sometimes that's not necessary. Driving past these 12 haunted places in ME will give you the chills no matter who (or what) lives there.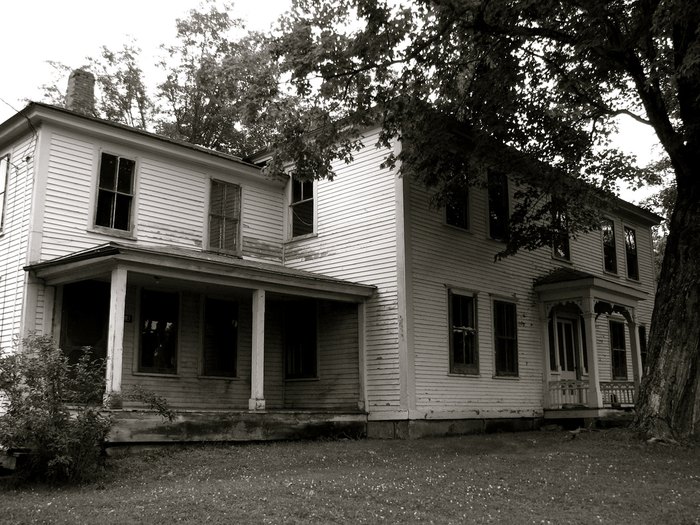 Have you ever been inside a Maine haunted house? Tell us about it in the comments below!
Looking for some more Maine ghost stories? Check out this list of Maine ghosts and their stories.
Address: Blue Hill, ME, USA
Address: Aroostook County, ME, USA
Address: Crooked Road, Crooked Rd, Bar Harbor, ME 04609, USA
Address: The Gothic House, 387 Spring St, Portland, ME 04101, USA
Address: Custom House Street, Custom House St, Portland, ME 04101, USA
Address: Sanford, ME, USA
Address: Shapleigh, ME 04076, USA
Address: 47 W Broadway, Bangor, ME 04401, USA
Fall Fun in Maine
August 26, 2022
 Are there any haunted castles in Maine?
If you want to bring your Halloween to next-level status, consider this haunted castle in Maine. Beckett's Castle is located in Cape Elizabeth. Built in 1871, poet Sylvester Beckett's home has been the subject of many Maine ghost stories since his death in 1882. The most notable took place in 1970, when the occupants found random hot and cold spots, paintings moved, and other very strange phenomena. Just note that you cannot visit this nearly 2,000 square-foot castle as it is privately owned.
What are the scariest haunted houses in Maine?
Looking for some spooky places to get frightened at? There are several haunted houses in Maine. In Lebanon, there's Haunted Grandview Manor. This is both an indoor and outdoor attraction, featuring scares from cemeteries, a funeral home, and more. The Haunting at Parsonfield Seminary is a real former school that was built in 1832 and in operation until 1949. Today, you can experience a haunting here within 42 rooms and a basement.
What are the best hikes with a view in Maine?
With 17.52-million acres of forest in the Pine Tree State, there is certainly a lot of hiking in Maine. And many of those hikes come with some outstanding views. In Millinocket's Baxter State Park, you can choose from several trails that will take you up to the famed 5,269-foot Mount Katahdin. Just be aware that this is a rather strenuous hike no matter which trail you choose and you'll want to give yourself somewhere between eight to 12 hours to complete it. Over in Acadia National Park, you'll find the four-mile loop known as Ocean Path. This well-maintained walkway will allow you to easily some of the best sites in the park including Sand Beach and Thunder Hole.
Address: Blue Hill, ME, USA
Address: Aroostook County, ME, USA
Address: Crooked Road, Crooked Rd, Bar Harbor, ME 04609, USA
Address: The Gothic House, 387 Spring St, Portland, ME 04101, USA
Address: Custom House Street, Custom House St, Portland, ME 04101, USA
Address: Sanford, ME, USA
Address: Shapleigh, ME 04076, USA
Address: 47 W Broadway, Bangor, ME 04401, USA