These 12 Terrifying Places In Maine Will Haunt Your Dreams Tonight
We spend a lot of time reminding you just how beautiful Maine can be. In fact, we do it almost every day. We also tell you where the best hikes in Maine are, how to survive a zombie apocalypse, and the route for a scenic road trip in Maine you should do ASAP. However, nothing seems to get the level of feedback that we receive when giving you an article about our scariest, creepiest places – and we don't blame anyone. They're spooky…and they're fun. Here are a dozen creepy things to do in Maine if you're ever feeling brave: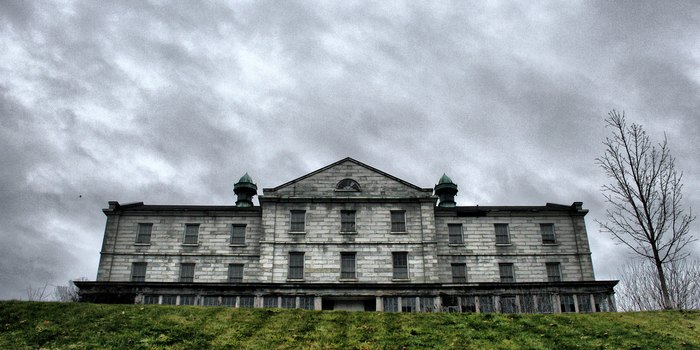 Have any chilling tales of being in these places? What do you think the most haunted places in Maine are? Tell us about it on our Facebook page!
Address: Arsenal Street, Arsenal St, Augusta, ME 04330, USA
Address: Robie Andrews Hall, University Way, Gorham, ME 04038, USA
Address: Portland, ME, USA
Address: The Kennebunk Inn, 45 Main St, Kennebunk, ME 04043, USA
Address: The Lucerne Inn, 2517 Main Rd, Dedham, ME 04429, USA
Address: Brownville Road, Brownville Rd, Northeast Piscataquis, ME 04414, USA
Address: Pocomoonshine Lake, Maine, USA
Address: Mount Hope Cemetery Corp. & Crematory, 1048 State St, Bangor, ME 04401, USA
Address: Fort Knox Road, Ft Knox Rd, Prospect, ME 04981, USA
Address: Wood Island Lighthouse, Wood Island Acres, Biddeford, ME 04005, USA
Address: The Stephen & Tabitha King Foundation, 47 W Broadway, Bangor, ME 04401, USA
Creepy Things to Do In Maine
July 15, 2022
What are some of the spookiest haunted places in Maine?  
Maine is one of those older states, having been around as one of the original colonies and, of course, for millennia even before that with plenty of Native history. With old lands come lots of stories, and with lots of stories come the occasional ghost story. Maine is no exception; there are lots of allegedly haunted places in Maine that, if you're brave enough, warrant a visit – or at least a little more research. Among the spookiest haunted spots in Maine are ones like the haunting of Wood Island Lighthouse, in Saco Bay. It's said to be haunted by the restless spirits of previous keepers and even a scorned landlord. The hit TV show Ghost Hunters did an episode here, and the results were eerie!  
Where are the most haunted places in Maine?  
Of course, it doesn't just stop at a lighthouse; there are all kinds of locations rumored to be haunted in Maine, like the infamous Mount Hope Cemetery in Bangor. It's the cemetery that inspired Stephen King's terrifying Pet Sematary, a tale so dark and sordid that even he had a hard time finishing it. Some folks say this infamous cemetery is the final resting place of famed mobster Al Brady, and that to this day he still strolls the grounds. The University of Maine is also said to be haunted … though they do say that about lots of old schools.  
What are some truly creepy haunted locations in Maine?  
So, which haunted places in Maine can you actually go visit? What about some of the spookiest hotels in the state? If you can brave a night at those places, you can do anything; among the most famously haunted hotels in Maine are gems like the Limerock Inn, in Rockland, which used to be the home and practice of a doctor but is now an inn said to be haunted by his patients. Another option is the Kennebunk Inn, in Kennebunk, which is allegedly haunted by a previous owner and a clerk who worked there long ago. Do you think you're brave enough to stay in these places? We think you should … it'll be fun.  
Address: Arsenal Street, Arsenal St, Augusta, ME 04330, USA
Address: Robie Andrews Hall, University Way, Gorham, ME 04038, USA
Address: Portland, ME, USA
Address: The Kennebunk Inn, 45 Main St, Kennebunk, ME 04043, USA
Address: The Lucerne Inn, 2517 Main Rd, Dedham, ME 04429, USA
Address: Brownville Road, Brownville Rd, Northeast Piscataquis, ME 04414, USA
Address: Pocomoonshine Lake, Maine, USA
Address: Mount Hope Cemetery Corp. & Crematory, 1048 State St, Bangor, ME 04401, USA
Address: Fort Knox Road, Ft Knox Rd, Prospect, ME 04981, USA
Address: Wood Island Lighthouse, Wood Island Acres, Biddeford, ME 04005, USA
Address: The Stephen & Tabitha King Foundation, 47 W Broadway, Bangor, ME 04401, USA