This Waterfall Road Trip in Maine Will Take You To Spectacular Places
Maine is a paradise for those who love the outdoors. From crashing ocean waves to sky-high mountains, we've got an outdoor activity for just about everyone. But, to be fair, some of what we have to offer isn't for the beginner. Don't fancy yourself an Appalachian Trail hiker anytime soon? That's okay – feel free to ease into things! We recommend starting with some waterfall visits – so take a peek at this waterfall road trip in Maine! Plentiful and impressive, Maine has over 100 significant waterfalls, which exist in just about every county from York to Aroostook.
Because a road trip with more than 100 stops is more of a lifestyle change than a fun jaunt, I've created a Western Maine focused trip that you can complete in about five hours of drive time. This will give you the rest of the day to hike, explore, stop for photos at the side of the road and (most importantly) replenish the snack supply at one of our local stores. We've even included stops for lunch and dinner at some great local spots.
Check out the Google map that will tell you exactly where to go. You can even make edits to the route to add in a trip to Aunt Edna's on your way home.
And, if you like it, we'll create some that will take you into other areas of the state as well.
Below, find the ultimate Maine waterfalls road trip!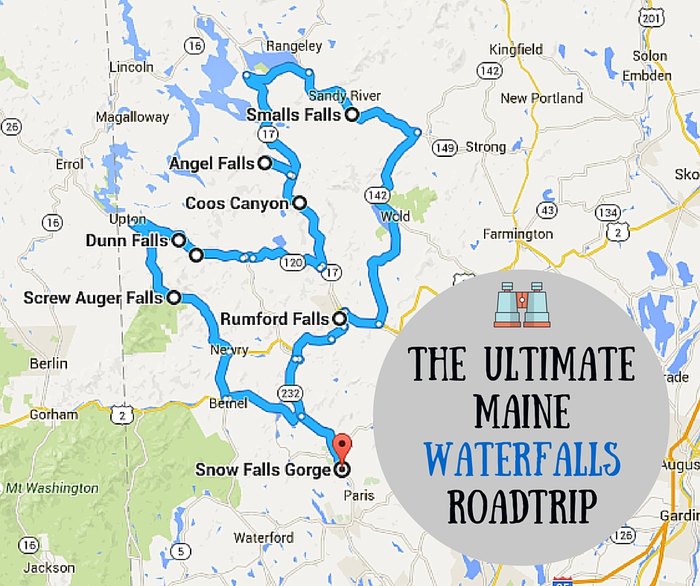 Now, grab yourself some Moxie, car snacks and your favorite fellow adventure lovers and hit the road! Our next road trip guide will take you up the coast for an all-inclusive visit to Maine's lighthouses. What else would you like to see? Head to Facebook and let us know.
OnlyInYourState may earn compensation through affiliate links in this article.
Address: Snow Falls Gorge, West Paris, ME 04289, USA
Address: Screw Auger Falls, North Oxford, ME 04261, USA
Address: Dunn Falls, North Oxford, ME 04261, USA
Address: The Cataracts, North Oxford, ME 04261, USA
Address: Coos Canyon, Byron, ME 04275, USA
Address: Angel Falls, West Central Franklin, ME 04275, USA
Address: Smalls Falls, West Central Franklin, ME 04970, USA
Address: The Shed, 2647 Main St, Rangeley, ME 04970, USA
Address: Rumford Falls, Rumford, ME 04276, USA
Address: Mt. Blue State Park, 297 Center Hill Rd, Weld, ME 04285, USA
Waterfall Road Trip In Maine
February 06, 2021
What are the best hikes with a view in Maine?
It's hard to top the views along the coast of Maine! Some of the best hikes you can take in the Pine Tree State include the scramble along Giant's Stairs, the hike out to Great Head in Acadia National Park, and the exhilarating Beehive hike, also in Acadia National Park. There are stunning mountain hikes, too - are you brave enough to hike the Knife's Edge up Katahdin? Even if you prefer to stay a little closer to the ground, you can enjoy the stunning Gulf Hagas Rim Trail in Katahdin Iron Works State Park. Higgin's Mountain, in Georgetown's Reid State Park, is a beautiful family-friendly mountain hike that's beautiful in most seasons.
What are the most beautiful lakes in Maine?
It's hard to top the famous Belgrade Lakes, in Central Maine. In the fall, the Harvest Festival brings hundreds of visitors to see them in their stunning color as the season changes. If you enjoy kayaking or floating on calm water, visit the cute little Duckpuddle Pond, which spreads across Nobleboro and Waldoboro. Knox County is home to the often-overlooked Megunticook Lake, where you'll find stunning scenery for hiking and swimming. Read about more stunning lakes in Maine in this roundup.
Which state parks should I visit in Maine?
Baxter State Park, Katahdin Iron Works State Park, and Reid State Park are some of our favorites to explore every season. Popham Beach State Park and Camden Hills State Park are also beautiful, particularly in the summer. Camden Hill is a great place to visit if the crowds of Acadia are a little too much for you, but you'd still like to explore the downeast coast. If you're close to Portland and want to get away from the busy city, head to Mackworth Island State Park, which is a local hidden gem.