18 Best Hikes In Maine: The Top-Rated Hiking Trails To Visit In 2023
When it comes to exploring, it's easy to assume that trips to museums, historical spots, and local restaurants provide the most well-rounded experience. As avid travelers to spots near and far, we can certainly agree that all of these are important for getting a full understanding of a new place. We'd also add things like meeting new people, getting lost along small streets, and attending cultural events to that list. But, one activity that's often left off of even the best itineraries is a hike.
Before roads and buildings, boardwalks, and shopping malls, the country was untamed and natural. With that in mind, a hike might just be the best way to get to know any part of the country. Maine offers some of the best natural landscapes, both inland and along the coast, and the trails on this list represent some of the best hikes in Maine.
Be sure to save this list for the next time you're in the mood to explore!
Best Hikes in Maine
There's nothing quite like exploring the great outdoors in Maine. While there are certainly enough trails to categorize them into preferences, there are some that are so special they rise to the top of any list. From the views towering over Acadia National Park to the ones that have us enjoying a quiet lake, these are some of the best.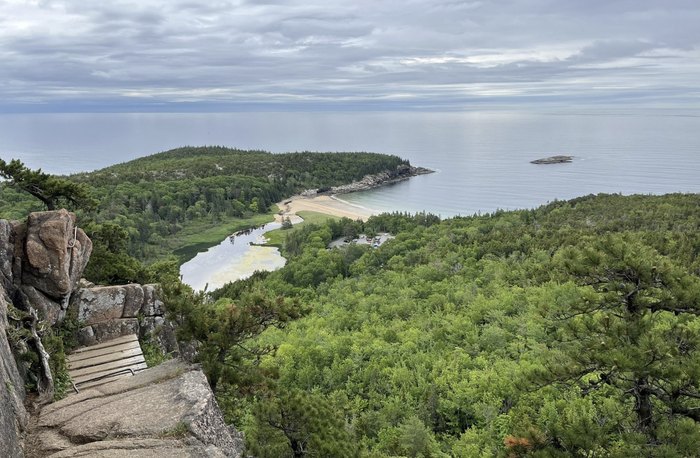 Best Short & Easy Hikes in Maine
While "easy" is certainly subjective depending on experience level and mobility, these hikes offer a good entry into the world of hiking. Not too long, with minimal elevation gain, these easy hiking Maine adventures are great for those who aren't looking to work up a sweat. Each trail on this list is also fantastic for helping small children fall in love with the outdoors.
Hardest Hikes in Maine
I love a challenge and the hikes here are some of the most heart-pounding and mentally stimulating. Whether it's scrambling over rock, or working to build up your endurance to be on the trail for multiple hours, these hikes will leave you with a sense of true accomplishment.
Best Waterfront Hikes in Maine
With more coastline than California, Maine has some of the best access to water. When you also add the inland lakes and rivers, it's no wonder there are so many incredible waterfront hikes to enjoy in Vacationland. These hikes can be enjoyed year-round, making them perfect for those who appreciate Maine's beauty regardless of the season.
Best Winter Hikes in Maine
It takes a hearty hiker to get outside in the winter and these trails are perfect for those strong individuals. Head out in layers to enjoy some of the best routes that are even more beautiful when the temperatures drop. If you're lucky, you might even be able to enjoy these with a coating of snow. Of course, be sure to wear layers and be prepared for any sudden weather changes.
Best Hikes near Augusta
Maine's capital city is full of history and culture. But, it's easy to overlook the fact that there are plenty of outdoor opportunities nearby. Plant yourself here for a long weekend and enjoy the myriad parks and trails that offer tons of beauty and adventure.
Whether you're visiting Maine for the first time or have lived here all your life, there's always something new to explore. And, understanding the diverse landscape here can make a huge difference in feeling a connection to Vacationland. Have you explored any of these featured best hikes in Maine? If you have, we'd love to hear any tips and tricks you have for making a visit the best it can be. And, if you'd like some help getting outside more often and more meaningfully be sure to try AllTrails+ for free!
After exploring some of the best places to hike in Maine, be sure to check out some of the other activities that make visiting so special. Another great way to see the sights is by taking a local road trip and we've got some of the best!
OnlyInYourState may earn compensation through affiliate links in this article. As an Amazon Associate, we earn from qualifying purchases.
More to Explore
Best Hikes In Maine
Does Maine have good hiking trails?
Maine has a wide variety of good hiking trails. And, it's easy to find options catering to every ability level and age. Here are a few popular trails to try:
What are the best months to hike in Maine?
The best months to hike in Maine are May through October. As a general rule, you'll want to stick to months that offer safe conditions. However, depending on your ability level and interests, hiking can be done year-round in Maine. To get outside any time you'd like, check out 12 hikes that are perfect for specific months of the year.
Related Articles
Explore Maine