Take This Unforgettable Road Trip To Experience Some Of Kentucky's Most Impressive Caves And Waterfalls
When you're ready to explore our incredible state, it can be overwhelming to choose which places to experience first. Both locals and visitors love to explore our beautiful Kentucky caves and waterfalls, so for the ultimate adventure, why not visit both? Have an unforgettable getaway with this cave and waterfall road trip through Kentucky that will take you to some of the most impressive destinations our state has to offer. And if you'd like, take a closer look at the map and change up the directions!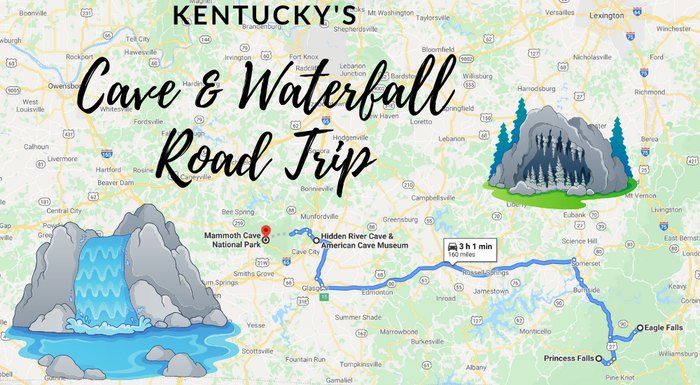 Each of these places is a spectacular destination on its own. But when you put them together for a Kentucky caves and waterfalls road trip, you have the ultimate adventure. Have you been to these underwater waterfalls or waterfall caves in Kentucky? Would you visit them again, all in one weekend? Let us know in the comments!
If you're looking for a road trip through Kentucky that only features waterfalls, check out this exciting adventure through the Bluegrass State.
OnlyInYourState may earn compensation through affiliate links in this article.
Waterfalls Near Me
March 02, 2022
What are some easy-to-access waterfalls in Kentucky?
Want to chase some waterfalls without, well, having to actually chase them? We get it! There are some truly spectacular waterfalls in Kentucky that you can visit... many of which require little-to-no hiking! One of our favorites is Creation Falls over in Campton, Kentucky. Creation Falls is a vision; a generous reward following an easy, 1.4-mile hike along the Rock Bridge Trail in Red River Gorge. When the water flow is right, this is a wonderful place to sit, relax, and revel in Kentucky's scenic splendor. If you want to drive right up to a waterfall, 76 Falls can easily be seen on the water by boat or car from the overlook above the falls. A stunning spectacle, this waterfall's moniker refers to its height, which is, as you guessed, approximately 76 feet.
What's the most beautiful waterfall in Kentucky?
It's hard to beat the beauty of Cumberland Falls; the best-known waterfall in Kentucky certainly lives up to the hype! Known as the Niagara Falls of the South, Cumberland Falls features a 125-foot wide curtain of rushing waters that will leave you gobsmacked. The best part? This beautiful and iconic natural wonder in Kentucky is easily accessed via the eponymous Cumberland Falls Trails 4 and 6 -- an easy, 1.3-mile trek.
How big is Mammoth Cave?
If you enjoyed the above adventure to Kentucky's beautiful waterfalls *and* caves, we have some fun facts about Mammoth Cave that might be of interest to you. The largest cavern system on Earth, Mammoth Cave is an extraordinary natural wonder that's literally getting bigger all the time! In fact, in late 2021, the Cave Research Foundation discovered eight new miles in this massive underworld, bringing Mammoth Cave's total underground mileage to a whopping 420 known miles of passages. Now that's truly one mammoth cave!