We Dare You To Take This Road Trip To Arkansas's Most Abandoned Places
Ready to hit the road? We've concocted a special road trip that will take you far away from your modern house and the fast-food-lined streets of your town. These six places are some of the most abandoned places in Arkansas, and on this trip, you'll find solitude and a way to step back in time, to when things were simpler.
We'd like to remind every single one of you that you are not Indiana Jones, and trespassing is illegal. So as much as you'd like to perform tricks with your amazing whip skills, defeat the Nazis with a plucky group of misfits, and find amazing treasure in these abandoned places, neither OnlyInYourState nor its writers condone the activity of trespassing. If you feel like you're about to disobey a sign about trespassing, please repeat to yourself, "I am not Indiana Jones, and trespassing is illegal," until you change your mind.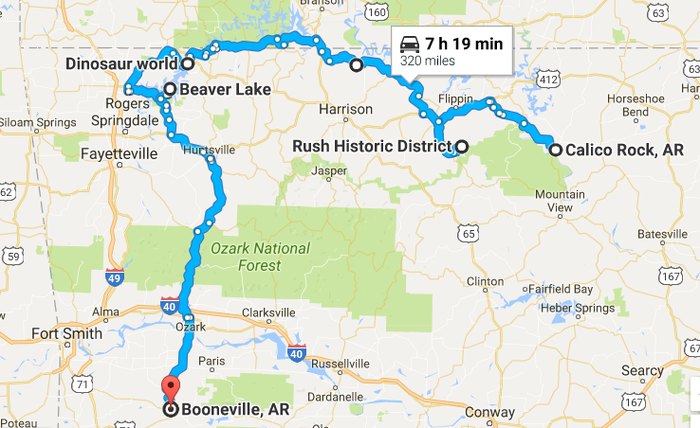 Have you seen any of these abandoned places in Arkansas in person? Are there any stops you would add to this road trip? Let us know in the comments.
Take another fun road trip and check out the Rush Historic District.
OnlyInYourState may earn compensation through affiliate links in this article. As an Amazon Associate, we earn from qualifying purchases.
More to Explore
Abandoned Places In Arkansas
What are the most haunted places in Arkansas?
The most haunted places in Arkansas include:
Allen House
Arlington Hotel
Every state in the country has at least one haunted tale and Arkansas is no exception. The Natural State has plenty of haunted places that would turn even the most hardcore of skeptics. This road trip will take you to the front door of some of the most haunted places in Arkansas including the infamous Allen House in Monticello and all over Hot Springs, one of Arkansas' most haunted cities. If you're feeling really brave, you can book a stay at the Arlington Hotel, a known hotspot for paranormal activity. 
What are the creepiest cemeteries in Arkansas?
The creepiest cemeteries in Arkansas include:
Pioneer Cemetery
Conway Cemetery
Cemeteries can be a peaceful place to visit when you'd like to take some time to remember loved ones who have crossed over, but they're often the stage for chilling ghost stories and a hotbed for supernatural activity. There are many haunted cemeteries in Arkansas, and two of the most well-known are the Pioneer Cemetery in the Ouachita National Forest and the Conway Cemetery. Both were opened in the 1800s and come with their own fair share of paranormal activity that you may encounter while visiting. Legend has it that if you visit Conway Cemetery at midnight on a full moon, you'll hear the disembodied cries of the unfortunate souls who were hanged from a nearby tree. 
Can I visit any abandoned places in Arkansas?
Abandoned places in Arkansas that you can visit include:
Toltec Mounts Archaeological State Park
The cemetery at Cecil Cove Loop Trail
While we did just stress the importance of not trespassing when visiting abandoned places, there are a few exceptions where you can. Located in the Toltec Mounds Archaeological State Park, the earthwork mounds you'll see here are the remains of what's not an abandoned village but was once a thriving part of the Plum Bayou Culture. If you're looking for something a little less historic and a little more on the creepy/haunted side, then take the Cecil Cove Loop Trail that'll lead you straight to an abandoned cemetery as well as the remains of a homestead that belonged to William Jones, a reminder of when the area was a once-thriving community. 
Related Articles
Explore Arkansas