Most People Have No Idea This Unique Abandoned Park In Arkansas Exists
At one time, Dinosaur World, formerly known as John Agar's World of Kong, was a thriving and expansive dinosaur-themed park. Opened in the 1960s and sadly closed in 2005, Dinosaur World once contained over one hundred life-sized statues of dinosaurs and the world's largest statue of King Kong. Set near Eureka Springs in what people have called "the middle of nowhere," the theme park is surrounded by forest. Today, over a decade from the time it closed, this abandoned dinosaur park in Arkansas is fading into that forest.
This is the point where I remind you that you are not Indiana Jones and trespassing is illegal. But for your appeasement, here's a really cool drone footage of this abandoned park, shot by YouTuber LastLookout.
The remains of Dinosaur World are well marked as private property with no trespassing signs posted. You don't want to pay a fine or get yourself some face time with the nice folks up at the Eureka Springs Police Department, do you?
Of course, you don't. That doesn't mean we can't see it though, because today we're taking the totally legal route of a tour in pictures of this abandoned amusement park in Arkansas.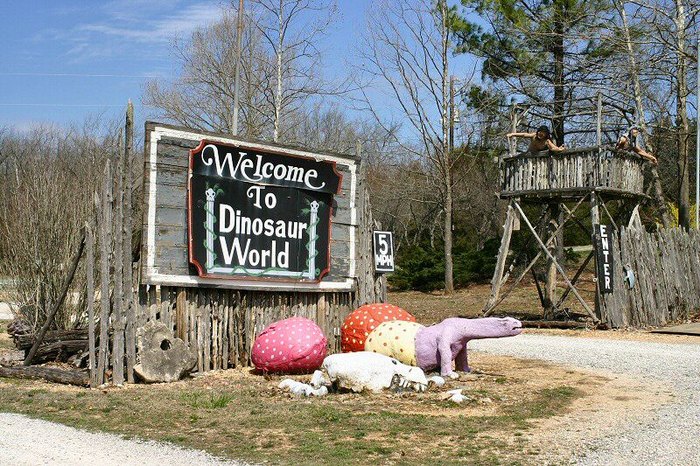 Discover more about this dinosaur park by watching this informative YouTube video by Beyond Civilization (Xplore RC).
Do you remember going to visit Dinosaur World as a child? Share your memories about this with us in the comments below! Or tell us about your favorite abandoned amusement park in Arkansas.
If you're searching for more abandoned places, here's a previous article with some abandoned places in Arkansas that are being reclaimed by nature. If ghost towns are more your speed, you can take a walking tour of this abandoned town without worrying about trespassing, or check out this top-rated ghost tour in Arkansas that we recommend.
OnlyInYourState may earn compensation through affiliate links in this article.
More to Explore
ABANDONED ARKANSAS & RELATED INFO
What are some more abandoned places in Arkansas?
If you're searching for more abandoned places in Arkansas, here are a few that are worth mentioning: 
East Calico Rock

, Calico Rock

Rush Historic District, Rush

Dogpatch USA, Marble Falls

Ozark Medieval Fortress, Lead Hill

Monte Ne

, Beaver Lake

Savoy Hotel, Hot Springs.

Arkansas Tuberculosis Sanitorium, Booneville

Wonderland Cave, Bella Vista

Villines Homestead

, Ponca

Carden Bottoms School, Yell County
Discover more by reading our article about these abandoned places in Arkansas. 
 Are there any urban legends in Arkansas?
There are endless ghost stories and urban legends in Arkansas towns, but few stories center around a highway. The Highway 365 tale is one of the most frightening urban legends in Arkansas. According to legend, a man was driving down Highway 365 when he noticed a young girl on the side of the road. He offered to drive her home and gave her his coat to keep warm. When they arrived at her house, he got out of the car to open the car door for her, and she was nowhere to be found. When he knocked on the door to the house, a woman explained that the young girl was her daughter who was killed years ago, and every year she hitchhikes back home. The man then went to visit the grave of the young girl and draped across the tombstone was the man's jacket.
Here's a previous article with more urban legends in Arkansas.
Where is the creepiest town in Arkansas?
Arkansas is peppered with little ghost towns throughout the state, haunting reminders of what were once thriving communities. Some of the most popular ghost towns in Arkansas include:
Rush 

East Calico Rock 

Monte Ne

Graysonia

Arkansas Post

Four Gum Corner

Eros
Here's a previous article about some more of the creepiest towns in Arkansas. 
What are the oldest towns in Arkansas?
Although Arkansas Post was first settled in 1686, today the history is being preserved in the form of a state park with a 757-acre protected area complete with a museum. Besides the Arkansas Post, here are 2 more of the oldest towns in Arkansas:
Georgetown - This town is considered the oldest, continuously settled area in Arkansas. Nestled along the White River, Georgetown was first settled in 1789. Today, the population hovers under 200, making it one of the smallest towns in Arkansas. 

Batesville - The second oldest municipality also happens to be the oldest city in Arkansas. It was first settled in 1810 and was also known as Napoleon and Poke Bayou before being renamed Batesville, named after James Woodson Bates.
If you would like to read more about Batesville, here's an article about one of the oldest towns in Arkansas. 
Related Articles
Explore Arkansas
Featured Addresses

8421 AR-187, Eureka Springs, AR 72632, USA