The Best Waterfalls Near Me in Oregon - 24 Local Favorites & Hidden Gems
There's a reason the Pacific Northwest carries the #pnwonderland hashtag, and that's because, frankly, this region is the most wondrous and wonderful in the country.
Home to temperate rainforests, old-growth forests, majestic mountains, commanding canyons, and resplendent rivers, the Pacific Northwest is an outdoor paradise for nature lovers. But the region's most noteworthy natural feature is, hands down, its waterfalls. And of the trio of states that comprises the PNW, the one that has the most waterfalls near me is Oregon.

Best Waterfalls in Oregon
Home to over 200 named waterfalls, Oregon is a waterfall chaser's paradise. The Columbia River Gorge is home to some 90 waterfalls on the Oregon side alone, and the Trail of Ten Falls at Silver Falls State Park packs 10 incredible cascades in its 7.4 miles.
The Beaver State has waterfalls on its beaches, and falls in its forests that are so lovely, they look like a scene straight out of a Tolkien tale. And, of course, Oregon lays claim to mighty Multnomah Falls, one of the tallest waterfalls in the country.
Here at OnlyInYourState, our insatiable appetite for wanderlust keeps us going, and waterfall chasing is easily our most favorite way to satisfy our adventure-seeking souls. And in Oregon, unlimited adventures – and waterfalls – await.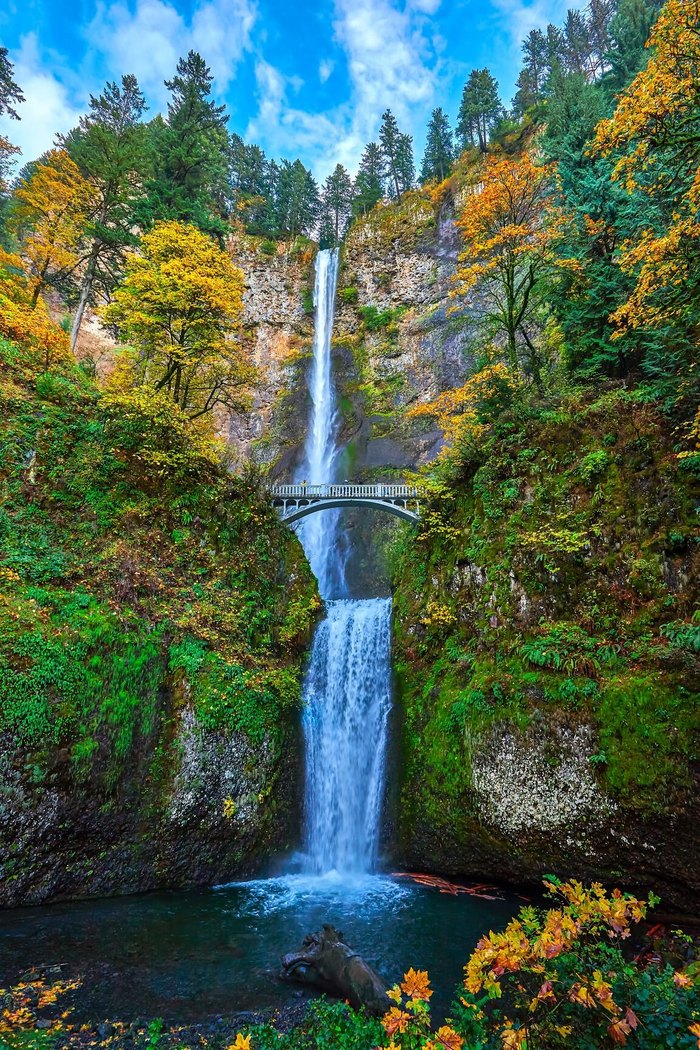 Top Waterfall Hikes in Oregon
Waterfall chasing is more than just a hobby; it's a worldview and way of life. And while most waterfall chasers would happily take this activity on as a full-time job, there's the pesky business of actual full-time jobs, and other adult responsibilities.
Not to fear, however, as many of Oregon's waterfall hikes are perfect day-long treks or even easy afternoon adventures.
Some, like mighty Multnomah, require no hiking at all to view! The state's myriad waterfall trails vary in length and accessibility, but you'll find that many of the state's finest falls are well within reach for adventurers of all ages and abilities.
Easy Waterfall Hikes In Oregon
Waterfall chasing is a popular activity in the Beaver State, but if you're not up for a lengthy chase, there are plenty of easy and accessible waterfall hikes in Oregon for beginners and those who don't have days to devote to the trails.
The following are some of the most easy and accessible waterfall hikes in Oregon; these are scenic treks, wondrous falls, and some of the most bucket-list-worthy adventures in the PNW.
Oregon Waterfalls You Can Swim In
In Oregon, chasing waterfalls is quite literally an immersive experience. Because the waterfall adventures aren't limited to the trails; there are myriad waterfalls in Oregon wherein intrepid explorers can actually swim in the basins.
And during the dog days of a PNW summer, there's simply nothing more refreshing than taking a dip in Mother Nature's most glorious natural pools.
From rushing, rapid-filled whirlpools to calm and placid pools, swimming in Oregon's wondrous waterfalls is truly an adventure for your bucket list.
Best Road Trips To Oregon Waterfalls
America is a country of explorers. This spirit of adventure runs deep here in the U.S., a place comprised of 50 wholly unique states each boasting spectacular scenery and incredible natural wonders.
This drive to explore is quite literally a drive to explore, too, and the combination of a scenic road trip and waterfall chasing adventure is something everyone should experience.
In Oregon, there are some scenic routes (and even an official Highway of Waterfalls!) where one can visit myriad majestic falls in one fell swoop.
The following are some of our favorite Oregon waterfall road trips, designed to take full advantage of the Beaver State's waterfall wonderland.
Best Waterfalls near Portland
Located within striking distance of the Columbia River Gorge, Portland is well-positioned for epic PNW waterfall chasing.
But the Gorge isn't the only waterfall wonderland near Portland, some of the state's most extraordinary falls are within striking distance of Oregon's biggest and most bustling city – including some incredible coastal cascades, too.
Some of the best waterfalls to visit near Portland are the oft-overlooked wonders, including Tunnel Falls and Ramona Falls. Mighty Multnomah, of course, is the most popular waterfall near Portland, and while it draws major crowds, it's definitely one for your bucket list.
Oregon Coast Waterfalls
The Oregon Coast often gets left out of the waterfall equation, but it's actually home to some of the most wondrous cascades in the state. This region where earth and land meet is absolutely breathtaking, with the tempestuous Pacific waters and ancient volcanic cliffs a scene that's truly sublime.
On these rough and rocky beaches, water flows and sprays every which way and direction, creating tide pools, whirlpools, churning inlets, and perpetually flowing, gloriously cascading waterfalls.
Top Waterfalls near Bend
Central Oregon is a resplendent region full of mountains, forests, and rivers, making it an outdoor enthusiast's dream. And Bend certainly benefits from its killer location at the heart of it all.
The mighty Deschutes flows quite literally through the town itself, providing some of the best kayaking and river floating in Oregon – and also, as it were, some amazing waterfalls to chase.
The Deschutes National Forest envelopes Bend like a hug, and within this region there are some truly epic waterfalls to chase; these are falls that give some of the Columbia River Gorge's finest a run for their money! And in the spring when heavy rains douse the PNW, Bend's falls flow faster and more picturesque than ever.
Summary
There's no place in the world like Oregon; this PNW state really does have it all. Between its incredible wonders, diverse geography, mild weather, and immense natural splendor, Oregon is the poster child for Mother Nature.
And wrapped up in all of this wonder, touching literally every part of the state, are waterfalls.
Showstopping, superlative, stop-you-in-your tracks waterfalls.
So whether you're looking to explore the Oregon Coast or Columbia River Gorge, High Desert or old-growth forests, one of these epic waterfall chases awaits you in Oregon!
OnlyInYourState may earn compensation through affiliate links in this article. As an Amazon Associate, we earn from qualifying purchases.
Related Articles
Explore Oregon