This Haunted Road Trip Will Lead You To The Scariest Places In Oklahoma
It's time for another road trip! And this time, we're going to take you to some of the scariest real-life places across Oklahoma. From cemeteries to ghost towns to an abandoned insane asylum, this haunted road trip will lead you to places where ghosts reside and paranormal activity is common. Just print this Google Map and take the 543-mile journey to experience a road trip unlike any other. Are you ready to face the most haunted places in Oklahoma? Let's hit the road!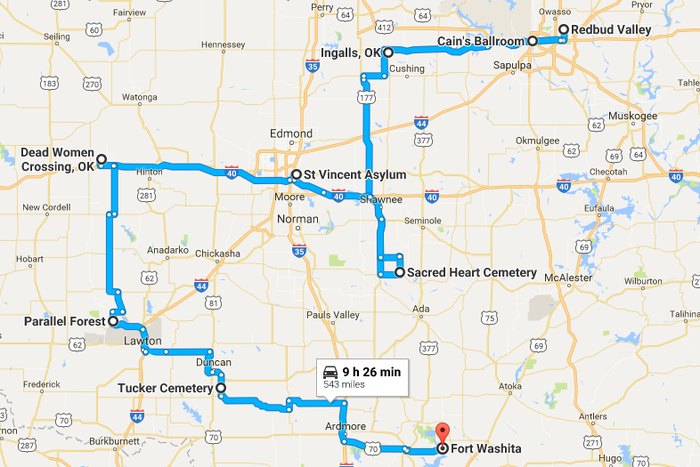 While these are just a few of the most haunted places in Oklahoma, the rest may be hiding in plain sight. Have you ever had any paranormal encounters in Oklahoma? We'd love to hear about your experience!
If you are looking for more haunted places to visit in Oklahoma, check out our Terrifying Haunted Road Trip.
Address: Oklahoma 115, OK-115, Oklahoma, USA
Address: 16150 Redbud Dr, Catoosa, OK 74015, USA
Address: 423 N Main St, Tulsa, OK 74103, USA
Address: 3500 NE 23rd St, Oklahoma City, OK 73121, USA
Address: Arapaho Road, Arapaho Rd, Weatherford, OK, USA
Address: N3480 Road, N3480 Rd, Oklahoma 74849, USA
Address: 3348 OK-199, Durant, OK 74701, USA
Address: South Tucker Road, S Tucker Rd, Duncan, OK 73533, USA
Address: 12398 E 19th Ave, Stillwater, OK 74074, USA
Most Haunted Places In Oklahoma
August 11, 2019
What is the most famous ghost story from Oklahoma?
One could argue that there are many ghosts in Oklahoma. This spooky state was admitted to the union fairly recently, joining as the 46th state on November 16, 1907, but it has amassed its own legends in the meantime. While there are many scary places in Oklahoma, you'll find the best real Oklahoma ghost stories unfolding in its most groundbreaking sites. The historic Constantine Theater out in Pawhuska is said to be haunted, and so, too, are places like a former speakeasy. For a truly fascinating taste of local history, ask around in your hometown – urban legends and famous ghost stories are best learned through word of mouth.
What is the most haunted town in Oklahoma?
You'll hear many Oklahoma ghost stories in your time in the state, and you just may notice that good old Guthrie sets the scene for many of them. This creepy destination was the old territorial capitol of the state, and now it hosts some of the most discussed Oklahoma hauntings. No, seriously! If you're looking to discover real haunted places in Oklahoma, Guthrie is your town. You'll also find that some of the haunted destinations in the road trip above are surrounded by infamously haunted communities, as in the case of Fort Reno's El Reno community. If you're looking for a more natural escape, you simply must swing by Veteran's Lake … just pay no mind to its ghostly residents.
What is the creepiest abandoned place in Oklahoma?
Spooks and thrills are all the rage in the Sooner State, and you'll find creepiness galore at the many abandoned places in Oklahoma. Perhaps the spookiest abandoned site is Picher, Oklahoma. This sad ghost town was abandoned when its former lead and zinc mines were found to be poisoning residents. Today, it's considered too toxic for human habitation.
Address: Oklahoma 115, OK-115, Oklahoma, USA
Address: 16150 Redbud Dr, Catoosa, OK 74015, USA
Address: 423 N Main St, Tulsa, OK 74103, USA
Address: 3500 NE 23rd St, Oklahoma City, OK 73121, USA
Address: Arapaho Road, Arapaho Rd, Weatherford, OK, USA
Address: N3480 Road, N3480 Rd, Oklahoma 74849, USA
Address: 3348 OK-199, Durant, OK 74701, USA
Address: South Tucker Road, S Tucker Rd, Duncan, OK 73533, USA
Address: 12398 E 19th Ave, Stillwater, OK 74074, USA