This Haunting Road Trip Through Kentucky Ghost Towns Is One You Won't Forget
Our state is known for Mother Nature more than abandoned places, but quite a few of them exist. Some lie beneath the water at the bottom of a lake, others have degraded to where only a building or perhaps a lone cemetery still stand. We covered some of these lifeless communities in the past, but now we've created a ghost town road trip in Kentucky, just for fun. We even included a map that you can tweak to add your own location.
Here are 10 places to go on a ghost town road trip in Kentucky: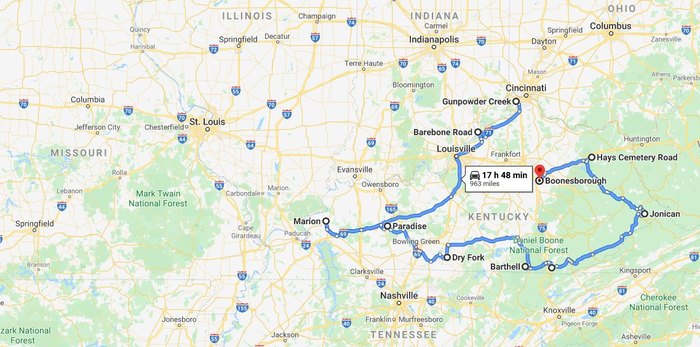 10. Paradise
The beautiful community of Paradise, along the banks of the Green River, has been immortalized in song. The town was renowned for its beauty, until the coal plant came to town. Not long after the factory was built, residents found they were having rains of ash and other pollution issues. The town is all but gone now, but the area is still beautiful. Sadly, what primarily remains is the coal factory.
9. Gunpowder Creek (AKA, Sugartit)
This community in Boone County once stood between Florence and Union along KY Route 42. It was located near the creek, which is where it got one of its names. The other, Sugartit, was given by the wives of the men who once spent their days at the local general store. The spouses deemed the storefront gossip site as the place their husbands went for their daily sugartit. It was also once known as Pleasant Ridge, a fact that's plain to see thanks to a landscape that's still lovely to this day.
8. Boonesborough

Back in 1775, Boonesborough was the brainchild of Daniel Boone himself. The Natives decided the new neighbors weren't welcome and ran them off in 1778. It took a while, but the community slowly became a small farming town again till around 1877, at which point it disappeared. The replica of the fort and buildings is well maintained so visitors can actually see this real ghost town at Fort Boonesborough.
7. Lawton Mushroom Mine

This abandoned limestone mine town in Carter County was once home to an old brick yard and mushroom mine. A few families still live scattered in the area, but the town itself is pretty much gone. The old mines still stand, along with the general store and some old tracks. What remains can be found is located past the DeHarts Bible and Tire Store.
This ghost town road trip in Kentucky can be a lot of fun if you like history. Each one of the communities thrived before they faded away. Many of these only have a few foundations or cemeteries left, but the areas still hold an allure. If you're longing for more abandoned places in Kentucky, you'll want to pay a visit to places like the infamous Waverly Hills Sanatorium or the iconic Red Bridge.
OnlyInYourState may earn compensation through affiliate links in this article.
More to Explore
Ghost Town Road Trip In Kentucky
Can I visit any abandoned places in Kentucky?
Every state has its secrets, and many of them are encapsulated in the walls of old, forgotten buildings. One of the most incredible places to visit in Kentucky is Waverly Hills Sanatorium, and it belongs on every adventure seeker's bucket list. This spooky hospital popped up to address a tuberculosis epidemic, but it treated its patients in disturbing ways. Some 8,000 people are thought to have died there, and many are thought to haunt its halls to this day.
Are there any urban legends in Kentucky?
One of the best ways to learn about local culture is by immersing oneself in oral legend. Here in Kentucky, there are all sorts of incredible tales and legends that have persisted over the years. One of the most famous Kentucky legends is the alleged Goatman of Floyds Fork River. It's said that he calls out to those wandering near the Norfolk Southern Railway Trestle asking for help, then drowns or otherwise disposes of Good Samaritans as they attempt to assist.
Are there any haunted hotels in Kentucky?
After a long day exploring haunted and abandoned places, there's nothing more relaxing than a stay in an upscale, cozy, or otherwise welcoming hotel. However, you're adventurous... so your main requirement is that your lodgings must be haunted. You deserve a stay at Old Talbott Tavern, the oldest (and most haunted) hotel in the state.
Related Articles
Featured Addresses

Gunpowder Creek, Kentucky, USA

Boonesborough, KY 40475, USA

Hays Cemetery Rd, Morehead, KY 40351, USA

Barebone Rd, Bedford, KY 40006, USA