A Creepy Ghost Town In Kentucky, Paradise Is The Stuff Nightmares Are Made Of
Ghost towns in Kentucky are something you don't often hear much talk about. When those rare ghost town stories do pop up, the tales that are told tend to be woven around abandoned coal towns such as Blandville or Dryfork. These specks in history have either evolved into museums, Inns or, sadly, ceased to be remembered, except for making an appearance in the occasional local legend here and there. Among these crumbling wood or brick and mortar memories, one ghost town in Kentucky stands out. Not just because it has a sad story, as they all have that. Instead, because all that remains is the occasional crumbled memorial, chunks of concrete disintegrated to gravel, the ancient cemetery and a name… Paradise.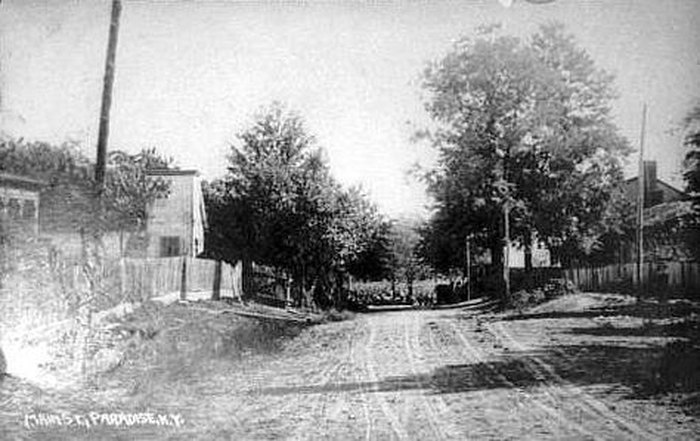 What remains of Paradise today that qualifies it as a creepy ghost town in Kentucky? Sadly, only a small cemetery still stands atop the hill, not far from the plant that was the beginning of the end.

The real tragedy here is the loss of such a special place in the Bluegrass State, and how it met its end. I cannot say for sure if Paradise was the paradise John Prine sang of, but he sure did make it sound convincing. Since Kentucky is known for its beauty, I'd imagine he sang the truth.
What do you know about Paradise, the most famous ghost town in Kentucky? Are there any other abandoned places in Kentucky that you know of? Tell us your thoughts in the comments!
Want to keep exploring abandoned places in Kentucky? Take a virtual visit to Six Gun City!
OnlyInYourState may earn compensation through affiliate links in this article.
Ghost Town In Kentucky
June 21, 2020
Can I visit any abandoned places in Kentucky?
The Bluegrass State is full of beauty, particularly natural beauty. However, there is a sort of eerie, otherworldly beauty in this gorgeous region, as well. There are old and even ancient ruins in Kentucky that are hiding in plain sight, and most are easily accessible. Some decades-old abandoned places in Kentucky, like the Waverly Hills Sanatorium, are open to the public on select dates. If you have a sense of adventure, our state will leave you in awe. There's simply so much to do!
Are there any urban legends in Kentucky? 
When it comes to abandoned places in Kentucky, images of spooky and long-forgotten places instantly are conjured up. One can't help but wonder about the events that took place at these landmarks, both before and after they were abandoned. At the AllenDale Train Tunnel, local legend maintains that a man took his life by hanging a noose from a hook above the tunnel. Today, it asserts, his ghostly form can still be seen floating at that same spot. This is one of many local legends that you might encounter throughout your travels in Kentucky.
Are there haunted battlefields in Kentucky?
One can't discuss Kentucky urban legends without wondering about local hauntings. Ghost stories are abundant in The Bluegrass State, especially around spooky spots like the aforementioned Waverly Hills Sanatorium. Kentucky is also home to a few historic battlefields with a slightly spooky atmosphere. Indigenous tribes battled, and settlers battled both the local tribes (like the Shawnee and Wyandot) plus the British during the American Revolutionary War. Then, of course, came the American Civil War. The infamously bloody site of the Battle of Perryville is said to be haunted, and it has been featured on travel documentaries in recent years due to the amount of reported paranormal activity.