You Won't Believe Everything You'll Find Along This Classic Kentucky Road
If you enjoy a good scenic drive through Kentucky, then you've surely come across Old Frankfort Pike. This stretch of country road takes you from Lexington to Frankfort (or vice versa), and is one of the most scenic drives in Kentucky, if not the entire country! While this acclaimed road is famous for its scenery, there are also plenty of stops you can make along the way to make an entire, delightful day out of your leisurely drive through the Kentucky bluegrass. Here are some things you must do along this scenic route: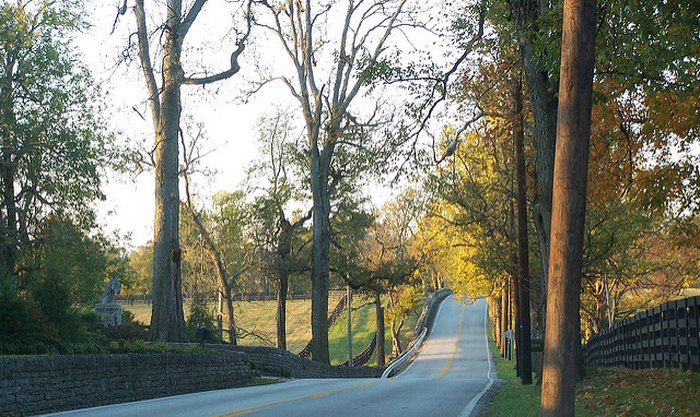 Is Old Frankfort Pike your favorite drive in Kentucky? Do you have a favorite destination along the route? Share your experience with us in the comments! And for more of the best scenic drives in Kentucky, be sure to check out these amazing country backroads that are all perfect for a day trip!
OnlyInYourState may earn compensation through affiliate links in this article.
Address: Old Frankfort Pike, Lexington, KY, USA
Best Scenic Drives In Kentucky
July 01, 2021
What are some of the best scenic drives in Kentucky?
You really can't beat the scenery along the Red River Gorge Scenic Byway. Located within the state's Daniel Boone National Forest, Red River Gorge is the Holy Grail of outdoor recreation and adventure, offering next-level hiking, kayaking, fishing, climbing, and camping. It's also one of the most scenic places in the country, and you can experience its grandeur on the Red River Gorge Scenic Byway. This 46-mile scenic byway is one of most beautiful drives you'll ever take, and is a perfect way to take in the resplendence of Red River Gorge — without planning a bigger trip. This easy scenic day trip really is one you ought to take!
Are there any other scenic backroads to drive along in Kentucky?
If you enjoy cruising down country roads, there are an abundance of scenic backroads in Kentucky! There is an abundance of gorgeous scenery that can invigorate the senses and soothe the soul. If you are looking to get out and take a peaceful drive, you cannot go wrong on these scenery-filled byways. In addition to Old Frankfort Pike, some of our favorite scenic byways in Kentucky include Country Music Highway, Big Bone Lick Scenic Byway, Lincoln Heritage Scenic Highway, and Pine Mountain Road.
What's the most famous scenic drive in Kentucky?
Great River Road is the superlative superstar of scenic trips, as it's a nationally known and recognized byway! Located in the southwestern corner of Kentucky is a stretch of the Great River Road, which takes you along the Mississippi River. This road actually begins in Minnesota and follows America's largest river all the way to the Gulf of Mexico. In our state, it traverses four counties and many scenic stops along the way. The drive on its own is beautiful any time of year and provides a wide variety of scenery. You'll be able to take in many views of the river and the stunning landscape of this region of Kentucky. It really is a bucket-list-worthy adventure!
OnlyInYourState may earn compensation through affiliate links in this article.
Address: Old Frankfort Pike, Lexington, KY, USA