6 Easy-Access West Virginia Waterfalls That Are Perfect For A Summer Adventure
If you ever have the urge to take in some wonderful waterfall views but don't feel like spending a day hiking to get there, this is the article for you! This list of six easy-access waterfalls dotted around West Virginia are either right off the road or easily reached from a short, level trail or boardwalk. Sometimes tracking down a few roadside waterfalls in West Virginia is more fun because you can see more great sights in one day.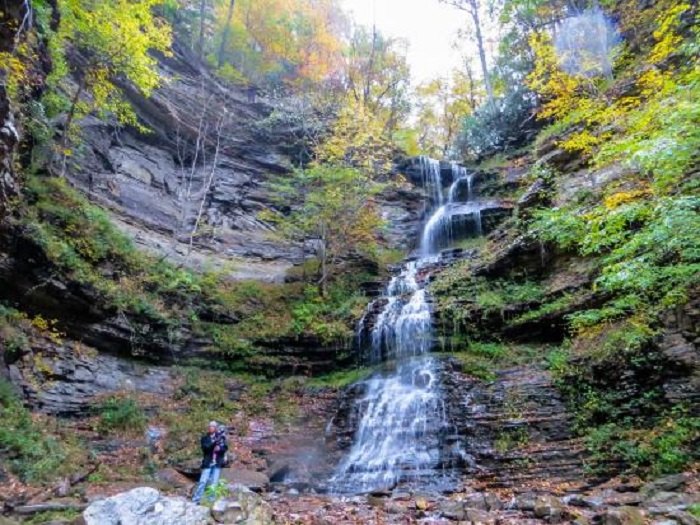 These are just a handful of the roadside waterfalls in West Virginia, some are more accessible, some less, but all of them are worth going out of your way to see. What a privilege it is to live in a state with so much beauty right at our fingertips!
Here's a link to a map with the location of all these waterfalls. Which one is closest to you? Here's another waterfall in West Virginia that's also fairly easily accessible, but closer to Charleston.
OnlyInYourState may earn compensation through affiliate links in this article. As an Amazon Associate, we earn from qualifying purchases.
More to Explore
More waterfalls in West Virginia
What are some of the most amazing hiking trails with waterfalls in West Virginia?
Some of the most amazing hiking trails with waterfalls in West Virginia include:
Elakala to Yellow Birch Trail
High Falls Trail
Who knew West Virginia is such a great place for hikers – especially hikers who just so happen to love waterfalls? Okay, who doesn't, but still – what an amazing state to be in if you're a lover of cascading falls. There are more than 50 waterfall hikes in West Virginia to pick from, each more amazing than the last. Some of our favorites, however, happen to be some of the best (period), like Blackwater Falls Trail at Blackwater Falls State Park. It's an easy, less-than-a-half-mile trek to one of West Virginia's most famous cascades. While you're there, be sure to also do the Elakala to Yellow Birch Trail, which is rated as moderate and extends 4.3 miles. Other wonderful hiking trails with waterfalls in West Virginia include the Seneca Creek Trail at the Potomac Wildlife Management Area, which is a moderate but lengthy 10.1-mile adventure, and the High Falls Trail in Monongahela National Forest is another must-do.
How many waterfalls are in West Virginia?
Hold onto your hat (or maybe your life jacket), because there are – get this – more than 250 amazing waterfalls in West Virginia alone. The tallest is Blackwater Falls at Blackwater Falls State Park, 57 feet tall; Elakala Falls, within the same mark, is worth visiting while you're there as well. The widest waterfall in West Virginia is the Sandstone Falls, which are an impressive 1,500 feet in width, and the most photogenic might just be Cathedral Falls – though, with so many to pick from, your opinion may differ. If there's one wonderful thing about West Virginia (okay, we all know there's way more than that), it's the waterfalls – all 250 or more of them! Add each to your bucket list and see how many you can check out within a year or two; you might be surprised.
Related Articles
Explore West Virginia