This West Virginia Beach And Waterfall Will Be Your New Favorite Paradise
Aren't waterfalls simply magical? If you're anything like us, you've likely searched "waterfalls near me in West Virginia" more than a few times. Fortunately, West Virginia is blessed with numerous stunning waterfalls and beaches – and there's no wrong time of year to enjoy them! However, few places in the Mountain State are as wild and wonderful as this amazing little beach along the picturesque Middle Fork River. Better still, it's located within Audra State Park, a 335-acre natural paradise located a mere 15 miles to the northeast of Buckhannon. Ready to start exploring? Let's go!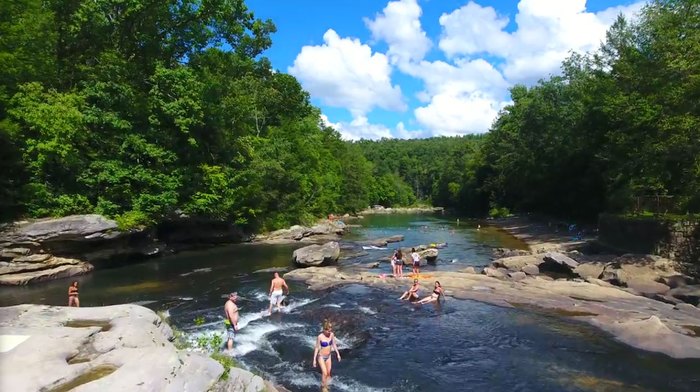 So the next time you're wondering, "what are some waterfalls near me in West Virginia," we hope this enchanting little spot comes to mind. Audra State Park is located at 8397 Audra Park Rd., Buckhannon, WV, 26201. Restroom facilities and picnic shelters are located adjacent to the waterfall beach. For more information, or to reserve a campsite, see this link on the official website of West Virginia State Parks.
OnlyInYourState may earn compensation through affiliate links in this article.
Address: Audra State Park, Audra, Buckhannon, WV 26201, USA
waterfalls near me in West Virginia
August 24, 2021
What are some other waterfalls in West Virginia?
West Virginia is known for its breathtaking mountains, dense forests, and sparkling rivers. Therefore, it comes as no surprise that this terrain would lend itself beautifully to waterfalls. And it does! The Mountain State is filled with magical falls: some hiding in plain view and others tucked away from the main road. If you consider yourself to be a waterfall enthusiast, you might consider taking our waterfall road trip through West Virginia. Along the way, you can look forward to seeing the following: Blackwater Falls in Blackwater Falls State Park, Douglas Falls (also in Blackwater Falls State Park), Valley Falls in Valley Falls State Park, Cathedral Falls in Gauley Bridge, Kanawha Falls in Kanawha State Forest, Sandstone Falls along the New River Gorge National River, Indian Branch Falls in Pipestem Resort State Park, and Whitaker Falls in Webster County.
Does West Virginia have any natural wonders?
Absolutely! Experiencing West Virginia's natural wonders is one of the best parts of living in or visiting the Mountain State. No matter which region you find yourself in, you're likely just a short drive from an incredible landmark. The following is a list of some of the most remarkable natural wonders in West Virginia, although it's by no means an exhaustive list: Bear Rocks Nature Preserve in Dolly Sods Wilderness Area, Douglas Falls in Thomas, Gaudineer Knob in Shavers Mountain, North Fork Mountain in Pendleton County, the New River Gorge, Seneca Rocks in Pendleton County, Lindy Point in Blackwater Falls State Park, Cathedral State Park in Aurora, and Lost World Caverns in Lewisburg. Curious to learn more about these places? Check out our list of the best natural wonders in West Virginia.