The Sinister Story Behind This Popular South Carolina Park Will Give You Chills
South Carolina is home to the number one city in the U.S. and Canada, ranked in the 2017 Travel & Leisure World's Best Awards – and we couldn't be prouder of the Palmetto State's oldest city, Charleston. Founded in 1670 as "Charles Town," the city has grown exponentially over the centuries to become not only a favorite destination for visitors but also the city of choice for many Americans living the dream of relocating somewhere beautiful. But Charleston may have a dirty little secret that's often overlooked: a legendary haunted park in South Carolina is hiding there in plain sight.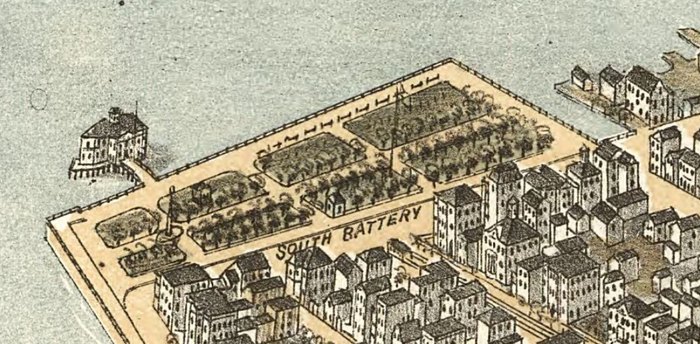 We'd love to know about your experiences at this haunted park in South Carolina. Did you get an eerie feeling if and when you visited White Point Garden? Let us know in the comments. 
For more haunted places in the Palmetto State, take a drive down South Carolina's most haunted road – after dark.
OnlyInYourState may earn compensation through affiliate links in this article.
More to Explore
Haunted Park in South Carolina
What are some creepy places in South Carolina?  
South Carolina is an old state, and old states usually have their fair share of eerie, haunted, or otherwise creepy places scattered throughout. South Carolina is, of course, no different; some of our favorite creepy places in South Carolina include the South Carolina Lunatic Asylum (yes, they used to actually title things like that), haunted old plantations like the Baynard Plantation and Rose Hill Plantation. We're also big fans of haunted roads, like the Seven Devil's Bridge in Woodruff, and bridges like the Crybaby Bridge in Anderson. South Carolina's dense forests and woodlands lend a particularly creepy vibe to the state; should you know where to go, you'll find that it's a delightfully eerie state to explore. Check out this list for more of our favorite creepy places in South Carolina!  
What's the story behind White Point Garden in South Carolina?  
White Point Garden is located in Charleston and rests on the tip of the state's peninsula. It's had a couple of names, such as South Bay and White Point; over the decades it's changed, ebbed, and flowed, with plenty of modernizations in the last several decades. White Point Garden has become a repository of sorts for relics and memorials and, oh, yeah – pirates were hanged here. At least two of them – Stede Bonnet and Blackbeard himself – are said to still haunt this place. Sometimes, people have frantically reported a body hanging from a tree in the garden only for it to disappear, having been only an apparition. Ghostly faces peer at guests from the trees. It's a lovely place to be during the day, but at night it becomes a whole new monster. Some folks have been so creeped out by experiences here that they refused to return, night or day. We can't really say we blame them, though.  
Related Articles
Explore South Carolina
Featured Addresses

2 Murray Blvd, Charleston, SC 29401, USA