10 Amazing Missouri Hikes Under 3 Miles You'll Absolutely Love
Missouri is full of amazing parks and conservation areas that offer some great little hiking trails. You can find a wide range of dog-friendly, ADA-accessible nature trails that aren't an all-day adventure. Check out these beautiful trails that tally less than three miles and are considered some of the best hikes in Missouri.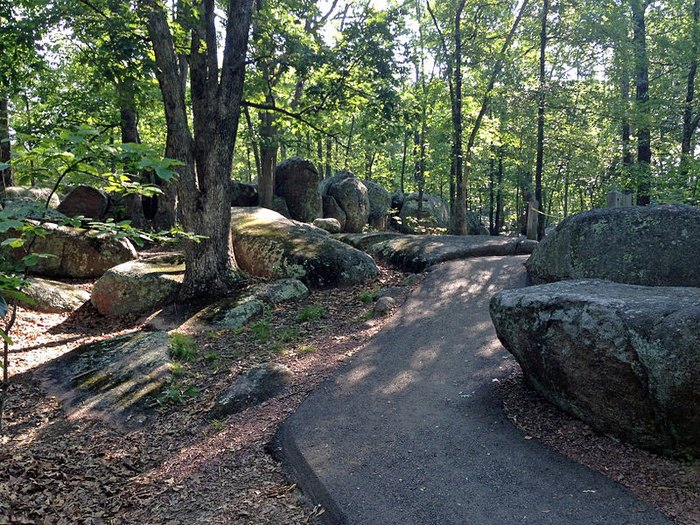 Whether you're new to hiking or a seasoned veteran these trails are worth the trip. Do you agree that these are some of the best hikes in Missouri? Let us know in the comments! Next time you're up for more adventure, plan a visit to this gorgeous Missouri spring.
Address: Elephant Rocks State Park, 7390, 7406 MO-21, Belleview, MO 63623, USA
Address: Johnson's Shut-Ins State Park Campground, Middle Brook, MO 63656, USA
Address: Klondike Park, 4600 S Missouri 94, Augusta, MO 63332, USA
Address: Rockwoods Reservation, 2751 Glencoe Rd, Wildwood, MO 63038, USA
Address: Mastodon Drive, Mastodon Dr, Imperial Township, MO 63052, USA
Address: Mark Twain National Forest, Birch Tree Township, MO 65438, USA
Address: Powder Valley Conservation Nature Center, 11715 Cragwold Rd, Kirkwood, MO 63122, USA
Address: Graham Cave State Park, 217 State Hwy TT, Danville, MO 63361, USA
Address: Table Rock State Park, 5272 Historic Hwy 165, Branson, MO 65616, USA
Address: Rock Bridge Memorial State Park, 5901 South Highway 163, Columbia, MO 65203, USA
Best Hikes In Missouri
August 11, 2022
What are some easy hikes in Missouri?
Some of the best hikes in Missouri are also the easiest. The one-mile Cave Spring Trail in Kansas City, for example, is a kid-friendly hike in Missouri that promises a ton of fun for kiddos (and adults!) of all ages, and it includes some fascinating stone structures. At less than a mile, the Old Kate Trail at Parkville Nature Sanctuary is perhaps best known for its gorgeous waterfall. If you love animals, you can't go wrong with a trek along the three-mile Drover's Trail, which meanders through Prairie State Park and offers up-close views of the resident wild buffalo. (Take your camera, and remember not to get too close!)
Address: Elephant Rocks State Park, 7390, 7406 MO-21, Belleview, MO 63623, USA
Address: Johnson's Shut-Ins State Park Campground, Middle Brook, MO 63656, USA
Address: Klondike Park, 4600 S Missouri 94, Augusta, MO 63332, USA
Address: Rockwoods Reservation, 2751 Glencoe Rd, Wildwood, MO 63038, USA
Address: Mastodon Drive, Mastodon Dr, Imperial Township, MO 63052, USA
Address: Mark Twain National Forest, Birch Tree Township, MO 65438, USA
Address: Powder Valley Conservation Nature Center, 11715 Cragwold Rd, Kirkwood, MO 63122, USA
Address: Graham Cave State Park, 217 State Hwy TT, Danville, MO 63361, USA
Address: Table Rock State Park, 5272 Historic Hwy 165, Branson, MO 65616, USA
Address: Rock Bridge Memorial State Park, 5901 South Highway 163, Columbia, MO 65203, USA