These Ahhh-Worthy Hot Springs In Idaho Are Perfect For A Staycation
Every season is hot springing season in Idaho, and Idahoans have two ways to do it right: hundreds of natural hot springs tucked away in mountain caves and alongside rivers, or dozens of luxury man-made pools. While the Gem State is renowned for having more naturally soakable hot springs than any other state in the country, we also know how to up the experience into a glam pampering session, complete with fuzzy robes, massages, and modern lodging. Whether enjoying a relaxing soak on a chilly, snowy day or enjoying the beautiful views of the warmer months, here are some of the best and most luxurious hot spring resorts in Idaho – both natural and man-made.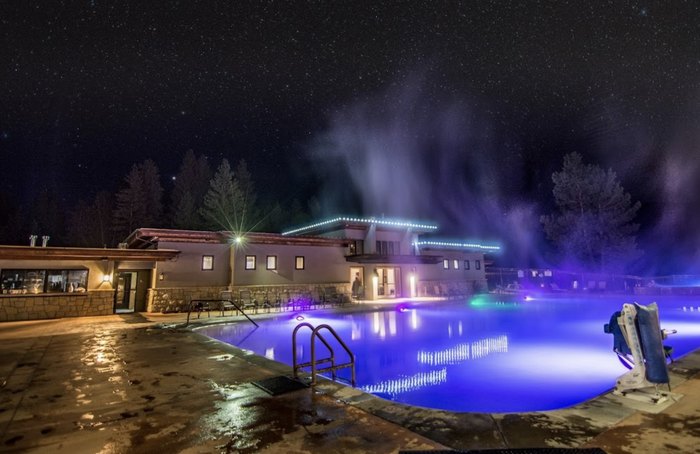 Idaho's best hot spring locations are one of those precious secrets that we prefer to keep locked down tight, much like the best fishing spots and coolest campgrounds. But we think these luxury hot spring resorts around Idaho are perfectly okay to share! Just don't ask us where our other favorites are…
Have you ever visited one of these developed hot spring areas? We love that they even have lodging, so you can pop in and out as you like!
For a completely different type of escape into nature, check out the luxury cabins at this secluded mountain ranch resort.
OnlyInYourState may earn compensation through affiliate links in this article. As an Amazon Associate, we earn from qualifying purchases.
More to Explore
Hot Springs in Idaho
How many hot springs are there in Idaho?
Did you know Idaho has more natural hot springs than any other state in the country? It's true! Idaho is home to around 130 soakable hot springs. The geologic wonders of our state are simply incredible, which makes the Gem State the perfect place to kick back and soak! And really, there's no better way to relax in nature than at a healing hot spring, especially as the weather starts to cool off. Out among the trees and wildlife, breathing in the fresh air, hiking through the countryside, and finally lowering yourself into a steaming pool of warm water flowing directly from the earth is a simple pleasure that is hard to beat. Read about some of our favorite Idaho hot springs in this article.
What's the most popular hot springs resort in Idaho?
There are numerous hot springs resorts in Idaho, and Riverside Hot Springs Inn is one of the most popular -- and historic! Located in a mountainous valley, the super small town of Lava Hot Springs is well-known for its abundance of soaking opportunities. Historically used by the Shoshone and Bannock indigenous peoples, people have been taking advantage of the area's spectacular thermal mineral springs for thousands upon thousands of years. If anything, spending some time in this small town is a must for any hot springs-lovin' Idahoan, and this historic hot springs hotel is a great place to start. There's no better place to spend the night in Lava Hot Springs than the historic Riverside Hot Springs Inn. Established over a century ago, this place is the ultimate destination for relaxation and rejuvenation.
What's winter in Idaho typically like?
Winter in Idaho is typically cold and snowy. December and January highs usually fall below freezing, meaning the conditions are perfectly aligned for lots of snow and winter weather! Happily, the Gem State is home to an abundance of hot springs, which are Mother Nature's answer to our chilly winters!
Related Articles
Explore Idaho