There Is No Better Place To Be Than These 10 Hot Springs In Idaho
The way we see it, there are two reasons to enjoy a hot spring. Either you love being outside but aren't looking to break an activity-induced sweat during a 10-mile hike, or you love that type of outdoor fun and need a way to soothe your muscles afterwards. Either way, the Gem State has you covered. Home to more hot springs than any other state in the country, it's an embarrassment of riches when it comes to hot springs in Idaho! We've rounded up some of our favorites; each and every one of these incredible hot springs in Idaho will soothe your body (and your soul!) with their mineral rich, warm, and therapeutic waters.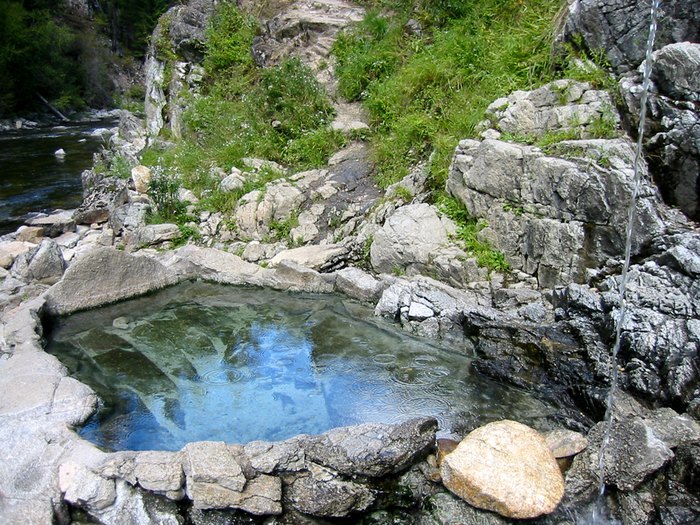 This is just a taste of what the glorious hot springs in Idaho. Many are hidden away, waiting to be discovered by intrepid explorers. Use this list as a starting point and then go and find your own… the Gem State is positively brimming over with amazing and healing hot springs! We're not sure about you, but we certainly feel more relaxed already.
Let us know what your favorite hot spring is over on our Facebook page!
Address: Burgdorf Hot Springs, 404 French Creek, McCall, ID 83638, USA
Address: Boise National Forest, Idaho 83637, USA
Address: Boise National Forest, Idaho 83637, USA
Address: Jerry Johnson Hot Springs, Idaho 83539, USA
Address: Goldbug Hot Springs Trailhead, Warm Spring Creek,, Salmon, ID 83467, USA
Address: Sacajawea Hot Springs, Idaho 83637, USA
Address: Payette National Forest, Idaho 83549, USA
Address: Boise National Forest, Idaho 83637, USA
Address: Lava Hot Springs, ID 83246, USA
Address: Pine Burl Hot Springs, Cascade, ID 83611, USA
Hot springs in Idaho
December 15, 2021
What are some fun hot springs hikes in Idaho?
We can't think of a better reward for hitting the trails — especially during the coldest months of the year — than a soak in a naturally heated hot springs. Because although you can always drive to the nearest hot spring resort, there's something extra special about going out of your way to soak in a natural hot spring. These natural springs are often less crowded and surrounded by pristine natural beauty, which makes for the perfect soaking conditions. One of our favorites, Trail Creek Springs, can be found by traversing a short and easy trail. It's not that hard to find and you'll be glad you made the extra effort to seek this place out.
Are there any geothermal pools in Idaho?
For a laid-back soak, head to Durfee Hot Springs, one of the best geothermal pools in Idaho. Whether it be for the health benefits or for simple relaxation, simply nothing beats soaking in a pool of geothermal water! This family-run hot springs resort has been in operation for four generations of the Durfee family. It began as a public pool back in the 1920s before it was remodeled and reopened in 2005. Today, Durfee Hot Springs consists of a natural warm spring with two hot tubs, a kiddie pool, and one large lap pool. The water bubbles up from a spring in the surrounding meadow and maintains a temperature of about 104 degrees. It's a dreamy place to visit all year-round!
What's a hidden gem hot springs in Idaho only locals know about?
We simply adore Johnson Hot Springs, one of the dreamiest hot springs we've discovered here in Idaho. You'll literally travel over a river and through the woods to access this amazing little oasis, which is located along the Warm Springs Creek. The surrounding forest scenery is sublime, and you'll feel as though you've stepped into your very own fairy tale while soaking in these springs!
Address: Burgdorf Hot Springs, 404 French Creek, McCall, ID 83638, USA
Address: Boise National Forest, Idaho 83637, USA
Address: Boise National Forest, Idaho 83637, USA
Address: Jerry Johnson Hot Springs, Idaho 83539, USA
Address: Goldbug Hot Springs Trailhead, Warm Spring Creek,, Salmon, ID 83467, USA
Address: Sacajawea Hot Springs, Idaho 83637, USA
Address: Payette National Forest, Idaho 83549, USA
Address: Boise National Forest, Idaho 83637, USA
Address: Lava Hot Springs, ID 83246, USA
Address: Pine Burl Hot Springs, Cascade, ID 83611, USA