The 7 Most Horrifying Disasters That Ever Happened In Hawaii
Though we like to think Hawaii is absolute paradise, the state has endured some terrible disasters throughout its history. Through these tsunamis, volanco eruptions, and even attacks, the state has embraced the term "aloha" more than ever, spreading love and bringing communities together in the worst of circumstances. Here are some crazy Hawaii natural disasters that'll have you running for the hills: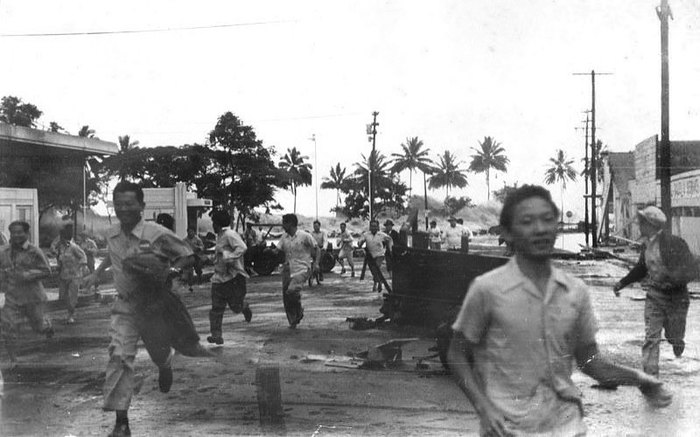 Though Hawaii has its own unique share of natural and man-made disasters, we are lucky to live in a state that comes together in times of need. Please feel free to share your experiences with any of these Hawaii disasters in the comments – and let us know if we forgot anything!
OnlyInYourState may earn compensation through affiliate links in this article.
Hawaii Natural Disasters
June 20, 2022
What kinds of natural disasters in Hawaii are there?  
Hawaii is an incredible chunk of paradise right here in our own backyards, but that doesn't necessarily mean it's free of the potential for chaos. There are a few types of natural disasters in Hawaii to keep in mind for future references, such as the ever-present threat of wildfires thanks to increasing drought and volcanic activity. The next most common disaster in Hawaii is flooding, such as the April 2018 super flood. Usually, Hawaii sees about 70 inches of rain annually, but during this catastrophic flood in Hawaii more than 30 inches fell within 48 hours, creating truly disastrous floods that destroyed no less than 530 homes and caused $125 million in damages. Another threat, thanks in part to the flooding risk, is the danger of landslides. 
What are some of the worst natural disasters in Hawaii to date?  
Hawaii is no stranger to the wrath of mother nature, but it does tend to bear the brunt of her rage some years. In 1992, a powerful storm by the name of Hurricane Iniki struck the island of Kauaʻi, reaching Category 4 strength and doing $3.1 billion in damages, making it the second-costliest Pacific hurricane on record thus far. In April of 1868, a devastating magnitude 7.9 earthquake shook the islands, resulting in a tsunami and landslide that claimed the lives of 77 people. A flash flood in October 2004 rocked Manoa Valley on Oahu, resulting in at least 60 homes being totally destroyed and more than $1 million in damage.  
What were some of the worst volcanic eruptions to happen in Hawaii's history?  
In November of 1790, the volcano known as Kilauea essentially exploded, resulting in the deaths of more than 400 people and becoming the single deadliest volcanic eruption in the United States. Since January 1983, the volcano has been continually oozing a steady stream of lava, but the overall peacefulness of this never-ending eruption is all the mountain is capable of today. For now, it doesn't pose a risk of exploding again – yet. It's important to remember to carefully monitor earthquake and seismic activity if you're interested in Hawaii's volcanoes – you never know when you'll notice a pending eruption!